Chhath Puja 2021: Rituals And Timing to Worship Sun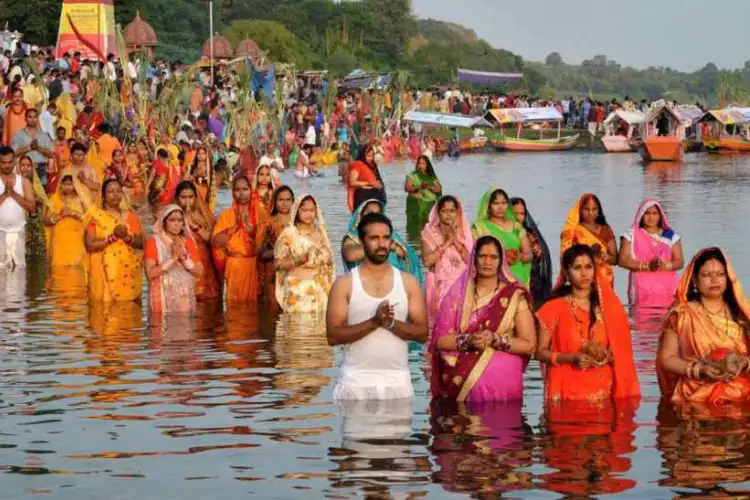 Chhath Puja is also known as Chhath Vrat, Dala Chhath, and Surya Shashthi. This is a festival celebrated on the sixth day of Kartik Shukla Paksha. This festival is also mentioned in Rigveda. The fasting rules in this puja are very strict which includes not drinking water during this time.
Book Now: Online Live Puja
Chhath Puja Rituals
In the year 2021, the Chhath festival is starting on Nov 8. 'Thekuva' is a type of prasad made specifically for this festival. Apart from this, seasonal fruits are offered too.
'Sattvikta' is of great importance in Chhath fasting. For this reason, complete cleanliness is done before this festival. This four-day-long festival begins on the Chaturthi Tithi of Kartik Shukla and ends on Saptami. 
On the first day of the fast, bottle gourd and rice are consumed. 'Kharna' is held on the second day and Kheer Prasad is consumed in the evening. On the third day, Arghya or worshipping to the sun is done to the rising sun, and on the fourth, to the setting sun. After this, the four-day fast comes to an end.
Buy Now: Incense Sticks
Chhath Puja Muhurta
| Chhath Puja | Muhurat |
| --- | --- |
| Chhath Puja | Wednesday, Nov 10, 2021 |
| Sunrise time on Chhath Puja day | 06:40 am |
| Sunset time on Chhath Puja | 05:30 pm |
| Shashthi Tithi Starts On | Nov 9, 2021 at 10:35 am |
| Shashthi Tithi Ends At | Nov 10, 2021 at 08:25 am |