Shravan Maas 2021: The Holy Month to Please Lord Shiva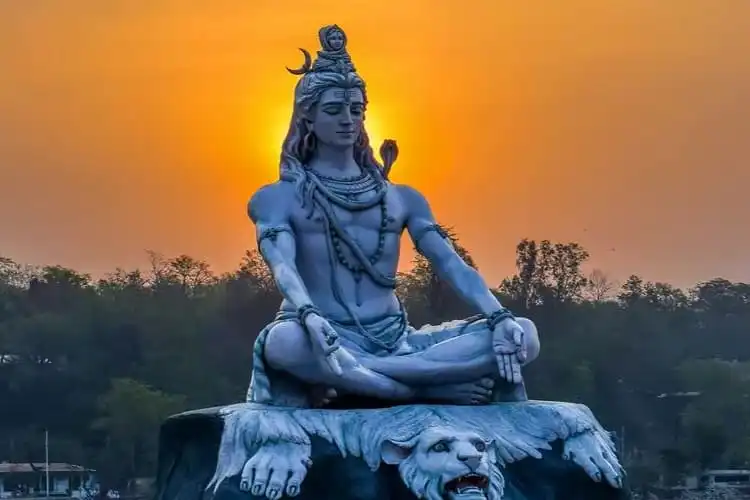 Shravan Month 2021
The Hindu month of Shravan or Sawan is very holy and auspicious from both religious and astrological points of view. It is the best time to perform any auspicious or religious ceremony as every day during this month is lucky and spiritually charged. Shiva worship holds a special significance in this month. In fact, Sawan Mahina is all the more auspicious month for Shaivite Hindus as there are various stories and traditions that link the special significance of Lord Shiva to this festival. 
Shravan month, commonly known as Sawan or Shravan Maas, is regarded as a holy month according to Hindu Purana. It is the fifth month of the Hindu calendar. Shravan generally comes around July to August month by the western calendar.
The name 'Shravan' itself comes from the constellation Shravan appearing in the skies either on the full moon or anytime during this month. It is considered an important month around India for celebrating the arrival of rain, hence the name Sawan.
Festivals have always been a huge part of Indian culture, but when festivals also take place during a holy month, it brings another form of celebration for devotees and Hindus in general. The month of Sawan is a whole festivity in itself. But many celebrations arrive within it which have tales of their own.
---
The Significance of Shravan Somwar
Every Monday of this month is celebrated as Shravan Somwar or Sawan Somwar. On this day, the Shiva Linga is especially bathed with holy water and milk. Devotees offer Bel leaves, flowers, holy water, milk and fruits, flowers, etc., to Lord Shiva on every Shravan Monday. They fast until the sun sets and the unbroken lamp continues to burn.
Important aspects Related to Shravan Somwar 2021
Dates of Shravan Maas for North Indian States
This year, the month of Shravan 2021 will begin from 25th July 2021, Sunday and will continue till 22nd August 2021, Sunday for North Indian states (Uttar Pradesh, Himachal Pradesh, Madhya Pradesh, Uttarakhand, Rajasthan, Haryana, Bihar and Chhattisgarh). There will be only four Sawan Mondays this year. Some facts of Sawan 2021 are as under:
Sawan Start Date 2021 – 25 July, Sunday
First Sawan Monday – 26 July 2021
Second Sawan Monday -02 August 2021
Third Sawan Monday – 09 August 2021
Fourth Sawan Monday – 16 August 2021
Last day of Sawan 2021 – 22 August, Sunday
There is a beautiful coincidence in Sawan month 2021: Shravan month 2021 month will begin on a Sunday and it will also end on a Sunday. Besides, the days of Sawan month in West Indian and South Indian states (like Andhra Pradesh, Goa, Maharashtra, Gujarat, Karnataka, and Tamil Nadu) are somewhat different from the North Indian states. Western India and Southern India (Andhra Pradesh, Goa, Maharashtra, Gujarat, Karnataka, and Tamil Nadu) celebrate Sawan 15 days after North Indian states. So, their Sawan 2021 start date is 15 days later.

Dates of Shravan Maas for South Indian & West Indians States
Sawan Start Date 2021 – 09 August 2021, Monday
First Sawan Monday – 09 August 2021
Second Sawan Monday – August 16 2021
Third Sawan Monday – 23 August 2021
Fourth Sawan Monday – 30 August 2021
Fifth Sawan Monday – 06 September 2021
Last day of Sawan 2021 – 07 September, Tuesday
Why the name Shravan?
Shravan mas is one of the holiest months of the year in the Hindu calendar. It is the fifth month of the year in the moon-based Hindu calendar. Are you wondering why this month is called Shravan? Well, there is a mythological belief behind it.  On Poornima or a full moon day or at any time during this month, the Shravan Nakshatra or constellation rules the skies; that's why it is called Shravan month.
Why is Lord Shiva Worshipped during Shravan Month?
Sagar Manthan (The churning of the ocean) is a very important event in traditional Hindu history. It is believed that the Sagar Manthan (which took place in search of the immortalising nectar (the Amrit)) happened during the month of Shravan mahina. During the churning, 14 different Gems (ratnas) came out from the ocean. The thirteen gems were divided between Devas (gods) and Asuras (demons). But Halahal, which came out after the 13 ratnas ​​was not accepted by anyone because it was the deadliest poison that could destroy the whole universe and every living being. Lord Shiva drank Halahal and kept the poison in his throat. Due to the effect of poison, his throat turned blue, and he came to be known as Neelkanth. 
Such was the effect of that poison that Lord Shiva put a crescent moon on his head, and all the gods started pouring water over Lord Shiva from the holy Ganges to reduce the effect of the poison. Both these events took place in the month of Shravan, and hence offering holy Ganges water to Lord Shiva in this month is considered very auspicious. The wearing of Rudraksha is also considered very auspicious in the month of Shravan. Monday is the favourite day of Lord Shiva. Monday is dedicated to Lord Shiva as he is the ruling deity of his day. Mondays that fall in the month of Shravan are known as Shravan Somwar and are all the more auspicious.
What to do in the Month of Shravan?
Offering milk to Lord Shiva in the month of Shravan brings a lot of merits. People also wear Rudraksha and use it for chanting. If Rudraksha is worn by offering it to Lord Shiva, it can work more effectively. Offering Panchamrit (a mixture of milk, curd, butter or ghee, honey and jaggery) and bel leaves to the Shiva Linga also invites his grace. You can also chant Shiv Chalisa and do regular aarti of Lord Shiva. Chanting of Mahamrityunjaya Mantra is very auspicious. Besides, you should fast on all Shravan Mondays. Sawan Somvar fast can be very beneficial to a girl looking for a good husband. Read here Do's and Don't during Shravan.
Why did Shravan become Important?
In Hindu mythology, all gods in the heavens and the demons of hell started churning an ocean; once upon a time. In search of elixir, they churned it for months, gaining all sorts of gifts which also had poison as a gift among them.
Now this poison was consumed by Lord Shiva, resulting in his throat turning blue as he held the poison in his throat. As to reduce the effects of poison, gods started offering water from the river of Ganges to Lord Shiva.
This whole scenario took place in Shravan month. Therefore, devotees believe that offering water and milk during this month help extinguish the fire that poison created in Lord Shiva's body.
Prayers and other rituals are also performed to please Lord Shiva, as he is considered the kindest of them all. As mentioned before, some people consider fasting on Mondays, especially young women wanting good husbands. Chanting Lord Shiva's 108 name is advantageous these days.
How Shravan Maas is Celebrated?
In different subcontinent, the Shravan celebration differs from others. In North Indian states like Uttar Pradesh, Bihar, Madhya Pradesh, Himachal Pradesh, Rajasthan Shravan is celebrated 15 days earlier than other South Indian states.
During this month, many communities in India like Jains abandon fresh greenery that contains insects in them to not kill them inadvertently. While states like Maharashtra, Goa, and Karnataka practice vegetarian diets as the rainy season makes it challenging to get seafood.
Devotees practice fast during this month as it helps calm your body and mind. If someone can not hold fast for a month, they do it every Monday of the month. As it is supposed to be the ruling deity Lord Shiva's day. Some may fast on Tuesday also to appease the Goddess Parvati, his devout spouse. Lord Shiva has a huge contribution to how the celebration of Shravan maas started.
The Astrological Significance of the Shravan Month
Shiva will fulfill all your Wishes
In the month of Sawan, Shiva devotees worship the Lord and try to please him by doing Rudrabhishekam Puja. According to Shiva Purana, whoever keeps fast and worships the Lord during this month, Lord Shiva fulfils all his/her wishes. One can easily get positive energy by worshipping Shiva during this auspicious and holy month.
You will get rid of Bad Effects of Planets
Besides, Shiva is also worshipped to get rid of the effects of bad planets and to get rid of incurable diseases which come with increasing age. If one is facing misfortune in life, or one is facing evil eye or if, then worshipping Shiva will remove all these problems.
Well, here are some astrological remedies which can be done in the month of Sawan, which can rid you of all kinds of problems.
Establish a Siddha Peeth in the home temple and worship it regularly while chanting the Maha Mantra Om Namah Shivaya for peace and prosperity.
If you are facing any problem due to negative energy, then wearing an armour made of Rudraksha garland in the month of Shravan will prove to be good. It will protect you and keep you healthy.
If someone is having health-related problems, then Mahamrityunjaya Puja is very good in the month of Shravan. This may eliminate any disease of yours completely. If you are unable to carry out expensive worship due to financial constraints, then you can buy a Mahamrityunjaya Yantra, worship the yantra and chant the Mahamrityunjaya mantra for at least 3 hours by lighting a lamp.
In the month of Shravan, if someone anoints Shivling with sugarcane juice or sweet water, it helps in reducing the problems related to Mars.
Recite Shiv Purana in Sawan and donate it to any devotee of Shiva; it will help you win the grace of Lord Shiva.
In the month of Shravan, regularly anoint Lord Shiva with coconut water in the Shiva temple and distribute coconut to the devotees.
How to Worship Shiva in Sawan as per the Zodiac Signs
Aries – Aries natives should anoint Shivling with curd during Sawan and chant Om Nageshwaraya Namah mantra while offering red gulal and flowers.
Taurus – Every Monday during Sawan, Taurus natives should mix water in raw milk and offer it on Shivling. Along with this, offer curd, sandalwood and white flowers. During this, the recitation of Rudrashtak will also be fruitful.
Gemini – On every Sawan Somwar, the people of Gemini sign should anoint Lord Shiva Shankar with pomegranate or sugarcane juice and offer them by applying white sandalwood on Bel leaves. During this, chant Om Namah Shivaya Mantra.
Cancer – Cancer natives should anoint Shivling with pure ghee on every Shravan Monday and offer sweets made of mawa. Chant the mantra Om Somanathaya Namah.
Leo – Leo natives should pour jaggery mixed water on Shivling every Monday during Sawan and chant Mahamrityunjaya Mantra. Besides, a lamp of cow's ghee should also be lit in front of God.
Virgo – The people of the Virgo sign should anoint Shivalinga by pouring sugarcane juice or water (with Bel leaves) during Sawan Monday. Along with this, you should chant Om Namah Shivaya Mantra.
Libra – People of the Libra zodiac should offer perfume or fragrant water to Lord Shiva; along with this, recite Shiva Sahasranamams. Offer shrikhand, sandalwood and white sandalwood bilva leaves to Shiva.
Scorpio – Scorpio natives should recite Rudrashtak on every Monday of Sawan by anointing Lord Shiva with Panchamrit. It solves all the business-related problems.
Sagittarius – On every Monday of Sawan, you should anoint Shivling by mixing saffron in cow's milk. With this, apply sandalwood on a bilvapatra and offer it to Shivling. Chant Panchakshari Mantra.
Capricorn – Capricorn natives should anoint God by pouring Kusha in water on every Monday of Sawan. Donate wheat and chant the Panchakshari mantra Om Namah Shivaya
Aquarius – The natives of Aquarius should anoint Shivling by putting sesame in water every Monday of Sawan and light a mustard oil lamp in front of God. With this, chant the Shadakshar Mantra of Lord Shiva eleven times.
Pisces – Pisces natives should anoint the Lord with turmeric mixed with milk or water on every Monday during Sawan and recite Shiva Tandava.
The festivals that follow during Shravan month
Nag Panchami
It is believed to offer milk to snakes on this day by people who believe in astrology. It is also known that snakes do not consume milk at all. Snakes are considered holy species as their species have a special place in Lord Shiva's body.
It is said that when snakes went to Shiva to complain about how men despise their race, due to his compassionate heart, he gave them the honour to be placed around his neck like a precious ornament.
Nag Panchami puja is auspicious as snakes are considered divine creatures, according to Vedas. 
Raksha Bandhan
This festival is celebrated for signifying the bond between brothers and sisters. As the name 'Raksha' means protection, it is said that whoever protects you, you can tie a silk string to them as gratitude and promise of protecting you.
Along with Raksha Bandhan, a festival called Nariyal Poornima is also celebrated on the full moon. The coastal Indian natives offer a coconut to the sea to respect the god of the sea and for them to calm down after the rainy season as most natives there depend on the sea for a living. Read More
Wrapping Up
Celebrate shravan 2021 with devotion and zest and have the blessing of Lord Shiva throughout your life.
---
---
Astro Guide
---
Day Guide
Comprises of events likely to happen, hourly guidance & precise timeframes
Life Meter
Know the percentages of different aspects of your physical and mental state
Compatibility
Check out how well will your wavelengths with others match