Is Akki A Real Life Khiladi? Get Akshay Kumar Kundli Analysis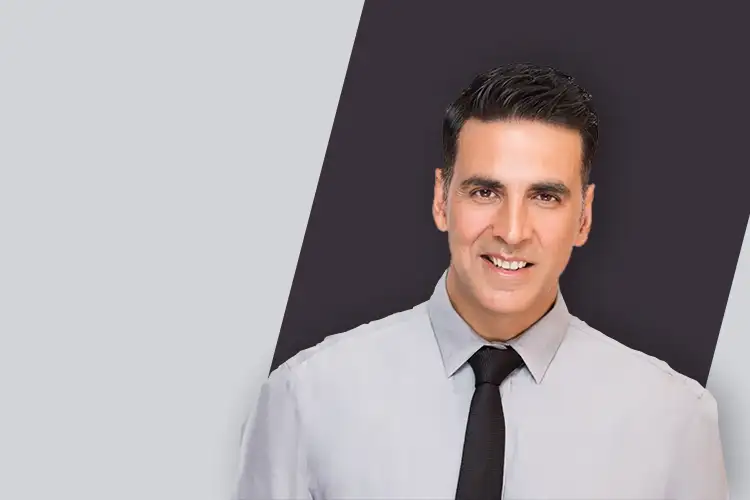 | Akshay Kumar | Birth Details |
| --- | --- |
| Akshay Kumar date of birth | Sept 9, 1967 |
| Akshay kumar Time of Birth | 12:05 AM |
| Akshay Kumar birth place | Amritsar |
| Akshay Kumar Zodiac Sign | Libra |
Akshay's Successful Acting Career
At the time when Akshay entered into the movie industry, he was serving Saturn's mahadasha, and Saturn is placed in the fifth house of creativity and acting, which pushed him to try luck in the film industry. Taskmaster Saturn is the lord of hardships which really bless the Khiladi star in a unique way this time. He got his first movie as a leading star in 1991, Saugandh, during which he served Saturn's mahadasha and Jupiter's antardasha. Jupiter is exalted and placed in the fortune house brings a lot of luck during antardasha, which worked in his favour. Khiladi star Yash Chopras Dillagi in 1994, which gave him a sudden and surprising stardom. This was when he was going through Mercury mahadasha and mercury antardasha which really helped lead masses. This was because he is blessed with exalted Mercury in the 11th house.
Akshay also went through some of the toughest times in his career, where he gave six back to back movies flop. During this time, he was going through Mercury mahadasha and Ketu antardasha, which created hurdles in getting desired results. Ketu is the planet of separation, so in its antar dasha, it creates a negative impact on natives life. In 2001, when he broke his action genre and tried comedy films, it was a turning point in life. He did Hera Pheri at the time of Mercury's mahadasha and Rahu's antardasha. Rahu is the planet of sudden surprises, which brings amazing results for him. Thus, the shadow planet assisted Kumar to put his name into the list of comedy kings.
Akshay May Remain Busy With His Personal Life
Akshay Kumar Vedic chart suggests the actor's love life might see ups and downs. He has Venus in the Leo sign, which makes him very demanding and majestic. He loves passionately, but sometimes little pride can also affect relationships in a negative way. He faced a break-up in relationships as well with Leo Venus. Mars in the first house also sometimes brings excessive aggressiveness into the relationships, which is not that good for a love life. This Mars also breaks relationships and brings delay into marriage.
Sun and Venus's conjunction makes him an extremely romantic and passionate person in love and married life. It also indicates he might have someone who is from the glamorous world. Therefore, he got married to Miss. Twinkle Khanna, which states the things written in his natal chart could be true. As per earlier predictions, he got married in 2001 at the age of 34.
The Actor Is Keen To Maintain His Fitness Level
As per Akshay Kumar astrology, 'Singh is King' actor is a fitness freak and is too crazy for it. The Mars of Scorpio sign brings that passion and intensity for fitness. After crossing 50, he still wakes up early in the morning and gets to the gym. Scorpio's Mars helped him to continue doing that. Saturn in the fifth house also makes him very cautious towards health-related matters. Rahu in the sixth house is not that good when it comes to health, and as per Akshay Kumar natal horoscope, he had faced some health issues when he was young. However, Rahu aspect on the twelfth house makes him take an interest in Yoga and Meditation as well. He also loves kickboxing and basketball. Also, Moon and Ketu in the 12th house make him aware of fitness for the benefit of other people as well. This is another reason why he takes more initiatives for awareness through social activity.
Book Here: Rahu Graha Shanti Puja
Overall Analysis
Akshay Kumar horoscope analysis suggests that he has natal Sun in the sign of Leo, so he is powerful and strong. Leo's Sun boosts his confidence and believes in purity. The Sun placed in the tenth house indicates he would be at the top somehow in his life. Venus present in Leo sign provides acting skills to give masterclass performances. Exalted Mercury makes him a good conversationalist. Besides, the natal Jupiter in the fortune house adds moral thoughts to his personality.
Akshay Kumar zodiac sign is Libra which makes him a very balanced and peace-loving individual. Libra's Moon also blesses him to stay away from all bad habits such as smoking and drinking. Therefore, he is healthy and strong enough to defy ageing.
According to the Sun Kundli of Akshay Kumar, Mars is in the place of his mother and now Ketu is transiting through it. That's why he is separated from his mother. Akshay Kumar's horoscope is good, and from Feb 24, 2022, Akshay would gain its benefit. Many upcoming projects would bring success for him. Akshay Kumar has more than nine projects in 2021-2022, including Suryavanshi, Atrangi Re, Rakshabandhan, Prithviraj and Ramsetu.
Wrapping Up
It is obvious that when you know your strengths and abilities, you can push yourself harder to accomplish life goals. We learned about the significant areas of Akshay's life and what keeps him busy in his personal life.