Sanskrit or Vedic Name : Meen
Key Traits : Empathetic, Mystical, Romantic, Impressionable, Imaginative
Deepest Desire : To turn their wildest dreams into reality
Noteworthy Qualities : Imaginative, Creativite, Pleasure seeking, Generous, Intuitive, Spiritual, Adaptable, Knowledgeable
The motto for Life : Dream Big Or Go Home!
You're at the end of the zodiac cycle, so you're responsible for wrapping things up on a high note! Yes, that's expected though not pressured dear Pisces! Pisces are termed as the ethereal fish that adore exploring their boundless imaginations! Immense sensitivity can easily make Pisces swallow emotions! A relationship with mystical Pisces sign is guaranteed to involve deep spiritual exploration for their sail in the waters of spiritualism.
Deeply ingenious Pisces zodiac sign holds profound respect for gray matter! Well, it keeps one wondering whether Albert Einstein was a Pisces sign!? Bookworms or voracious readers! This bunch of brainy characters loves spending time reading, exploring, or creating art or music. A Pisces is rarely lonely! They find the best company in themselves as a creative imagination keeps them as busy as a bee!
Pisces zodiac are dormant volcanoes but hold a very strong sense of the right and the wrong and erupt when pressured! Their moral compass and gut effectively guide them! The last sign of the zodiac is in tune with the magic of existence and can unearth beauty and happiness in every situation, even the ones that can cause weeps! This is the distinct quality that makes Pisces a soulful and positive sign that concludes the zodiacal cycle on an optimistic note!
Dates of Pisces Zodiac Sign : (Feb 19- Mar 20)
Pisces season runs from February 19 through March 20. Each zodiac sign is divided into three parts by a 10-day slot called Decan. Each Decan has specific traits that are exhibited in natives born in individual slots.
| | 1st Decan (Feb 19- 29) | 2nd Decan (Mar 1- 10) | 3rd Decan (Mar 11- 20) |
| --- | --- | --- | --- |
| Planet | Jupiter/Neptune | Moon | Mars |
| Traits | Selfless, Intuitive, Romantic, Helpful, Patient Listeners, Mediumistic disposition, Sentimental | Strong willed, Moody, Sensitive, Aspiring, Persistence, Virtuous | Spiritual, Imaginative, Adaptable, Innovative, Intense, Experimentalism |
Quick Insight Into Pisces Zodiac Sign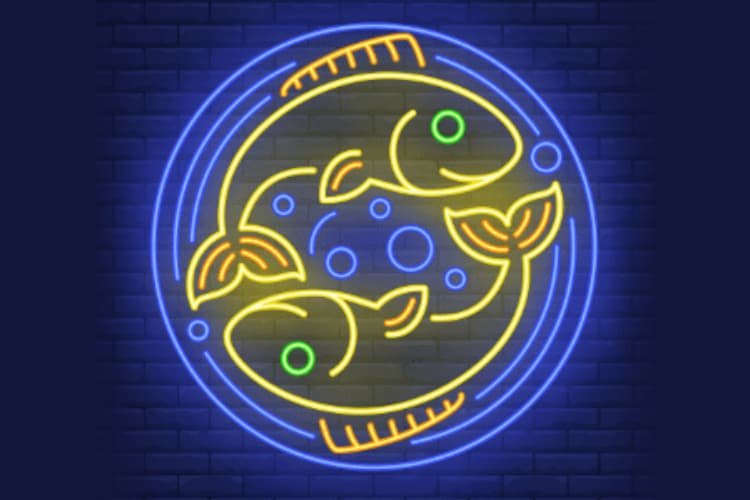 Pisces Symbol: The Fishes
The zodiac sign of Pisces is embodied by two Fish. The Greek culture defines these Fishes as Ichthys. It narrates that Ichthys was a pair of fishes that rescued Eros (Cupid) and Aphrodite( Venus) from a monster named Typhoeus. It coincides with Pisces' ability to exist simultaneously in both the conscious and subconscious world. The symbol is related to the concept of lunar phases that connects the ending of everything with a new genesis. The two Fishes swimming in contrasting directions depicts the dual nature of Pisces. It emphasizes its role as a mediator between two different realities of life and death.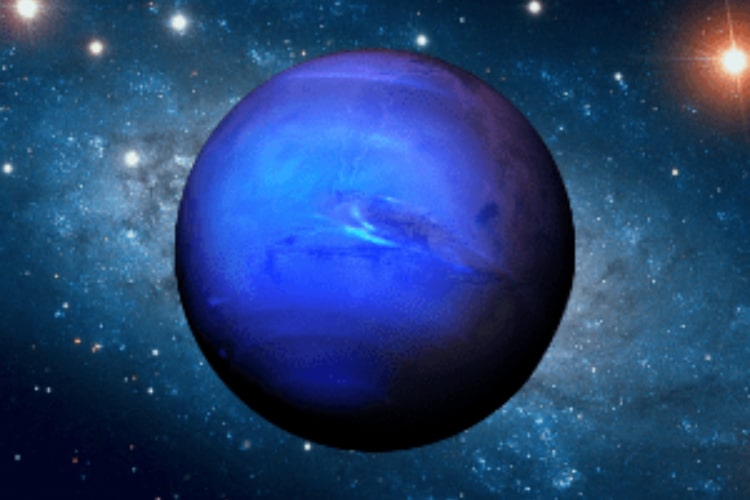 Pisces Ruling Planet: Neptune
Pisces has Neptune as its planetary ruler. Ancient Romans praised and glorified Neptune as the almighty God of the Sea. The Roman god of watery depths serves as a magician of the solar system exhibiting illusion, imagination, creativity, and enchantment. Pisces weaves one's emotional connection with others and when Neptune moves through its sacred waters its presence becomes a source of cosmic boundless empathy.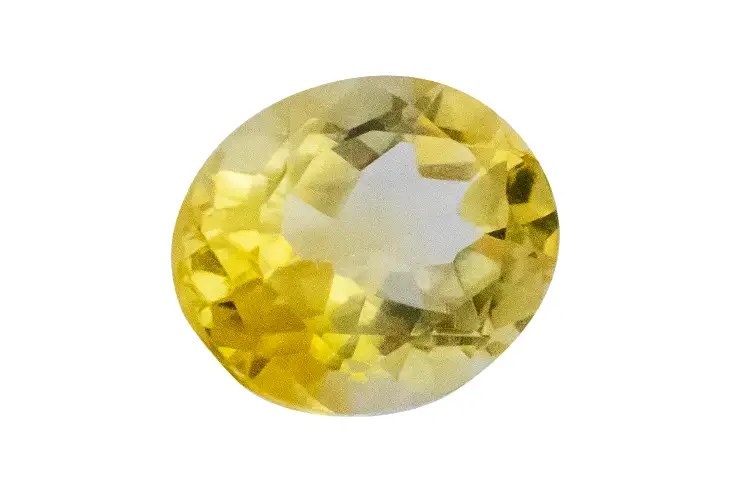 Pisces Lucky Gemstone
Golden Yellow Topaz is a lucky gemstone for watery Pisces. Enhanced with energies, the yellow-coloured Topaz pulls in the power of Jupiter in your life to garner good luck. Along with fulfilling your worldly desires, the Pisces' lucky gemstone Yellow Topaz keeps you grounded with kindness and sincerity. Eliminating negativity, the gemstone attracts happiness.
Know more about Yellow Topaz »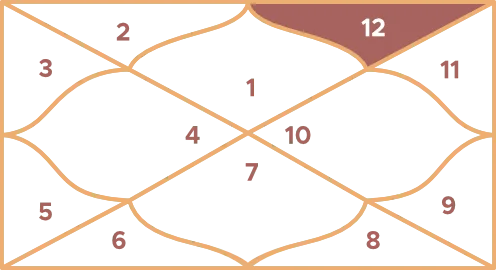 Pisces Ruling House: Twelfth
The twelfth and the last house is the ruling house of Pisces sign. It is commonly referred to as the House of the Unconscious. The twelfth house in Vedic astrology denotes the ending of the life cycle and the commencement of spiritual journeys. It is the champion of positive transformations and correlates with the Pisces energy that mostly governs intangible things like dreams, secrets, emotions, and intuitions. Some decry the twelfth house as the garbage bin of the zodiac as it is associated with Karma and the things we deserve as per deeds and actions.
Learn more about the Eleventh House »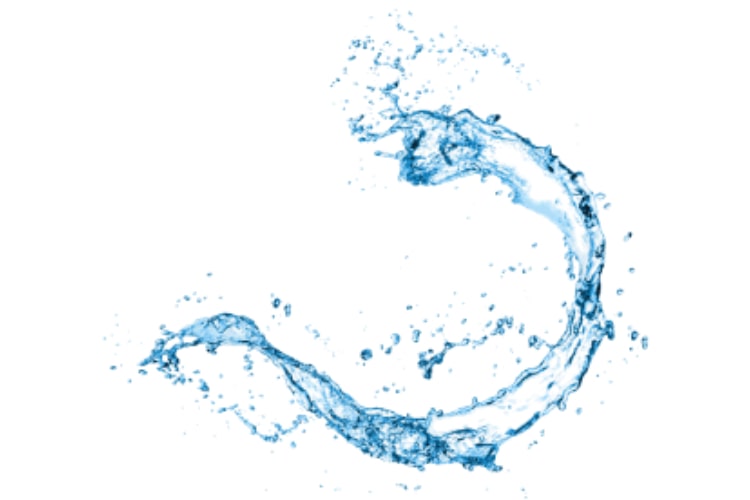 Pisces Element: Water
Pisces is one of the three zodiac signs other than Cancer and Scorpio that belongs to the Water sign brigade. Pisces is a watery sign concerned with subtle emotions and secret mystical depths. The Water element flows through Pisces as a wave of devoted compassion and intuition. Water is nothing but emotions and Pisces is deeply rooted in sensitivity and spiritualism. This connects water with the zodiac sign that is capable of expressing infinite sensitivity and love towards all beings.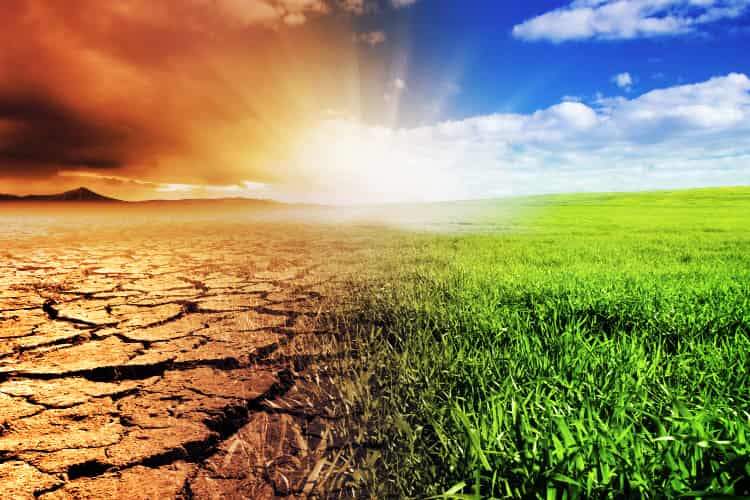 Pisces Quality: Mutable
Pisces is a Water sign of mutable quality and speaks of the change in our waters! It starts at the end of winter with the sweet expectation of spring. Mutable signs are also the editors of the zodiac, the ones who complete the package with a winning touch. Pisces, the last mutable sign of the zodiac wheel signifies the transfiguration of human life. It simply means an exodus from death to life, and from darkness to light. Other mutable signs are Gemini, Virgo, and Sagittarius.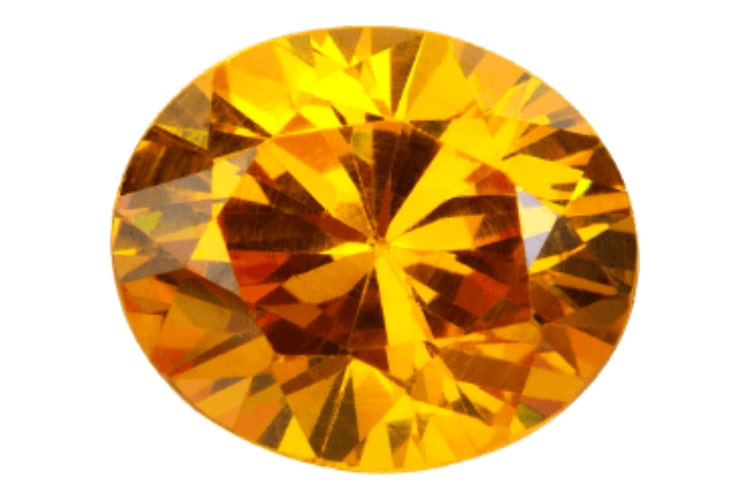 Pisces Birthstone: Yellow sapphire
The yellow sapphire is the birthstone of Pisces. It is commonly known as Pukhraj and is a lifetime gem recommended for Pisces natives. The birthstone plays a vital role in bringing good health, strength, and energy in the lives of Pisces. The wearer may also develop spiritual trends and exhibit a philanthropic attitude. Yellow sapphire aids in reinforcing the ability for a person to tactfully handle tough situations and make the right decisions when in dilemma. On the luck front, other gemstones that can truly unlock the potential of Pisces are amethyst, bloodstone, rock crystal, sapphire, and jade.
Know more about Pisces Birthstone »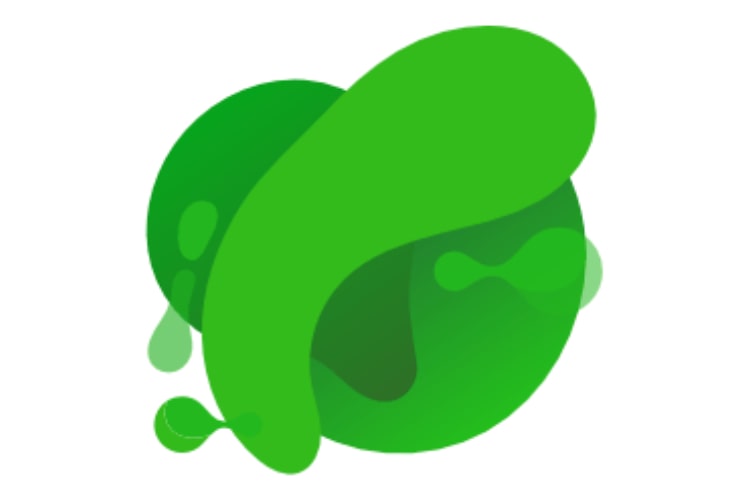 Pisces Color: Green
The mystical and magical nature of Pisces is enhanced by its lucky color green. Green color signifies renewal and inspiration encouraging the healing and rejuvenating energies that Pisces is known for. The soothing color green is associated with vibrant lifeforce and bountiful vigor that suggests new avenues. It eliminates anxieties and insecurities helping Pisces natives to start afresh.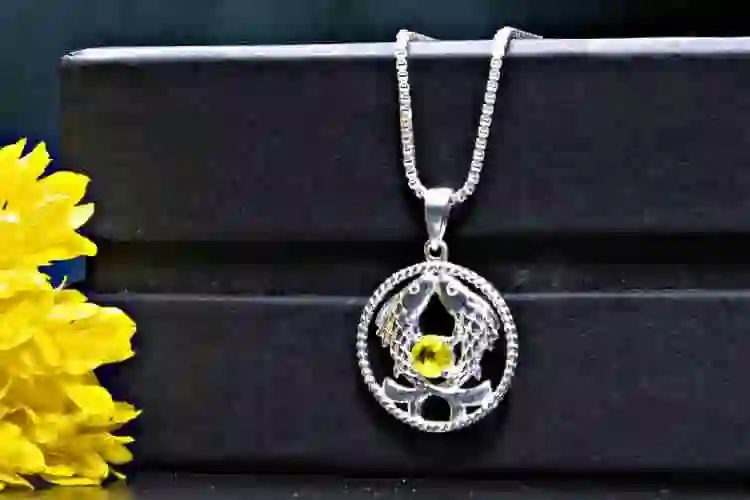 Pisces Pendant
Pisces, this one's for you, your birthstone Blue Sapphire in the middle of your signature emblem. All the potential influence of Blue Sapphire will nullify the effect of gloomy planetary positions while the stiff silver finish will sparkle around your neck. Nevertheless Neptune the ruling planet will help in all kinds of creative aspects in one's life.
Know more about Pisces Pendant »
---
Pisces Compatibility
Incompatible Matches :
Gemini, Libra, Sagittarius
Neutral Matches :
Virgo, Pisces
The most compatible matches for Pisces signs are Cancer, Scorpio, and Capricorn. Pisces excels in coming up with ideas, while Cancer is great at putting them into action. Similarly, Scorpio loves to reign and Pisces loves to be protected, which balances the relationship quite well Besides, Pisces's whimsy and light-heartedness may add delight to Capricorn's existence! However, Pisces has zero compatibility with Gemini, Libra, and Sagittarius. A high risk of infidelity may exist as both Pisces zodiac and Gemini are prone to a roving eye! Meanwhile, Libra's sociable nature may clash with Pisces's need for privacy. Similarly, independent Sagittarius may not be able to provide sensitive, emotional Pisces the devotion, and care they need! Moreover, there are fair chances of a partnership between its fellow sign Pisces and Virgo. Pisces with Pisces may face trouble managing practical matters and staying in touch with reality. Whereas Virgo may need to avoid their over-practical outlook, lest they may bore their Piscean partner. Learn more about the Aquarius Compatibility »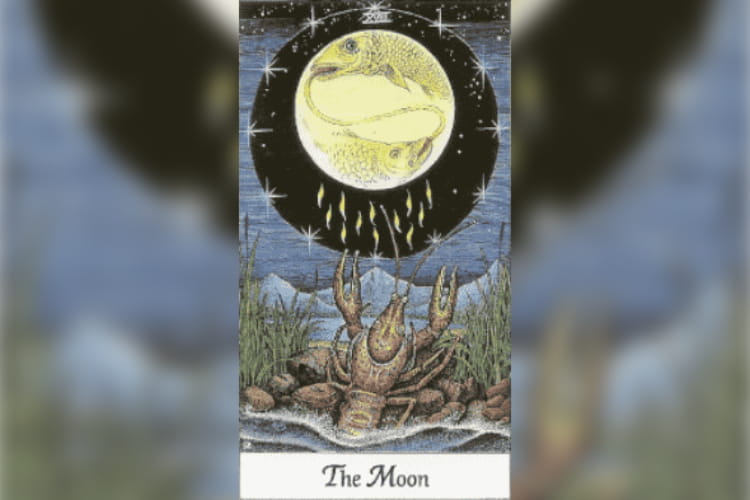 Pisces Tarot Card : The Moon
The Moon is the Tarot card of Pisces sign. The celestial body is mystical and an idealistic wonder that controls the human mind, behavior, and emotions. The tarot card of the Moon signifies one's ability to rely on disposition and intuitions, while Pisces naturally inherits the quality of intuitiveness. Life on earth is governed by Lunar phases, similarly, the Moon card motivates Pisces to go with the flow of Nature, rather than swim against the tides.
Pisces Lucky Charms
Lucky Colors:
Mauve, Lilac, Violet, Sea green, Yellow, Orange, Pink
Lucky Stone:
Amethyst, Bloodstone, Rock crystal, sapphire,Jade
Lucky Numbers:
3, 9, 12, 15
Lucky Metal:
Bronze
Pisces Planetary Governor
Domicile: Jupiter

Jupiter is the domicile of Pisces zodiac sign and is positioned in its most influential position. With this mystical mojo natives may be blessed with qualities of being wise, guardian and counselors. Supporting others may just come naturally for you.

Exaltation: Venus

Venus the spiritual and beautiful planet is exalted in the Pisces zodiac sign and feels most comfortable with the unconditionally caring zodiac sign of Pisces. As a result, it may enable natives to freely and unconditionally express their feelings.

Detriment & Fall: Mercury

Mercury in Pisces is perhaps the least happy combination for any planet. Mercury is in detriment as well as in the fall of the zodiac sign of Pisces. This implies that Mercury is not only powerless as it cannot utilize its full strength to communicate, but also confronts challenges in the physical world as it is in the fall of Pisces. This situation may restrict natives from effectively utilizing their communication skills as well as bring hurdles in their interactions.

What is special about the Pisces sign? Talk to our Expert Astrologers.