Kartik Aaryan's Inspiring Bollywood Journey
Kartik Tiwari / Kartik Aryaan has garnered immense love from his fans since the release of 'Pyaar Ka Punchnama'. In his boyhood days, the actor secretly started chasing his dream to become Bollywood's star while pursuing a degree in engineering. He used a social media platform as a medium to connect himself with Bollywood. After a lot of hard work, he finally found an opportunity to share screen space with Divyendu Sharma and Raayo in a romantic comedy back in 2011. The actor breathed life into his character 'Rajat' by delivering a fine piece of acting and a 7-minute Seeti Maar monologue. The first installment of Pyaar Ka Punchnama gained a positive response from the audience and Kartik's performance was commended.
Recently, Bollywood's heart-throb Kartik was seen as Sara Ali Khan's love interest in 'Love Aaj Kal', which received mixed emotions from the audience. Following an unsuccessful release of Kartik Aryaan's new movie, some of his fans believe that the actor is running out of acting talent. On his 30th Birthday, let us scan Kartik's birth chart to know his future prospects. Reveal your future predictions by accessing free Janampatri.
Kartik Aryan's Surya Kundali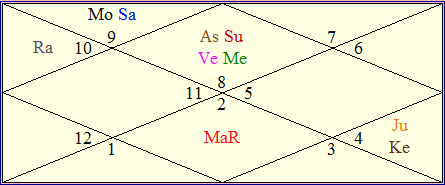 Date of Birth: 22nd November 1990
Time of Birth: UnKnown
Place of Birth: Gwalior, Madhya Pradesh (India)
What Do Stars Say About Kartik Aryaan?
The Gwalior-born actor will continue to impress fans with his outstanding acting abilities, reveals Kartik's birth chart. The actor will undergo the major period of Rahu and sub-period of Saturn until the starting of March 2022. And as a result, he will revamp his performance by shining in low budget films. The beneficiary planet, Jupiter will transit in the 2nd house, while Saturn will pass through Rahu in the 3rd house. This planetary transition is likely to earn favourable outcomes for Kartik Aryan's new movie 'Dostana – 2'. Also, transiting Rahu in the ascendant house will have a positive impact on Kartik's acting career, and therefore he will earn appreciation and recognition from his followers.
Kartik Aryaan's Birthday Horoscope
Kartik Love-affair With Bollywood's Remakes Will Continue To Grow
Nowadays, Kartik Aryan is working hard for his upcoming movies Dostana 2 and Bhul Bhulaiya 2, which may turn the fortune in Kartik's favour. Kartik's birth chart says that the actor will undergo the major period of Rahu in the 3rd house and the transiting Rahu will aspect Jupiter in the 9th house. He will be under this period during the release of both upcoming movies, and he may find a door to success regarding his acting career. For personalised guidance to achieve your desired career goals Personalized Daily Horoscope. As per Kartik's Kundali, the lord of the 10th house, Sun is placed in the 1st house along with yoga karaka planets. Jupiter, the lord of the 2nd house, aspects the planets in the ascendant house. The planetary combinations suggest that the actor will receive offers from top brands, which will extend his list of brand endorsements. Kartik may raise his contractual prices as soon as he gets an attractive offer in the year 2021.
Birthday Note
Wishing young and talented Bollywood actor, Kartik Aaryan a very 'Happy Birthday'!
Greetings from the Mypandit team!