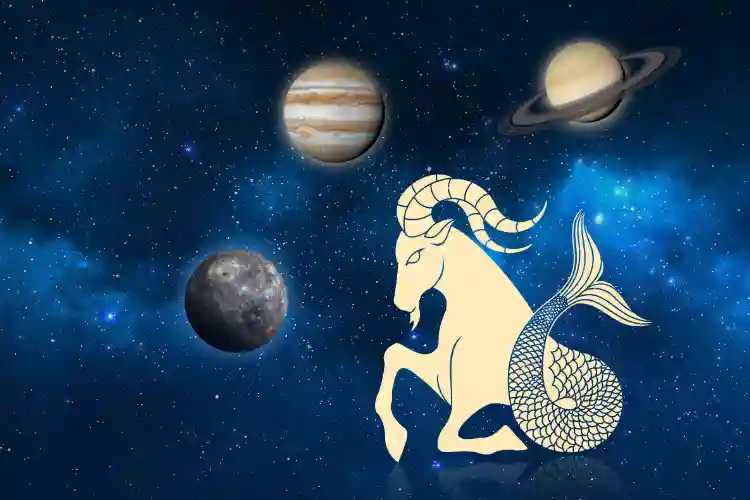 Fellas, did you know a Stellium occurs when three planets are in one house, and they gift all their energy to that zodiac sign for some time. It is also said that a stellium is more powerful if there is Moon, Sun, Mercury, Venus, or Mars among the three planets. The Jupiter, Saturn, and Mercury in Retrograde is quite favourable for the natives as it brings comfort, conveyance, and luxury for them. It is actually so cool *in an excited voice* and something to be proud of because a stellium isn't exactly something you see every 15 days like a full moon, right?
Come on, let's see how this cool event will affect you, me, India, and all the different houses.
How will Mercury, Saturn, and Jupiter Transit in Capricorn Impact India?
The time between – 21st February 2021 to 11th March 2021, the mega planets – Mercury, Saturn, and Jupiter will be transiting in Capricorn. This conjunction will influence a lot of things in Bharat. India may try to solve the disputes that it has with its neighbouring countries. Also, it may introduce new strategies to maintain that. Focusing on internal matters like nationwide violence, protest, and religious disputes will be the utmost priority. Stock market investors may have a difficult time as NSE and BSE may go all-time low.
The nation may come with a new plan of action and laws to strengthen its fight against the pandemic or deal with the economic crisis. The B-wood industry may mourn the loss of a famous star, and the film industry may also suffer. There can be an eruption of controversies because of what the Indian cinema industry actors commented. But India may have a shining time in the Sports World. The triple transit will bless India to be free of any natural disaster during this period. But the Indian government may take precautionary steps following the calamities of the past.
The triple planetary conjunction will come and go, but your Free Janampatri can tell you how all the celestial bodies will influence you throughout the year.
Countries of the Western-Southern region situated near the sea coast may face hurdles because of any natural disaster. Because of this, people may get scared. On top of that, there may be some terrorist activity that may take place before 21st February to add to the fear of people there. Every nation may know the activity as it may make headlines in every newspaper of the world.
Impacts of Triplets – Mercury, Saturn, and Jupiter Conjunction 2021 on all Zodiacs
Jupiter Saturn Mercury Conjunction Effects in the 10th House for Aries
The triple planetary conjunction in the 10th house will help you achieve mental peace. For Aries natives, it will be a good time if you just want to get a weekend trip. Working professionals and people having jobs, you will have a nice time.
Looking from a health perspective, you may have back, knee, or eye pain. And if the problem is major, getting your cataract operation done will be helpful. It is advised not to make any property-related or stock market investments.
There can be unexpected expenses too, which can make your wallets light. To maintain healthy relations with your parents, avoid arguing on unnecessary topics. The transit may also cause major issues between you and your spouse.
There may be a small misunderstanding with your friends, and you may feel betrayed. Try to handle it wisely so that you may not have to lose your real friend. A person having a commission business may feel like their money is stuck. To achieve the desired success, you are advised to worship Goddess Durga and keep fast.
Jupiter Saturn Mercury Conjunction Effects in the 9th House for Taurus
The Mercury transit will bring in the love ride for you to enter a love relationship. Along with this, you will also have a wonderful time with your family. During this conjunction, avoid getting into silly arguments with your friends. Professionals, you too should be careful while dealing with your seniors as there may be a chance of you indulging in an argument with them. It's better to avoid that as you may also have to go on a small business trip. Those of you who want to change their job, you have to keep patience.
This time is not auspicious to make any investments related to property or gold, but it is a suitable time stock market investment. Also, there is a possibility of business losses. If and when you go on a long journey or religious trips, you may tend to spend more. Individuals seeking loans should apply before or after this transition.
Read here more about Taurus Zodiac Signs >>
Business people will have a peaceful time. You will also get to spend time with your children. Students will also get amazing results in their examinations. You may feel leg or stomach pain as a result of the transit. To survive the difficult phase, you need to remain calm and not start any drama with your mate. You are advised to worship Lord Shiva and keep fast also to earn his blessings and favourable results.
Suppose 2021 becomes your own Disney World, or maybe you live the life of Rapunzel. Hmm, well stop this hypothetical dream and know what it'll be like with this Free Horoscope 2021.
Jupiter Saturn Mercury Conjunction Effects in the 8th House for Gemini
The triple planetary conjunction may harness your mental peace and make you spend more money. Loan seekers may need to wait a while longer to get it approved. It is advised to deal with any policy carefully as there is a chance for fraud to happen.
This period is not suitable to invest in the stock market but can buy a property or home. Working hours can be disturbing, and working professionals may see a change in their workplace.
While turning in capital and investment in a new business, make sure to cross-check all the details. Partnership dealers may face small issues with their work. The Jupiter Saturn conjunction in Capricorn may get you all worked up and worried about your parents. Your planned trip may also get cancelled because of this. While pursuing any exam, you may have negative thoughts making it difficult for you to remember anything.
You may have to spend money on your child's health as well as yourself as you may feel pain due to catching a fire or skin borne disease. You may also have to spend money because of your friends. Although it's a good time to organize religious works. Gemini natives should recite Hanuman Chalisa on Tuesday and Saturday for getting flying colours.
Read here more about Gemini Zodiac Signs >>
Jupiter Saturn Mercury Conjunction Effects in the 7th House for Cancer
Jupiter, Saturn, and Mercury conjunction in 2021 is bringing romance for you. It is a great time for you to enter into a loving relationship. All the single lads and lasses may even receive marriage proposals. In-laws can sometimes be the third person who creates problems between you and your spouse because of which there can be some ups and downs.
The triple transit may get you worried for your parents, in which you end up spending a lot of money but it will also give you time to cherish old memories with them. Parents may have to worry about their children's health. This may lead you to cancel your holiday or religious trips. This phase is good for the freshers and job hunters. Many doors of opportunities may open for you. Working individuals may receive appreciation and respect from their seniors.
The Mercury transit may give students mental stress. During this time you may get proper guidance from your elders and avoid any misunderstandings within the family or with relatives. Also, keep good relations with your neiaghbours because there is a chance that you may indulge in a fight with them during this period. You may endure some loss from your previous investments in the stock market.
Some business trips are also lined up for you. Going out with friends can be an expensive affair sometimes. Healthwise, you may have a stomach ache, acidity, or gas problems. Natives of Cancer can achieve desired success by worshipping Lord Dattatreya and pouring water into the Pipal Tree.
What mood are you going to wear today? Floral like Chanel No. 5? Or maybe fresh like Davidoff's Cool Water? Read your Daily Horoscope and smell it out.
Jupiter Saturn Mercury Conjunction Effects in the 6th House for Leo
Jupiter Saturn conjunction in Capricorn will provide you with mental peace throughout this period. Your family will be at your back and help you financially if needed. Your parents will also help you boost your confidence. Any pending work related to your parental property may get sorted.
However, it is advised not to buy any land or property right now. Sometimes not sharing your investment and business plans can save you from getting cheated on. Always keep your eyes and ears open while doing any documentation or paperwork. Invest in Gold if you wish too, but avoid the stock market.
You should not get into arguments with your seniors, and at the same time, start hunting for a new job as the planets may bring struggles in your current position. Sometimes, walking away can work in your favour rather than investing your time in something futile. This phase can make you worried about your father's and spouse's health, and you may end up spending more money.
Talking about your health during the Mercury transit in Capricorn, you may feel thigh pain or knee pain. Students may face a difficult time as natives might have mood swings. It is not a suitable period to organize any trips. Individuals of Leo should offer water to the Sun while chanting the Surya mantra or keep fast on Sunday/Monday to worship Lord Shiva and get favourable outcomes.
Read here more about Cancer Zodiac Signs >>
Jupiter Saturn Mercury Conjunction Effects in the 5th House for Virgo
Jupiter Saturn conjunction in Capricorn 2021 may not let you spend time with your family. As a result, your family may not give you financial support. Although, your relationship with your father will improve. You may worry about your mother's health. Virgin in love may have misunderstandings with their mates.
Married couples will reach common ground by solving their past issues and move forward in their lives. You will find stability in your job. This period is not favourable for you if you plan on investing in the stock market. Although you can opt for some assets like a new vehicle, just be careful while driving. You may also get your loan approved.
The Capricorn conjunction may help you choose fancy household items. Businessmen/women, this is a very good phase for your business. You may get your stuck money back. There is a chance that you go on a business trip, and earn profit from your commission-based business. Skin-borne disease or urinary problems can be some of the hurdles on the health front. There may be issues while dealing with the government or legal work.
You may have a good time with your friends. Students may drown in mental stress and get distracted from their studies. Virgo natives are advised to worship Lord Vishnu by chanting the Vishnu mantra on Wednesday and Thursday to achieve favourable outcomes. Offering water to the pipal tree can help to earn positive results.
Read here more about Virgo Zodiac Signs >>
Jupiter Saturn Mercury Conjunction Effects in the 4th House for Libra
Mercury transit in Capricorn 2021 will give you good times in regards to your job. You may even have quite a peaceful time with your colleagues. You may plan an outing with your friends. During this period, you all will enjoy it a lot, and you may even make some new friends.
Love birds will have a lovey-dovey time, and singles may hear wedding bells as they may get a marriage proposal. The planetary force may create misunderstandings between your parents. This may cause you mental stress as you may lack family support. It is advised not to apply for a loan at this time as you will also get your loaned money back.
Read here more about Libra Zodiac Signs >>
Stock market or property investments should be avoided at all costs. You may face legal issues regarding the property that is concerning your partner. It is also not a favourable time to buy or book a house or vehicle. Libra natives should worship Goddess Durga and chant the Gayatri mantra to achieve desired goals. Also, you can read Hanuman Chalisa on Friday and Saturday to achieve their destiny.
You don't want any wedding shenanigans on your D-day, right? So why not check Zodiac Compatibility with your partner before sending out the invites?
Jupiter Saturn Mercury Conjunction Effects in the 3rd House for Scorpio
Triple planetary conjunction in Capricorn will bring in a lot of job opportunities for you. You may get a promotion letter or a salary hike. Business people, you may start exploring new business plans and earn profit out of it. You may even get back the money that was stuck. Your loan may get passed. After taking guidance from experts, you can invest in the stock market too.
Legal and government work would be completed too. The transit of these three planets may add fuel to the blazing relationship you have with your spouse. In addition to this, you may even spoil your bond with your friends. The cherry on the top of the troubled mountain is the issues you have with your mother, whereas your father is down with some health issues. Amidst this don't cause fights with your siblings.
The planetary influences may bless the students with a good time. You may get a green signal for your visa. But plan for later dates as this period is not very promising for trips. Eating habits should be changed. Otherwise, you may face stomach-related problems and may have to spend more behind health ailments. Also, you may get pain in the legs, right hand, or neck. Scorpio natives should read Hanuman Chalisa on Tuesday and offer food to cows to get the desired success.
Read here more about Scorpio Zodiac Signs >>
Jupiter Saturn Mercury Conjunction Effects in the 2nd House for Sagittarius
Mercury, Jupiter, and Saturn conjunction in 2021 will prove to be very fruitful for Sagittarius natives in terms of their job. Your relation with your senior will also improve.
Spending more time with your spouse = developing a mutual bond and having a lot of fun. Your relationship with your child will also flourish, but you may get worried about their education. It is your right to get worried, but don't let that be your driving force. Otherwise, you may end up saying something you don't really mean.
The bond you have with your siblings and friends will stay intact. This time is auspicious to book your new house, but don't be in a rush to sell off your current house or shop. Investment in the stock market won't get you any returns so avoid that. Get your loans approved as the planets are in a mood for acceptance.
Read here more about Sagittarius Zodiac Signs >>
People having their own business may form a new plan of action or finish with what they have started. Although don't get into the cycle of partnership, it can cause many issues. The planets may help to get back your stuck money. But the triple planetary conjunction may give extra mental stress and negative thoughts to the minds of innocent students.
You should not do any type of travelling in this period. But you can book flights for your international trips. It is the right time to get your cataract operation done on your right eye. Individuals of Sagittarius should follow Vishnu Shastra or offer water to Sun on Thursday and Sunday to earn desired profit in the business or professional work.
Searching for the date you get the keys to the house of your dreams? Know it all with the Hindu Panchang!
Jupiter Saturn Mercury Conjunction Effects in the 1st House for Capricorn
The three planets together in the house of ascendant gravitate negative thoughts towards Capricorn's mind. Also, the triple planetary conjunction will make it hard for you to find any new business or job opportunities. You may not be able to churn your mind to make any important decisions. However, you may also have to deal with stomach or intestinal problems. You may be burdened with unexpected spendings on your child and mother's health. This may increase your stress.
There can be arguments and rows between you and your friends. You may even spoil your relation with your father. Relatives will leave you no room for breathing as they may bring more turbulence in your life. On the plus side, you will have an amazing bond with your siblings. Your relationship with your partner will be as smooth as butter.
You may even find new sources to earn money and complete your tasks by getting inspiration. There may be a failure to find a desired buyer to whom you can sell your home or property. Extra efforts may be needed to finish your pending government or legal work.
ALERT: The Mercury transit may make a fish trap for you to get robbed, so don't take this warning lightly. Capricorn natives should recite Hanuman Chalisa every day to achieve what they want.
Jupiter Saturn Mercury Conjunction Effects in the 12th House for Aquarius
Jupiter, Saturn, and Mercury transit in the 12th house may make you spend more than your income. Spending on your child's education is one of them. This period may keep you busy as you spend your time organizing family functions, going on short business trips, having a leisure trip with your mate, a fun trip with your friends, etc.
The planets will grant you many health lifelines, and you may continue to maintain good health. To continue working at your current job, you may have to go far away from your parents. There can be trouble in paradise as lovers may face some issues. Deal with your closed ones gently. Otherwise, you may lose your trust in them. Your court verdict may get delayed.
During this Capricorn conjunction, you should avoid applying for any loans. Also, hold on to your investments in property or any insurance schemes. There is a possibility that you may feel like being cheated. However, you may go ahead and make some investments in the stock market and even book your flights for overseas trips. You may get your stuck money back.
Read here more about Aquarius Zodiac Signs >>
Thinking twice before deciding on any financial matters is a wise choice. Individuals associated with commission business may complete their important works. Aquarius natives should donate rice to Brahmins, worship Goddess Durga by reciting Siddha Kunjika Stotram and reading the Hanuman Chalisa on Saturday to achieve their desired success.
Jupiter Saturn Mercury Conjunction Effects in the 11th House for Pisces
You may have a wonderful time with your partner during this three planet stellium in February 2021. You may have an amazing time with your family too. The planets have a trip mapped out for you. Lovers may have love issues in their relationship. But singles may get asked out.
The triple planetary conjunction may create problems between you and your friends. In that, you may throw some nasty comments while they may backfire with the same. You get disappointed with them, and your words may spoil the relationship. This scenario doesn't look very good, right? Well, now that you got the glimpse, you can be careful with what you speak.
Read here more about Pisces Zodiac Signs >>
From the health front, you may face some back pain or hand and leg related pain. Unfortunately, your planned trip may get cancelled too. There may be an inflow of profit from your previous investments. On the other hand, you may get delayed in applying for a loan or booking a property. Pisces individuals should recite the Ganesha mantra on Tuesday to achieve the desired success.
Conclusion
Lastly, it can be said that the triple planetary conjunction will prove to be fruitful for the natives of Aries, Cancer, Sagittarius, and Pisces. While the individuals of Virgo, Libra, and Scorpio may have a fair time. And the people belonging to Taurus, Leo, Gemini, Capricorn, and Aquarius sign may not have that great time.