King Khan B'Day Predictions- Versatility At Its Best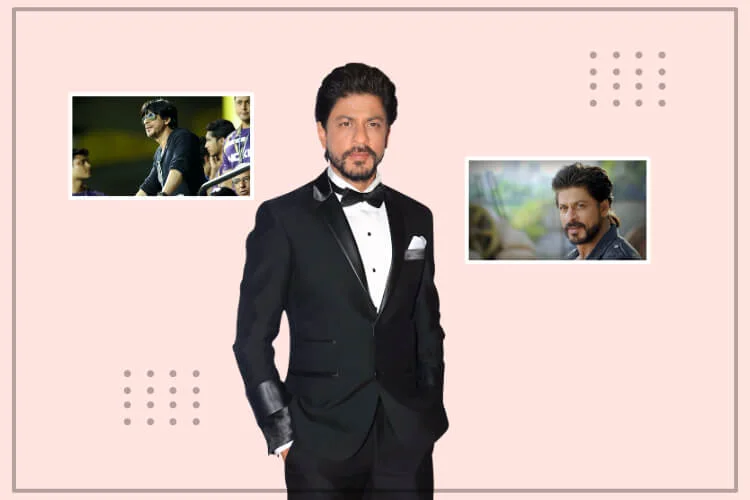 The lover boy of the silver screen or the 'King of Romance', Shahrukh Khan will be celebrating his 55th birthday on 2nd November. The immensely talented star needs no introduction. Popularly known as SRK, Shahrukh began his acting career from the television series 'Fauji'. He debuted on the silver screen in 1992 with 'Deewana' which made him a boy next door! He has won 14 Filmfare Awards, out of which 8 for the Best Actor Category. He has been conferred with the honorary Padma Shri by the Indian government in 2005 for his exemplary contribution to Indian cinema.
With time and age, Shahrukh has matured with his acting potential that has shown up on the silver screen. From a loverboy image in Dilwale Dulhaniya Le Jayenge to the obsessed lover in 'Darr', the villainous hero in 'Baazigar' and 'Anjaam', Shahrukh has been perfect in his timings! He also hosted television shows like 'Kaun Banega Crorepati' and 'Kya Aap Paanchvi Paas Se Tez Hain?' Shahrukh is not just a versatile actor but a successful producer, director and owner of the Red Chillies Entertainment House. Besides, a sports enthusiast and the proprietor of the Indian Premier League (IPL) team Kolkata Knight Riders. Let's peep into the future of this actor turned entrepreneur as we move ahead with his birthday predictions for 2021!
---
Shahrukh Khan Kundali
Date of Birth: 2 November, 1965
Time of Birth: 06.25
Place of Birth: Delhi, India
---
Astrological Observations
SRK's birth chart shows Rahu making a transit over the Natal planets posited in the 2nd house of his birth chart. Jupiter will be transiting over Venus posited in the 3rd house of his horoscope. Saturn will be moving over the Moon that is placed in the 4th house. Shahrukh may be under the influence of the Mahadasha or major period of Saturn and sub-period of Rahu that is likely to end by 23rd March 2023.
Does your horoscope reveal changes in 2021? Check with the 2020 Yearly Report.
---
King Khan's Future For 2021
Harker Jeetne Wale Ko Baazigar Kehte Hai!' The witty and trenchantly satirical dialogue from the suspense thriller flick 'Baazigar' is epic! Shahrukh's horoscope reveals his last hit 'Raees' released in 2017 glued audiences to their seats while the 2018 romantic-comedy-drama 'Zero' was a complete disaster with its box-office collections. The question lingers – will 2021 get SRK back in form? In 2021, the actor will be under the influence of the planetary periods or Dasha of Saturn and Rahu Bhukti, these planets may restrict his progressive film career. However, as Jupiter will enter the zodiac sign of Aquarius after 19th November 2020, it may bring positivity to Rahu to gear up SRK for a comeback in the 'Baazigar' style! With Saturn positioned in the Mooltrikona and Yogakaraka signs, it may revive SRK' fractured career by offering new openings in Bollywood!
'Duniya mein do tarah ke log hote hai. Winners and losers. Lekin Zindagi har loser ko Woh Ek mauka zaroor deti hai jis main woh winner ban sakta hai'– are inspirational lines from the action/comedy movie 'Happy New Year'. SRK has many hit films to his credit but with super flops like Happy New Year, Jab Harry Met Sejal and Zero his career graph has been struggling to go up! His exceptional roles as Chakde's Kabir Khan or Swades's Mohan Bhargav have earned him a global audience that awaits to see him coming up with more hits. Are stars lined up in his favour? After accessing the placement and transit of important planets in SRK's Janam Kundli it may be predicted that the 50+ may need to exercise patience to enter into new contracts having innovative or character roles that may help in reviving his falling stardom. The stars may bless him after 7th March 2021 when the Antardasha of Mooltrikona Saturn commences. However, Rahu's effect may refrain him from getting a whopping paycheck for his roles.
'Takat Ek Nasha Hai Aur Main Uss Nasha Bananewali Factory Ka Eklauta Malik Hu' is a catchphrase from the movie 'Zero'. Shahrukh Khan is not just 'King Khan' but also the pulse that runs Bollywood business. Born on 2nd November, he belongs to the passionate and intense zodiac sign of Scorpio. From illuminating lights at the Burj Khalifa celebrating the quinquagenarian's birthday to his ugly spat at the Wankhede Stadium or Twitter, the actor is quick at grabbing eyeballs! Do his stars favour him to take centre stage in 2021? The birth chart of the Bollywood hunk shows an excellent placement of planets and relative transit of stars that make him the heartthrob of millions across the globe. The actor may retain his image and may dominate the Big Screen as he will be under the influence of the major period of Saturn that may cement his permanency in Bollywood. He may trend on Twitter with a huge fan following after the first week of March 2021.
Do you remember the dialogue from the movie 'Chakde India'- `Marr Ke Ayenge….. Lekin Haar Ke Nahi Aayenge'? Wasn't that enough to stir the feelings of patriotism! This goes well for the actor known for maintaining his fitness levels even at 55. Shooting for 16 long hours at a stretch is a big deal! Apart from his shoulder injury, King Khan has never dealt with serious health issues. Knock on wood! What about 2021? How are stars reacting to his horoscope? Shahrukh Khan may be in the pink of health in 2021! He may be energetic, ready on the go to meet hectic shoots and tight schedules. This may only be possible due to the sensitive and strong transit impact of Jupiter and Saturn on important houses connected to health aspects. SRK is sure to be back with a bang!
`Har Team Mein Sirf Ek Gunda Ho Sakta Hai … Aur Iss Team Ka Gunda Main Hu!' is the iconic monologue of the patriotic flick 'Chakde India'. The showbiz world has been ruled by the yesteryear Khans whose stardom seems impregnable! But change is the only constant in life! With new contenders and NexGen youngsters taking the audiences in their stride, will King Khan be able to sustain his charm along with his contemporaries like Salman, Aamir and Akshay Kumar? Shahrukh Khan will be shielded by the major and sub-period of Rahu which will end on 23rd March 2023. The actor may see a considerable decline in his popularity graph with a substantial decline in the number of fans. This may be short-lived as SRK may rebound with his unique style in 2021, though for a shorter span but as the original King Of Bollywood! He may bring in healthy competition to survive among the new faces of the film industry!
Shahrukh Khan the `Badshah' of Bollywood is adorned with a personality that cannot be summed up in a few lines! We have few interesting facts of King Khan, you may have never heard before!
SRK was adopted by his grandparents as his parents struggled to make two ends meet.
He wanted to join the Indian Army but destiny had something different in store for him.
He is the first Indian and the Second Indian citizen to have his biography named- "King Khan- The Official Opus Of Shahrukh Khan" by Kraken Opus, the UK based publishing company.
SRK is scared of riding horses and hates ice-creams
He firmly believes and follows Numerology.
MyPandit Team Wishes SRK – A Very Happy Birthday! May He Rise To New Heights In All His Endeavours! 
Get in touch with the Best astrologers for accurate predictions and perfect remedial solutions for queries related to your personal and professional life.
The MyPandit Team.
---
---