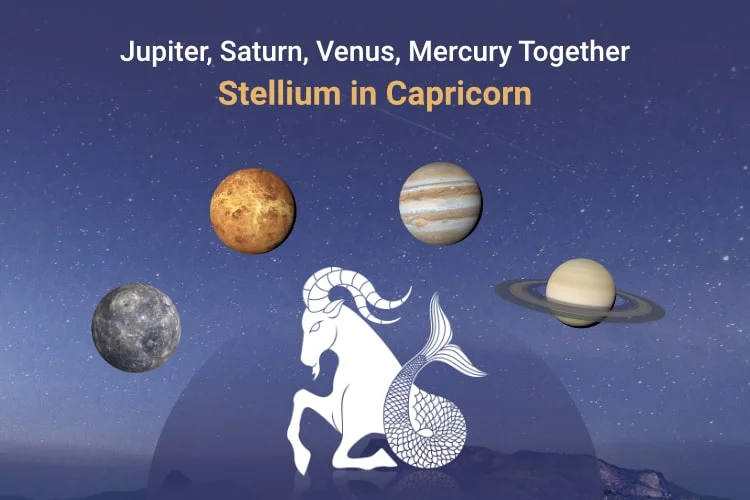 Do you know Electro? The villain in The Amazing Spider-Man, who fell into a large water tank of electric eels which were being used for experiments, and those eels sting him multiple times till the tank shattered into pieces, does that ring any bell? Okay, the point is Electro became highly charged and possessed the ability to bodily generate electrostatic energy which he can release or harness for several effects.
In the same way, a Stellium is a sizzling hot highly charged zone on your birth chart. If it is shark mode it overpowers your zodiac sign, well, that is of course if your zodiac is not the partner in crime with your Stellium. You favour these energies, and people around you sense that.
The Planets call in a conference and decide the future point of action. The Four Planets – Mercury, Venus, Saturn, and Jupiter, are forming a conjunction in the Capricorn sign from 4th February 2021 to 21st February 2021. These powerful Stelliums demonstrate the end of big cycles and the start of a new one. This Stellium of four planets may have positive or negative effects on all 12 zodiac signs and maybe on India too.
Effects of Mercury Transit in 4 Planets Stellium on India
Till 11th February 2021, Mercury retrograde will be in Dhanishta Nakshatra, after that till 15th February it will stay in Shravana Nakshatra. Following that, Mercury will be in direct motion from 16th February to 26th February. As a result of Mercury's visit, India may have issues in its internal matters. The country may observe protests, violence, an unexpected rise in the stock market, and reduction in its income and Gross Domestic Product (GDP). When a nation is standing at such a stage any opposition party may take advantage of this situation and try to rub salt on the burnt wound. Although the last ten days (16/2/2021 to 26/2/2021) of Mercury will be merciful and India may slowly come out of this burning situation. Thereafter, as India's status will improve, the country will see an increase in income. The GDP will also see some growth, and the current government may get support from the common man. To sum it up, it can be said that Mercury in Capricorn will have a normal effect on India. Up and down is normal only!
Effects of Jupiter Transit in 4 Planets Stellium on India
Moon, Venus, Sun, Saturn, and Mercury are guarding the 9th House as Jupiter is passing through Capricorn. The start of February will bring in a lot of understanding in the atmosphere, and India may reach on common grounds with the ministers of its neighbouring countries between 4th February to 21st February. India will also improve its business relations with them. Bharat may also resolve religious issues that exist in the country. The Indian government will get public support, and the support will help them to calmly deal with the ongoing issues of the country. There will be a hike in the nation's income, GDP rate, and the stock market. The government may also make important decisions, aka yojanas for government workers as well as private workers and the youth for the country's future. The government may benefit from the Vaccination process too. Maybe the good planets and the malefic planets together were debating, and in the end, were just balancing both the effects, but Jupiter transit in Capricorn for India is no less than a blessing.
Effects of Venus Transit in 4 Planets Stellium on India
The planet of beauty will move from 1st House to 9th House and from 6th House to 4th House. Here, Venus is transiting in Rahu's nakshatra till 9th February 2021. So, during this time, the government will be a Santa and may take important decisions in favour of the public. India may get the superpower to control the pandemic and even achieve success in vaccination programs. A new law is peeking through the window for private as well as government workers. From 10th February to 21st February, Venus will be transiting in Purva Bhadrapada Nakshatra, so the opposition parties may conduct protests against the ruling government due to the implementation of new laws. They would even try to manipulate and inflame the public in a wrong way which will, in turn, get them an inch closer to complete their trouble mission. But, Jupiter is there in the House to save the day, and as it is aspecting, the trouble mission will not have their Mission Successful.
Effects of Saturn Transit in 4 Planets Stellium on India
Saturn in Capricorn is strolling through the House of Luck. The Sun, Mercury, Moon, and Venus are sitting in the 3rd house aspected by Saturn. Now, natal Saturn is also transiting, creating Samsaptak yoga which may spoil India's relations with its neighbouring countries as Saturn never accepts fake things. India may have to give a sugary and fitting reply to its neighbouring countries when the situation gets worse. Saturn will also create internal conflicts or huge public protests for India. The workings of the government may also get hampered, which are in the public's favour. Deflation and increasing stock market prices are the talk of the country. Although, having Saturn here means that the president of the ruling government gets stronger too. In short, the Devil will do its work and cause blunders in the nation's internal or foreign matter.
Impact of Jupiter, Saturn, Venus, and Mercury Transit on Aries
Young Aries natives will be fit and fine, but elders may feel back pain or leg pain coming up. Individuals working in the government department should be careful with their work. As long as your work is done and you are gentle with your colleagues, you're good to go. One wrong step and your seniors may take action on you. For instance, being a government servant, you cannot turn up with a tattoo, even though you like that ink going up your neck. You may go ahead and buy a new property and make decisions about it. But when it comes to making decisions for your parental properties, you should leave it up to them. They are grown-ups for goodness sake. But if you put your nose in that business, you may get unfavourable results. Leg pulling and teasing are part of a healthy relationship but looks like the Stellium in Capricorn have another plan for you. Lovelies, you may have a slightly unfavourable time because there are chances that you may indulge in arguments with your partner. Take some chocolates and roses to coax them!
Impact of Jupiter, Saturn, Venus, and Mercury Transit on Taurus
The Capricorn Stellium will let you stand under its umbrella to save you from the illness shower. During the conjunction of four planets, you will continue to maintain good health. You may even find yourself drifting towards spirituality. The planets may play tricks on you and because of this, you may observe a change in your nature and behaviour. You may get stubborn, angry, sad, confused, joyful, etc. It'll be like having 10 different moods in 10 mins. During this phase, you may even get super worried about your child. Amidst this, there can be an eruption of arguments between you and your spouse. To settle the volcano, you should listen to your partner calmly. Coax and appreciate them, sometimes a little word of support is all you need to say! Working professionals may get many new opportunities. You may also go on small or long trips, which may help you to earn profit for your work or business.
Impact of Jupiter, Saturn, Venus, and Mercury Transit on Gemini
There's a reason why Family > Everything because they are always there to support and guide you, right? During this conjunction, not only your family, but these four planets will support you too. Wearing a helmet while riding a two-wheeler and a seatbelt while driving a car is very necessary. You don't step out of the house without your phone, license, keys, mask (the new normal), and a sanitiser, right? Take care of yourself while driving any vehicle. This Stellium will keep away the doctors and will not let you get worried about your health. But those of you who are dealing with long term health issues should take extra care. Thinking twice before investing is a smart move, Gemini. Continue that, and your money won't get stuck. There is a ray of sunshine that may lead you to your vacationing destination. Parents, you gotta chill and little and let your child live a little, we know you are worried about your child's education and career, but trust us this Stellium will guide them towards the right path to achieve a successful career. Politicians should also take extra care of themselves. Don't make any hurried decision, your career may depend on that.
Impact of Jupiter, Saturn, Venus, and Mercury Transit on Cancer
The Capricorn Stellium will shelter you from the harms, and you will continue to maintain good health during this conjunction. You may be far from home in terms of miles but not in terms of love in your heart. Those Indians who are settled abroad should take care of their family members. Students planning to go overseas for their higher studies will get good scores in their IELTS exams. Job hunting during the mask season was a hassle, but we have left that phase in the past and looking forward to better things. It is a good time in regards to your job, Cancer, so if you are searching for a job or looking to change your job, you may do it successfully. Teens may have a teenager-like trip with their close friends. Lovers may lose the spark, and you may meet your new dating partner.
Impact of Jupiter, Saturn, Venus, and Mercury Transit on Leo
Playing doctor is fun and games until things are not serious, but not taking your health seriously is no joke. The Stellium is not very forgiving to you if you take your health matters lightly. Teenagers may get skin diseases, and you may get stomach flu or something.
Love is always in the air for people who are in love & relationship, and because for them, everyday is like flowers and roses. Though this period is very promising for lovers. Pregnant women are advised to consider Tuesday or Saturday as their baby delivery day. Otherwise, cesarean methods may be used to give birth to the baby. Your property-related work may get delayed and create more problems for you. Also, the planetary influence may send you on a small trip. You may indulge in heated arguments with your neighbours or house-keepers. It is good to keep your eyes and eyes open and be on guard mode – this way, you stay aware of your hidden enemies.
Impact of Jupiter, Saturn, Venus, and Mercury Transit on Virgo
Even though Saturn is present in this Stellium, the Devil will not pose any threat to your health. Parents should create a friendly atmosphere for their children so that they are never afraid to open up. Students may require a lot of hard work in terms of their studies and entrances. This may be a difficult phase for you, but you wanna take it as a burden and be all grumpy about it or take it as a lesson and enjoy the process is totally up to you. Bank or industries shares are in a good position in the market, so individuals who have invested previously in the stock market may earn a profit with those. Acting is an art not many can excel in, so those talented Virgos who are pursuing their acting career may get new opportunities to work. The four Stellium in Capricorn may spoil your relations with your father, so try to keep at peace. For people in love, this conjunction may be a bad time for you, so it is advised that you avoid any arguments with your partner to stay at bay.
Impact of Jupiter, Saturn, Venus, and Mercury Transit on Libra
This period is like the best time for you to complete your higher education. For you who are trying to get a government job, fill out that form, give that exam, and you may succeed in it. The Stellium may also shower you with unexpected financial gains. You may also receive your previously stuck money. One should not delay in buying health and financial policies. This transition is a good time for planning or purchasing new policies. Female natives if you handle the situation calmly, you can avoid arguments. Be patient and polite while talking to the senior family members. Singles searching their life partner, the conjunction of these four planets will help you find your perfect match. Unfortunately, the planets may not be in favour of those who are already in a love relationship. Don't take it to the heart people. The Stellium will keep the doctor away for your sign, and you will maintain good health.
Impact of Jupiter, Saturn, Venus, and Mercury Transit on Scorpio
The Stellium will maintain a good distance from your health so that it remains good. The five planets will also take you on a trip and plan a meet and greet with your old friends. It is important to maintain good relations with your close ones because when the whole world turns against you, it's them who'll stand by you. Also treat everyone with respect, no matter their position. You should appreciate all the house help you have and try not to spoil your reactions with them. The Stellium may set a trap for the working professionals, which can get them in trouble at their workplace. This can tense you up, take deep breaths and calm yourself down. It is okay to be scared when you commit a mistake, especially if it happens for the third or fourth time *biting nails*. However, you should know you've got sweet people around you, and your boss won't fire you just because of the silly mistakes. Don't let all this tension get to you or you might get a mild fever, cold, or neck problems.
Impact of Jupiter, Saturn, Venus, and Mercury Transit on Sagittarius
Good food = good health. So eat your greens Sagittarius, and you'll stay fit and fine. Cheat meals are okay once in a while, but then you may suffer from gas acidity. The satisfaction you get after putting in your hard work and getting successful results for that is different only, isn't it? Students in this Stellium you can have that good time if you put in proper efforts. The transition of four planets in Capricorn may mess with you, and Sagittarius natives may observe a change in their speech and behaviour. You know that feeling when you are all set to clean your room, but then your mom tells you to do it, and that mood is ruined just because she told you to do it? Well, during this conjunction, you will complete your work according to your mood only and not if someone forces you to do so. Individuals of Sagittarius are in the last phase of 'Sade Sati', so you may get unexpected gains. You will have a good family time that was pending for ages. Lovers if you wanna take your shot, this is the time. Go and propose to your partner, chances of the saying "YES" is like 3000. You may even start a new relationship (I Love You 3000).
Impact of Jupiter, Saturn, Venus, and Mercury Transit on Capricorn
Dear Capricorn, you are serving the second phase of 'Sade Sati', so this transition may not be very fruitful for you. Students will have candies, and the rest of the Capricorn natives may go on small religious trips. But there may be a financial crunch in this period. There will be ups but downs too. Individuals having any kind of association with the stock bull should take extra care of their investments or work. Any pending parental property work may get resolved. It is the duty of a parent to worry about their children, but you need to take a break, your child will achieve success. They have that much confidence and capability to complete their education without any trouble. Sportspeople will hit a six and can add fame after their name as their career will fly high. Rushing leads you nowhere. Instead, it can ruin things. You should avoid making hasty decisions. Otherwise, you may get unfavourable results.
Impact of Jupiter, Saturn, Venus, and Mercury Transit on Aquarius
The natives of the Aquarius sign are serving the first phase of 'Sade Sati', so it may tend to give you some mental and physical stress. The conjunction of the four planets, Mercury, Venus, Saturn, and Jupiter, will give you stress in terms of money also, so you should take care of any financial matters that come up. To gel up with your new group, you may spend more money to complete and be at par with them in terms of social activities. Aspiring actors and actresses and all those who are already in the acting field, this period is very glorifying. Individuals who were forced to stay away from their family due to work may find a job near to their home only if they make an extra effort. You gotta look around, form a network with people, spend some hours hunting for it, these efforts will pay you in terms of time with family, home-cooked meals, and most of all Happy Times.
Impact of Jupiter, Saturn, Venus, and Mercury Transit on Pisces
The Stellium will treat you well and won't bother your health. It is the right season to go job hunting, as you may land up with one wherever you turn up for an interview. Working professionals and business owners are advised not to make any decisions in a flash. Taking a loan is not as easy as ordering food, so go through the documents very carefully and think peacefully before applying. To discover new things, you gotta meet new people, socialize with them, and who knows while interacting with you, actually learn a thing or two. But even if something doesn't click, at least you had a good chat and improved your soft skills. Talking to religious people may change your outlook on things, and you may also achieve mental peace. Love birds, the planets are gifting you a good time; the Stellium also has a holiday planned for you, so use this getaway to improve your relationship with your mate and have some me-time!
Also Read :- Tom Holland की Spider-Man: No Way Home का ट्रेलर रिलीज हो चुका है। यह 17 दिसंबर को होगी। आइए जानते है टॉम की सूर्य कुंडली…