Tips For Happy And Prosperous Life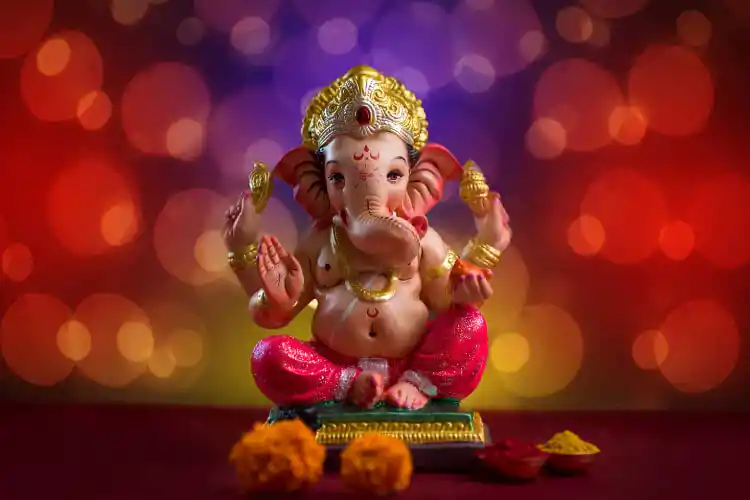 Everyone wishes for happiness and prosperity in their lives. However, in today's tough competition, we have lost our success and happiness. But don't worry, we have a solution for you. Here we are going to give you a few tips by Lord Ganesha, which will help bring happiness and prosperity to your life.
In the Hindu religion, Lord Ganesha is the most worshipped deity. Lord Vinayaka, or Ganesha, which is also known as the Elephant God, isn't just the Lord of all new ventures and remover of hurdles in life. But he is the instructor of your life as he has a lot more stories to copy in everyone's life.
Also known as Ekdant (one with a single tusk), Lord Ganesha asks us to be simple in life and lead a happy life with all his tips. We would all be able to get familiar with some things about life from these stories for sure. So, know Lord Ganesha's significance in your life and his tips for a happy and prosperous life.
---
Duty Always Comes First
We all know that Goddess Parvati created Lord Ganesha out of dirt accumulated from her body without the presence of Lord Shiva. She asked Lord Ganesha to guard the entryway while she bathed, and he respectfully adhered to his mom's directions. Around the same time, Lord Shiva got back from his meditation and requested passage into Parvati's bathing area – which Lord Ganesha rejected. The occasion transformed into a battle between Lord Shiva, who did not know that Lord Ganesha was his son and beheaded him to make an entry. Afterwards, Lord Shiva revived the kid by putting an elephant's head on his body.
This story is an example that even divine beings will undoubtedly perform their responsibilities, and there could be no more prominent moderation than being loyal, particularly towards a parent. Despite being well aware of Lord Shiva's strength and the consequences, Lord Ganesha refused to move back, even if it meant losing his life.
Have planets planned a beautiful life for you? Reveal with your Free Janampatri Analysis!
---
No One Is Important Than Your Parents
Once, Lord Shiva and Goddess Parvati set a challenge to test the abilities of both their sons, Lord Ganesh and Lord Karthik. The test was to encircle the world three times fastly. Whoever finished the task first would get a miracle fruit, which would provide the owner with the greatest wisdom as well as immortality. The elder child, Lord Kartikeya, anxious to start the race, left in his vehicle a peacock. On the other hand, Lord Ganesha considered how he was truly going to be successful in riding his rat vehicle.
After aggressively navigating the Earth threefold, Kartikeya got back to find Lord Ganesha at home. Lord Ganesha had won the race, yet rather than the Earth, he had encircled around Lord Shiva and Goddess Parvati – who are the world for him. He was honoured with the miraculous fruit of knowledge and came to be known as the Lord of Knowledge.
This story is an example of how parents should be treated in our daily life, regardless of whether you're a god or not. This story can change the destiny of millions of deserted parents today.
Reveal the most significant astrological yoga in the birth chart, which if present in your kundli, can change your destiny with Free Astro Report!
---
Forgiveness Makes You Great
This is one of important Ganesha's tips for a prosperous life. As per the story, Lord Ganesha once cursed the Moon for teasing his potbelly after he was getting back from a satisfying meal gathering thrown by the Lord of Fortune, Kuber.
The admirer of food and treats, Lord Ganesha, was getting back in the wake of having a good dinner when he staggered and turned over on his belly. The Moon witnessed this scene from high above and burst into laughter that annoyed Lord Ganesha. After that, he started to curse the Moon.
Lord Ganesha asked the Moon to vanish from the sky totally, while he asked for forgiveness. Eventually, the liberal Lord Ganesha felt bad, yet since he was unable to deny the curse, he diminished the vanishing range of the Moon from the sky to one day. This day is now known as Ganesh Chathurthi. And it has been said that if anyone sees the Moon on that day, the next year would be difficult for the person.
Lord Ganesha's story discloses how outrage gets to the good aspect of us, yet our ability to forgive makes us superior individuals.
Want to Know Tips for Happy Living Based on Your Birth Chart? Talk To Astrologer!
---
Complete Every Job You Take Up
According to the belief, Sage Vyasa (Ved Vyasa) needed to compose the epic Mahabharata, and he mentioned Lord Ganesha to record it while he dictated the slokas. The Lord put forth one condition that Sage Vyasa was expected to complete reciting the passages without pausing, and Lord Ganesha would compose without taking a break.
But Lord Ganesha's pen broke while Sage Vyasa was dictating the Mahabharata to him. Lord Ganesha broke one of his tusks and kept composing the epic to avoid any distractions.
Lord Ganesha sacrificed his tusk to complete a task implied to the entire world. If we could all follow this example from him, we would succeed in life.
---
Never Forget Self-respect
Self-respect is one of the best of Ganesha's tips for a happy life. Once all God and goddesses left Lord Ganesha in charge for the Swargaloka, as they left with Lord Vishnu's marriage procession headed towards Goddess Laxmi's home.
Lord Ganesha was misled into dealing with Swargaloka because different Gods were embarrassed by his actual appearance and huge eating routine.
When he came to know about their trick, Lord Ganesha needed to show for himself and formulated a thoughtful arrangement that would cause them to understand his significance. Ganesha sent his rat vehicle, Gajasur, to block the streets that prompted Goddess Laxmi's residence, and he complied.
But, the Gods couldn't unblock the road and called for help. A farmer who was going across the street chose to help the gods and pulled out the carriage stuck in the street by reciting Lord Ganesha's name.
He clarified how just Lord Ganesha's name might have given the strength to lift the carriage since he is the remover of obstacles. This caused the deities to understand that there's something else entirely to a being than his actual appearance, and they got back to offer their apologies to Lord Ganesha.
Lord Ganesha's story is an example that you should never allow anybody to underestimate your capacities or your actual appearance to be judged. 
---
Closing Up
Hold on to Lord Ganesha's tips for a happy life. Lord Ganesha is the God of knowledge, wisdom, intelligence, and wealth. Worshipping him will surely help you bring positive changes in your life and bring you closer to your goals. You can even consult our Expert Astrologers to know personalised rituals for worshipping Lord Ganesha based on your birth chart.
---
---