When I Will Get Married Astrology: A Big Role of Planetary Transition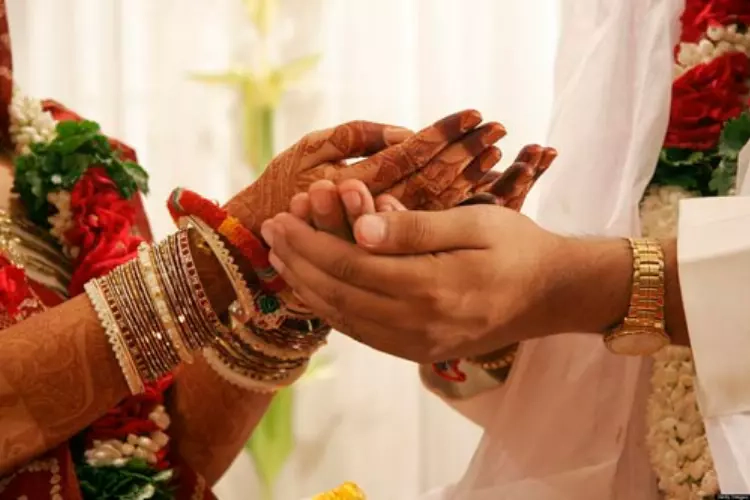 "When I will get married astrology" has become a popular astrological category. Lots of answers and questions related can be unveiled in the astrological horoscope, and marriage is one such topic that also has astrological input. If you are curious to know "when will i get married vedic astrology", connecting with an experienced astrologer would be a wise choice.
In our Indian tradition and culture, marriage has been regarded as one of the most auspicious occasions in every individual's life. Marriage has been considered as the knack of fortune and blessing in searching for an ideal and caring partner. An ideal, honest, and understanding partner makes your life happy and beautiful.
When it comes to choosing the right partner at a marriageable age, lots of questions and queries arise in mind. When will I get married, according to Kundli? At what age will I get married? Who will be my life partner? And many more questions which come forth? Some individuals marry at an early age, while some find their partners late. Late marriages might create frustration and depression as to why it is so late in finding the appropriate match for an individual.
Human life is connected with many relationships. Some relations are natural and made by birth, while some relations like friends and spouse we choose as per our wish. A relationship with the partner is very vital and should be selected sensibly and cautiously. Selection of the wrong person in life as a partner might ruin the relationship. Hence, at what age will I get married astrology can be useful.
Is any dosha stopping you to get married? Get free janam patri report to know in detail.
---
Planets and Their Importance in Marital Horoscope
According to Indian astrology, when will I get married? Or Will I get married to my girlfriend/boyfriend? Who would be my future partner? These kinds of questions can arise in everyday life. Planets and stars have a great influence on our life and indicate whether you will marry the partner of your choice or not. In fact, one will come across-when will I get married Indian astrology- a popular astrological category. It clearly shows the relevance that marriage holds in Indian society.
Eager to see what unfolds in your married life? Read free marriage horoscope 2022.
The below points might help you in clearing your doubts about your marriage predictions.
According to Indian Astrology, the Moon symbolises girlfriends, while for males, Venus represents wives.
Boyfriends are signified by Mars while Jupiter symbolises husband.
The Moon indicates the emotional affection among couples while it symbolises the physical intimacy for women.
Darakarak is also known as the lowest planet according to the Jamini system. This planet indicates a life partner. While observing Darakaraka, the malefic effects of planets like Rahu and Ketu can be avoided.
Struggling to remove the malefic effects of weak venus in your marriage? Its time to go for personalised shukra grah shanti puja.
---
Houses in Horoscope and Marriage Predictions as per Indian Astrology
According to Indian Astrology, various houses affect marital timings. A delay in marriage raises a question among individuals: when exactly will I get married? The houses affect our marital predictions. As per astrology, the 2nd, 5th, 7th, and 8th houses in the birth chart have a huge impact on our marriage horoscope.
Happiness, contentment, pleasure, and romance are signified by the 5th house in our horoscope. Romantic relationships are represented by the 7th house in horoscopes. Hence, the connection between these two houses shows early or love marriage.
The 8th house affects your marital status and is known for stability and strength in your relationship. The combination of the 8th and 5th house might create chances of extra-marital relationships.
The birth horoscope and Navamsa chart represents predictions for marriage date and timings. However, the Navamsa chart is important for marriage horoscopes.
Also Read: Marriage Muhurat 2022
---
Planetary Movements and Their Effect on Marriage Timings as per Indian Astrology
Planetary motions and Dasha are equally responsible for affecting the marriage timings. A change in planetary motions might have adverse effects on the life of an individual. Saturn and Jupiter are known for affecting the birth chart of an individual.
You May Like to Read: Importance Of Kundali Matching
Hence, below are given the planetary transitions which are quite vital in forecasting the marriage timings:
A combination of Jupiter with Venus in the same house and its changing position in the 7th house might bring the fortune of marriage as per Indian astrology.
The planetary movement of Jupiter from Rashi to Trikona is ruled by the owner of the 7th house in the birth chart.
The planetary change of Saturn in the 7th house or the owner of the 7th house specifies marriage.
The transition of Saturn on the 7th house or the 7th house lord or in the Upapada indicates marriage. There may be a delay in marriage because of the infirmity of Saturn in the 7th house.
The possibilities of getting married might be ensured by the planetary motion of Saturn and Jupiter on the Navamsa Ascendant.
Is marriage in store for you ahead? Read free 2022 horoscope report.
---
Conclusion
Hope the above-mentioned details must have cleared some concept of "when will I get married astrology?" The best solution inferred is to take the help of an astrologer who can predict desired aspects about your marriage based upon your kundali and its planetary movement.
In case you are facing complications and hindrances while choosing the right partner, talk to astrologers for the right solution. First consultation is FREE.
---
---