Significance Of 24 Tirthankaras Of Jainism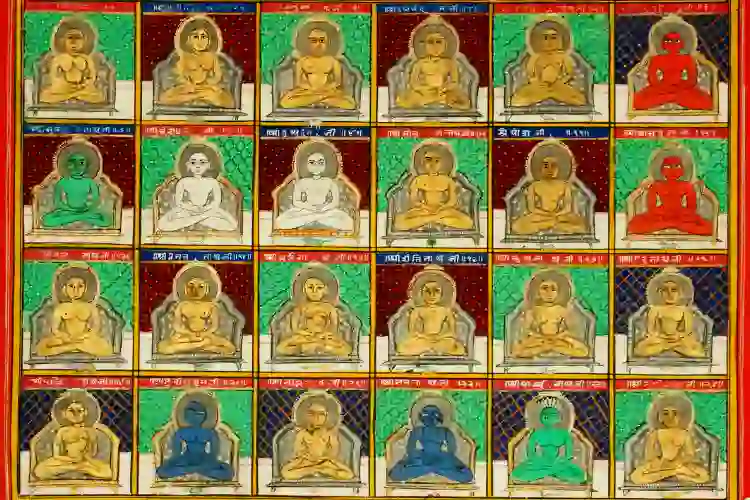 Tirthankara refers to the famous spiritual Gurus of Jainism. The Gurus, who earlier gave the spiritual messages to Jains. They are also known as the creator of Tirtha(Sasra), a navigable passage through a sea of births and deaths. Tirthankaras are considered no less than a God, so they are famous as 'Teaching Gods' 'Ford-Makers' 'Crossing Makers' and 'River-Crossing Makers'. Some of the ancient scriptures of Jain describes Tirthankara as a special form of karma. A soul's bond with this karma elevates it to the ultimate status of a Tirthankara. As mentioned in Tattvartha Sutra, there are sixteen observances that lead to the influx of karma-free energy. Spiritual figures, teachers, and preachers from the past can be Tirthankaras. At the time when Jainism does not believe in the existence of God, Tirthankara was a rewarding title that represents the supreme deity for Jains. Every occurrence in Tirthankara's life is auspicious to Jains and is commemorated with great fanfare. Now, before we check the list of 24 Tirthankara, let us understand the meaning of Panch Kalyanaka.
---
About Panch Kalyanaka
Panch Kalyanaka refers to the five auspicious events, which takes place during the life of Tirthankara. When the Tirthankara's soul enters his mother's womb, this is known as Garbh Kalyanak (conception). When Tirthankara takes birth, it is called as Janma Kalyanak (birth). Thereafter, Tirthankara becomes an ascetic by renouncing all worldly pleasure, and it is known as Diksa Kalyanak (renunciation). Following that, when people build Samavasarana, a sacred preaching hall from which he delivers sermons. This is known as Kevalajnana Kalyanak. Lastly, Nirvana Kalyanak occurs at the later stages of Tirthankara's life. When Tirthankara die, he or she attains Moksha (or Salvation), and the soul goes to Siddhashila (the highest point on the planet). This process is named Nirvana Kalyanak.
What will you do in your life? Get access to premium horoscope reports.
---
The Process Of Samavartana
During Samavasarana, a Tirthankara preaches how to achieve salvation after attaining omniscience. According to Jain texts, the celestial pavilion was erected by deities, where Gods, along with humans and animals, listen to Tirthankara's speech. Humans and animals understand the Tirthankara's speech by decoding in their own language. Many people believe that there is no place for unhappiness in Samavasarana.
Now check your Compatibility Absolutely Free……
---
Known Facts About Tirthankaras
People belonging to Jainism say that time has no beginning or end as it keeps rotating like a cartwheel. According to them, The time cycle is divided into two halves, Utsarpi (ascending time cycle) and Avasarpi (descending time cycle). In each half of this cycle, 24 Tirthankaras are born. Known facts reveal that Tirthankaras lived a royal life in their old age. Some of the Jain texts have recorded details of their previous lives too. It also says that 21 Tirthankaras achieved moksha in the Kayotsarga (standing meditation posture), while Three Tirthankaras, namely Rishabhanatha, Neminatha, and Mahavira, achieved moksha in the Padmasana (sitting meditation posture).
Learn about the prospects of your future events, explore your kundali by accessing Free Janampatri.
---
List Of 24 Tirthankaras
Below is the list of 24 Tirthankaras of this era in chronological order.
Rishabhanatha (Adinatha)
Ajitanatha
Sambhavanatha
Abhinandananatha
Sumatinatha
Padmaprabha
Suparshvanatha
Chandraprabha
Pushpadanta
Shitalanatha
Shreyanasanatha
Vasupujya
Vimalanatha
Anantanatha
Dharmanatha
Shantinatha
Kunthunatha
Aranatha
Msllinatha
Munisuvrata
Naminatha
Neminatha
Parshvanatha
Mahavira
There are just 24 occasions in the current period of the Utsarpini time-span when these celestial elements were in the best place. This is a foregone conclusion. As a result, there are only 24 Tirthankaras, not one more or less.
What are the signs for 2023? Consult our expert astrologers to know more about it.
---
Wrapping Up
This is how 24 Tirthankaras are considered to be the natural form of God. People of Jain recall their spiritual learning and also inspire the young generation to follow the footsteps of their ancestors. With this, we hope you had cleared your queries regarding the 24 Tirthankaras.
---
---