2023 Hariyali Amavasya Date, Muhurat And Rituals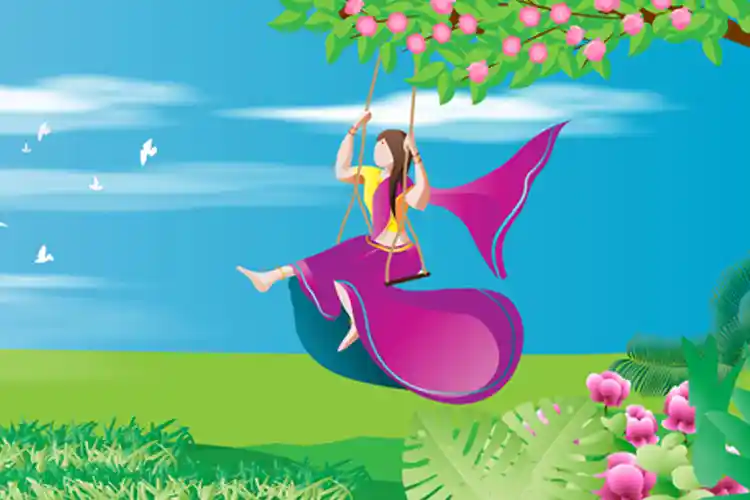 Importance of Hariyali Amavasya
Hariyali Amavasya occurs between the months of July and August. It, like previous new moons, has profound religious significance for the people. Hariyali Amavasya is celebrated with tremendous zeal as the rainy season's festival, and Lord Shiva is adorned with full dedication on this day. Hariyali amas are widely celebrated in the northern Indian states such as Rajasthan, Uttar Pradesh, and Punjab, Himachal Pradesh. It is also well-known in other parts of the world but under other names. In Maharashtra, it is known as Gatari Amavasya, while in Andhra Pradesh, it is known as Chukkal Amavasya, and in Orissa, it is known as Chitlagi Amavasya. As with the name, rituals and traditions vary by region of the country, but the spirit of the celebration stays consistent. After comprehending the significance of Hariyali, let us unfold its ancient rituals and methods.
Hariyali Amavasya usually falls during the holy month of Shravan. On this day, a special darshan is organised at several temples around North India, particularly in Mathura and Vrindavan. Thousands of Krishna enthusiasts flock to the Banke Bihari temple in Mathura, Dwarkadhish, and Vrindavan to see Lord Krishna in person. Among Bengali Krishna followers, the flower of the Banke Bihari temple in Vrindavan is famous around the world. Aside from Krishna temples, a special Shiva darshan is also organised inside several Shiva temples on the day of Hariyali Amavasya.
Date and Time For Hariyali Amavasya 2023
This year Hariyali Amavasya will be observed on Thursday, Jul 17, 2023.
Tithi Muhurats
Date / Time
Amavasya Tithi Begins on
Jul 16, 2023, 10:08 pm
Amavasya Tithi Ends on
Jul 18, 2023, 12:01 am
Hariyali Amavasya Puja Vidhi
Hariyali Amavasya is a day honoured by the ancestors. On this day, worshippers rise early and bathe. Thereafter, puja vidhi is performed to appease the ancestors, and special food is prepared for the Brahmins. Devotees worship Lord Shiva and pray for his blessings. Shiva devotion is associated with wealth and prosperity. Devotees chant mantras and sing hymns to Lord Shiva. Special darshan and rituals are held in Lord Shiva's temples, where devotees fast and express their appreciation to Hindu deities. The food is consumed only after the ceremonies of worship have been completed. On Hariyali Amavasya, grand fairs are also held. Elder women pray for the health and well-being of their spouses on this occasion.
Planting of Trees on Hariyali Amavasya
Planting a plant on the day of Hariyali Amavasya and taking care of it and giving it water and fertilizer gives virtue. Plants play an important role in the amount of oxygen that humans take in their lives. So, one should keep in mind that our ancient pandits and astrologers have told the virtuous to plant saplings on the day of Hariyali Amavasya. According to Vedic astrologers, there is a tradition of planting Neem for health, Banana for children, Tulsi for happiness and Amla for Lakshmi. Let us find out in detail.
Wealth: Tulsi, Amla, Bilvapatra and Banana trees should be planted
Good Fortune: Plant a tree of Arjuna, Ashok, Coconut or Vat
Health: Amla, Palash, Brahmi, Arjun, Tulsi and Sunflower plants should be planted

Happiness: Plant kadamba, neem or rich shady trees
Performing Rudrabhishek Puja on Hariyali Amavasya
According to Vedic astrology, no auspicious things should be performed on the night of Hariyali Amavasya. During the night of Hariyali Amavasya 2023, the brightest planet Moon will not be visible in the sky. It is also said that bad spirits are at their most powerful on this day, hence black magic activities are conducted on this day. To protect themselves from harmful spirits, people worship Lord Shiva and Kali. On this day, some devotees also keep fast. So, by performing Rudrabhishek Puja, one can ward- off evil spirits and negativity.
Ancient Legend behind Hariyali Amavasya
Waking up in the morning on Hariyali Amavasya, devotees invoke Goddess Parvati and Lord Shiva with full devotion. Married women begin worshipping Goddess Parvati with vermilion and then, distribute the prasad. It is believed that distributing green bangles, vermilion, bindi gives longevity to their spouse and also brings happiness to the house. So, for the purpose of good fortune, married men also present bangles, sweets to their life partners. But, these rituals should be completed in the afternoon. Devotees also worship Peepal and Tulsi trees on the day of Hariyali Amavasya. On this day the Peepal tree is worshipped and the rounds are done and there is a tradition of offering Malpua as an offering.
In religious texts, the abode of God is also mentioned in mountains and trees. Peepal is believed to be the abode of Tridevs. The Amla tree itself is believed to be the abode of Lord Shri Laxminarayan. Many people also keep fast on this day. After this, the fast is broken by taking food in the evening. It is believed that those who observe fast on the new moon of Shravan month, get wealth and glory. There is also a special tradition of donating on this day after bathing in holy rivers. The story of Hariyali Amavasya also has special significance. According to the beliefs in different regions, the stories are also prevalent in different ways. Along with the fasting rituals, one should recite this ancient story.
Greetings
On the ending note, we wish you and your family a Happy Hariyali Amavasya in advance. May you eradicate the negative spirits from your life.