Lakshmi Puja: Significance And Rituals Of Worshipping Maa Lakshmi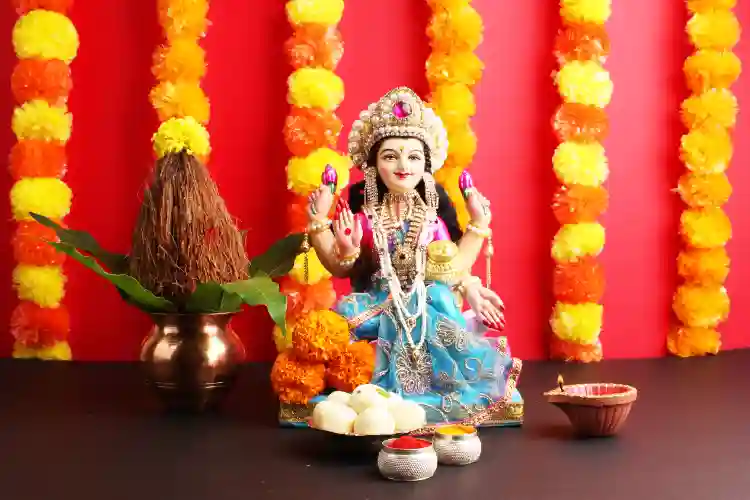 The festival of Diwali is incomplete without performing the Lakshmi Puja. And therefore, we never forget to recall Maa Lakshmi during this auspicious day. This day occurs on the Amavasya of Krishna Paksha during the Kartik month. Goddess Lakshmi is the provider of prosperity, auspiciousness, and good fortune. Some devotees believe that Goddess herself arrives on the Earth to shower her blessings. So, they keep their homes clean, decorate them with lights, and draw rangolis near the house's main entrance. Now, the question is when to perform Lakshmi Puja? And what is the significance? For that, give a full read and know the reason behind organizing Lakshmi Puja.
---
Lakshmi Pooja 2023: Date And Time
Lakshmi Puja: Sunday, 12 November 2023
Lakshmi Puja Muhurat: 06:11 PM to 08:15 PM
Duration: 02 Hours 04 Mins
Pradosh Kaal: 05:59 PM to 08:26 PM
Vrishabha Kaal: 06:11 PM to 08:15 PM
Amavasya Tithi Begins: On Nov 12, 2023 at 02:44 PM
Amavasya Tithi Ends: On Nov 13, 2023 at 02:56 PM
---
Significance Of Lakshmi Puja
The main significance to conduct Lakshmi puja is to get divine blessings from the Goddess. It is said that Lakshmi Ji may visit the devotees' houses, and so, many of them place diyas at their entrance or balcony to welcome the Goddess. On this day, people worship three Hindu deities, Lord Ganesha, Maa Saraswati, and Lord Kubera, with full devotion. In some Hindu families, women are considered to be the form of Goddess Lakshmi, so they dedicate this day to those household women. Also, people float diyas in the holy waters to please the Goddess.
When Amavasya tithi prevails during the evening time, it is said to be the perfect time to organize Lakshmi Puja. The sun begins its second path on this day, passing through the Libra sign. People go outside after the puja and light fireworks to celebrate. The fireworks reflect Diwalias' celebration as well as a way to ward off evil spirits.
Devotees also observe Vaibhav Lakshmi Vrat in many parts of India. Goddess Lakshmi is said to shield her devotees from misfortunes and grant them grace, peace, health, and prosperity. The Goddess is also worshipped in the form of banana trees, carved clay utensil covers and supported by a small boat with five drums, especially in the eastern parts of India.
---
Organizing Lakshmi Puja In India
As per Hindus, it is necessary to cleanse and purify the area of puja. Its incense aromatic fumes are thought to cleanse the air. Instead, ready-made Dhoop Cones purchased from the market are used. After the area is cleansed, the puja starts with the placement of a fresh piece of cloth on a raised platform.
A pitcher made of gold, silver, or copper is put on top of the grains sprayed in the centre of the fabric. Water is filled to three-quarters of the pitcher, and a betel nut, a herb, a coin, and a few rice grains are added. There are five different types of leaves: A small dish filled with rice grains is placed on the pitcher, and a small container filled with rice grains is placed over it. Then, the idol of Goddess Lakshmi is placed on top of that pitcher.
Moreover, Lord Ganesha's idol is set on the right-hand side, pointing south-west. This is accomplished by lighting a "Panchmukhi Diya" (five-sided lamp) with five wicks. Then, in front of Lord Ganesha, a special lamp is lit. Then, the water is then sprinkled with haldi, kumkum, and flowers before being used for the puja. Maa Saraswati is invoked to become a part of the water by reciting Vedic mantras. Her idol is also set on a plate to clean it with Panchamrita (milk, curd, ghee or clarified butter, honey, and sugar). Her idol is washed and returned to the kalasha.
The Goddess Lakshmi is then offered sandal paste, saffron paste, a garland of cotton beads or flowers, ittar (perfume), turmeric, kumkum, abir, and gulal. Lotus, Marigold, Rose, Chrysanthemum, and Bael (wood apple tree) flowers and garlands are also available. Later, a candy, coconut, fruits, and tambul offering is made. Near the idol, puffed rice and batasha (a variety of Indian sweets) are arranged. Her idol is poured or offered puffed rice, batasha, coriander seeds, and cumin seeds.
Devotee's valuables are then held in a safe or vault with a Swastika symbol drawn on it, which is worshipped as a symbol of Lord Kubera. Aarti, which is dedicated to Goddess Lakshmi, is performed at the end of the ceremony.
---
Importance Of Lakshmi Pooja In Nepal
Lakshmi Puja is a prominent festival in Nepal, and it is the second most important festival for the people of Nepal. People gather in numbers to worship Maa Lakshmi at the time of Maha Puja. People in Nepal buy gold and silver, precious gemstones, and new copper, brass, and bronze utensils as a sign of good luck, prosperity, money, and riches on Lakshmi Puja. At night, these are used to worship Lakshmi. Nepalese people conduct this worship in a place that has been cleansed with holy water, cow dung, and red mud, and they light candles and lamps in the building.
Now organize Lakshmi Puja at your home under the expert's guidance. Talk to Astrologer.
---
Steps To Perform Lakshmi Puja
On the day of Lakshmi Puja, devotees dress up in traditional attire and keep their house clean. They honour Maa Lakshmi to get her blessings in the form of wisdom, wealth and prosperity. Since it is believed that Goddess Lakshmi would visit the cleanest house first, houses are cleaned thoroughly on this auspicious day, according to Hindu mythology. Afterwards, they worship Hindu deities, Lord Ganesha, Goddess Lakshmi, Maa and Lord Kubera. Below are the steps on how to perform rituals.
Place the idols of Goddess Lakshmi, and other Hindu deities have new idols for worship.
Cover the idol of Goddess with yellow fabric, a red silk cloth, and an inkpot with a pen.
A red cloth should be used to cover the idol of Lord Ganesha as well.
Light up the diyas or incense sticks in front of the idols.
Perform Ghatasthapana
Offer fresh flowers and leaves of Tulsi / Bilva leaves to the Goddess.
One can also offer sweets, fruits, or parched rice are all options.
Durva is considered to be holy so, it is also offered to the Goddess.
The Lakshmi puja is an important part of the Diwali festival, which is celebrated with great joy and enthusiasm in millions of homes across the world.
---
Ending Note
The initiation of new things is a special event that occurs on the eve of this auspicious day. People consider it as a favourable day for making a new investment and buying new land or new vehicle. Whoever perform Lakshmi Puja with sincere devotion may get blessed with health, prosperity, and happy family life. May Goddess Lakshmi keep blessing you and your family.
---
---