Know What Is Special About Devshayani Ekadashi 2023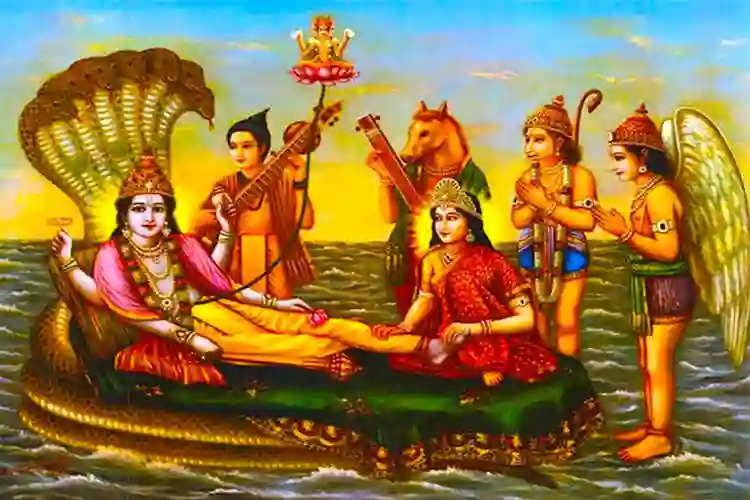 Monsoon with all its glory and grandeur arrives in India and brings along with it many festivals and fasts/vrats or pujas celebrated by millions of people in the subcontinent. There are various holy and pious days in the Hindu months of Ashadha and Shravan, which correspond to the English months of June and July. Devshayani Ekadashi is also known as Padma Ekadashi or Ashadhi Ekadashi. It is also called Dev Soni Gyaras or Dev Saini Ekadashi.
This year Devshayani Ekadashi will be celebrated on Thursday, June 29, 2023
Let us know about the worship method to be carried out during Devshayani Ekadashi 2023, its astrological significance, and how it helps to bring health and happiness.
---
About Devshayani Ekadashi
The eleventh day of the full moon day of Ashadha is celebrated as Devshayani Ekadashi. According to mythology, on this day Lord Vishnu falls asleep or is in deep meditation and wakes up four months later on Prabodhini Ekadashi or Devuthani Gyaras. Devshayani Ekadashi mostly falls near the Jagannath Rath Yatra every year.
Devshayani Ekadashi in 2023 - Time and Date
Devshayani Ekadashi: Thursday, June 29, 2023
Parana Time: 30 June, 2023 Between 01:48 

PM

 

to 

04:36 

PM

Dwadashi End Moment On Parana Day: 08:20 

AM

Ekadashi Tithi Begins: 03:18 

AM

 

on

 Jun 29, 2023
Ekadashi Tithi Ends: 02:42 

AM

 

on

 Jun 30, 2023
Find Today's auspicious timings in Panchang.
---
The Importance of Ashadi Ekadashi
According to the scriptures, Chaturmas starts from Ashadi Ekadashi or Dev Soni Ekadashi and 16 sacraments are banned for four months. However, worship, rituals, entry into a renovated house, and buying vehicles and jewellery, can be done. This Ekadashi is also called Saubhagyadini Ekadashi. According to the Padma Purana, fasting on this day destroys the sins committed, intentional or unintentional. Also, worshipping on this day leads to salvation. According to Brahmavaivarta Purana, by observing fast on this day, all wishes are fulfilled.
---
The History Of Devshayni Ekadashi
Lord Hari, Goddess Lakshmi and Tulsi are also worshipped on the day of Devshayani Ekadashi also called Hari Shayani Ekadashi. During Chaturmas, positive energy is attracted by worshipping, reading vrat katha stories, and performing rituals. Chaturmas is considered the best time for Bhajan, Kirtan and Katha.
According to Bhagwat Mahapuran, on the Ekadashi date of Shukla Paksha of Ashadha month, a demon named Shankhasur was killed. From that day, the Lord sleeps in Kshir Sagar for four months. According to mythology, on this day Lord Vishnu falls asleep or is in deep meditation and wakes up four months later on Prabodhini Ekadashi or Devuthani Gyaras. Doing puja on this day holds a lot of importance as Chaturmas or the four months holy phase in the Hindu calendar begins on this day. During the four months of Chaturmas (including Shravan, Bhadra, Ashwin and Kartik) several important Hindu festivals such as Janmashtami, Ganesh Chaturthi, Navratri and Diwali. On Devshayani Ekadashi, many devotees observe fast and seek the blessings of Lord Vishnu.

Get The Benefit Of Devshayani Ekadashi By Consulting An Expert Astrologer…
---
Devshayni Ekadashi Worship Method
The preparation for Devshayani Ekadashi fast should begin on the tenth day (one day prior). First of all, do not place any kind of tamasic food in the dinner of Dashami Tithi. If possible, do not use salt in food. Because, if you do so, the virtue of fasting is reduced. Also, on this day a person should sleep on the ground. Also, the consumption of barley, meat, wheat and moong dal should be avoided. This fast starts from Dashami Tithi and continues till the morning of Dwadashi Tithi. You should speak only the truth and the speech that hurts others should not be used on both Dashami Tithi and Ekadashi Tithi.
Besides, you should strictly follow the various fasting rules mentioned in the scriptures. To observe the fast properly on Ekadashi Tithi, you should wake up early in the morning and take a bath after completing routine activities. When on a pilgrimage, mixing the water from the holy river in your bathing tub is better as it can pollute the river water. But if that is not possible, then the seeker should take a bath at home on this day and if it is viable, mud, sesame and kusha should be used while taking a bath. You should worship Lord Vishnu by doing Vishnu Puja. During the worship,  Kumbh should be tied with red coloured cloth and should be worshipped. This is known as Kumbh Sthapana. The idol or picture of God should be placed on the top of the Kumbh and worshipped. After performing all these rituals, worship Lord Vishnu with incense, lamps and flowers.
---
Devshayni Ekadashi Katha
Hindu scriptures consist of a story related to Devshayni ekadashi. During the Satyuga, a noble king named Mandhata ruled his kingdom and all of his subjects were very happy. Once, his kingdom was affected by a severe drought and famine which went on for almost three years. The king had great love for his subjects and therefore when he saw the miserable condition of his subjects during the drought, he was deeply troubled by their troubles. Thus, to free his subjects from this endless torment and find a proper solution to the problem, the king along with his soldiers set out for the forest. While roaming in the forest, he came across the hermitage of sage Angira who is the son of Lord Brahma. Seeing King Mandhata standing in front of him with folded hands, Saint Angira asked him about the purpose of his visit. 
The king fell at the feet of the saint, told him the reason for his grief and sought his help. Then, Rishi Angira asked the king to observe the Ekadashi fast which falls in the month of Ashadha and added that, if he observes that fast religiously then there will definitely be good rains and his kingdom will again prosper as before. With the blessings of the rishi, King Mandhata returned to his kingdom and religiously observed the fast of Devshayani Ekadashi. Soon, under the influence of his religious prayers and Lord Vishnu's grace, his kingdom received heavy rains which led to greenery and prosperity everywhere. Thus, by observing fast on this day and offering special worship to Lord Vishnu, all wishes are fulfilled and salvation is attained by eliminating all sins.
---
The Scientific Importance of Devshayani Ekadashi
The holy month of Chaturmas begins from the day of Devshayani Ekadashi. From a scientific point of view, with the onset of Chaturmas, monsoon begins or becomes active in different parts of India. According to astrological beliefs, due to a lot of  moisture in the atmosphere during these months, many types of microorganisms are born and they can harm the human body directly or indirectly. That is why our ancestors had created some religious rules for these four months and asked the people to follow them. Besides, Devshayani Ekadashi also has a lot of astrological significance. Let us understand the astrological significance of Devshayani.
---
The Astrological Significance of Devshayani Ekadashi
From the day of Devshayani Ekadashi till Devuthani Gyaras, various  kinds of auspicious activities are prohibited. However, during this phase, reciting religious hymns, doing kirtan and worshipping Shiva, along with Lord Vishnu, Goddess Lakshmi, and Tulsi have special significance. The planetary situation and the natural conditions in Chaturmas (which begins with Devshayani Ekadashi) are quite conducive to moral and spiritual upliftment of human beings. Moreover, there is also the significance of wearing Rudrakash during these auspicious months of chaturmas. During these months, wearing 10 mukhi, 7 mukhi or 19 mukhi Rudrakash is highly beneficial as Rudrakash possesses the blessings of Lord Krishna, Lakshmi and Lord Vishnu. By wearing rudrakash mala during Devshayani ekadashi 2023, you can attract positivity as well as it helps to resolve issues in your life. Apparently, these rudrakash beads help to create positive energy, which strengthens your soul and enhances your spiritual power. 
Want to know which Rudrakash is beneficial for you? Talk to an expert astrologer.
---
Conclusion
Indeed, Devshayani Ekadashi commences the auspicious Chaturmas, which is the most suitable phase for the spiritual development of individuals. Additionally, during Devshayani Ekadashi performing Vishnu puja, Laxmi puja or Shiva puja is highly beneficial as you reap huge benefits. 
Get The Benefit Of Devshayani Ekadashi By Consulting An Expert Astrologer…
---
---