Gita Jayanti 2023: What Significance The Day Hold For Hindu Religion?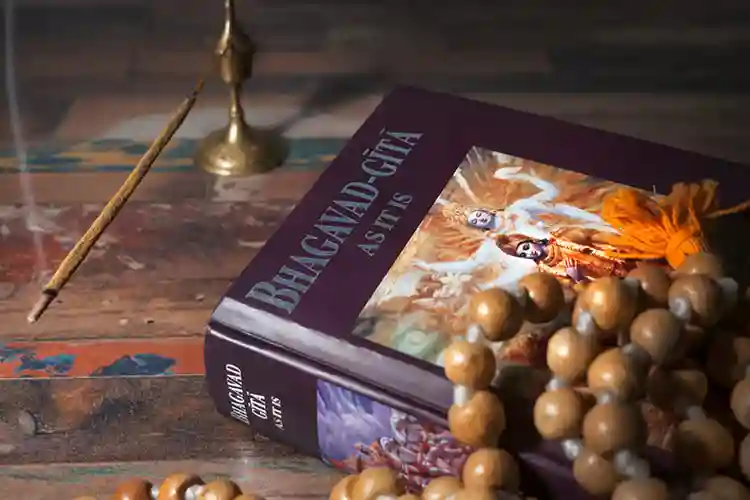 The Bhagavad Gita is believed to be the most sacred book of the Hindu religion. It has already influenced many devotees of Lord Vishnu. Gita Jayanti commemorates the birth anniversary of the Bhagavad Gita. This auspicious day falls on Ekadashi of Shukla Paksha during the month of Margashirsha. Bhagavad Gita reveals the messages of Lord Shri Krishna, which he passed to Arjuna. Devotees worship Lord Krishna on Ekadashi and read Bhagavad Gita to recall spiritual messages. Devotees believe that reading Bhagavad Gita may help you choose the right path in your life. Now, let's move on to shed more light on this topic.
Curious!what might lie ahead? Get a free janampatri report for the better clarity in life.
---
Gita Jayanti 2023: Date And Tithi
This year it will be 5160th anniversry of the Gita.
Gita Jayanti 2023 Date: Friday, 22 December 2023
Ekadashi Tithi Begins: O

n

Dec 22, 2023 at 08:16
Ekadashi Tithi Ends: On Dec 23, 2023 at  

07:11
---
The Story of Gita Jayanti
When Kauravas and Pandavas went head to head on the battlefield, the war became inevitable. At that time, Arjuna then sought Lord Krishna's intervention. During the war, Arjuna saw his grandfather Bhisma, who had raised him since childhood with great care. He also found Guru Dronacharya, who had taught him archery. Observing this, Arjuna's heart melted, and he was unable to fight, knowing that he would have to destroy his own relatives.
Before Arjuna take a step back from the war, Lord Krishna gifted a sermon and asked him to read the theories of Karmas. Since then, the sermon of Bhagavad Gita came into the limelight, and devotees started reading it to learn about Lord Krishna's teachings to Arjuna.
---
Importance of Gita Jayanti
People celebrate Geeta Jayanti to remember Lord Krishna's spiritual messages and urge everyone to follow them. Devotees organise puja at home to worship Lord Krishna in order to get his blessings. Bhagavad Gita includes more than 700 verses, which decodes the Lord Krishna's messages. Also, it includes moral, philosophical, and psychological values.
This holy book describes how Lord Krishna's teachings helped Arjuna to rage war. And therefore, there is a huge significance of this day. Devotees get together under one roof and listen to the mantras of Bhagavad Gita. This is how devotees urge others to follow the spiritual path in their life. This day is dedicated to Lord Krishna and the sacred Hindu scripture, Bhagavad Gita.
If you want to remove negative influence or want peace in life, book personalised live puja as a solution.
---
How People Celebrate Gita Jayanti?
Devotees celebrate Geeta Jayanti with extreme devotion and commitment. Gita Jayanti is not only observed in India but, it is also celebrated in Asian countries like Malaysia or Singapore. On this day, devotees decorate Lord Krishna's temple with flowers and colourful lights.
We witness the grand celebrations of Gita Jayanti at famous Iskcon temples all over the world. People gathered inside the temple and read the Bhagavad Gita. They also perform evening rituals and then listen to devotional songs.
On Gita Jayanti, there will be special celebrations in the city of Kurukshetra. Many devotees in Kurukshetra take a dip in the ponds o of Brahma Sarovar or Sannihit Sarovar. They also organise a fair of Gita Jayanti Samaroh for seven days.
---
The Rituals of Gita Jayanti
Since Gita Jayanti falls on the day of Ekadashi, devotees observe one day fast by avoiding food and water. Sage and saints distribute the holy book of Bhagavad Gita with the devotees and urge them to read the messages of the Shri Krishna.
Devotees from all over India travel to Kurukshetra in order to take a bath in the ponds of Brahma Sarovar and Sannihit Sarovar. Devotees take part in traditional rituals such as prayer recitals, Gita chanting, bhajans, Aartis, and many others. Devotees pay homage to Lord Krishna by reading the Bhagavad Gita scripture.
On Geeta Jayanti day, devotees bow down to the idol of Lord Krishna and seek his blessings. They offer him fresh flowers and lit up the incense sticks. They also offer sweets dishes to the Lord and later share them with other devotees.
---
Wrapping Up
This is how Gita Jayanti is celebrated across India with utmost sincerity. Reading Bhagavad Gita may eliminate negative thoughts from your mind, and you may develop a positive mindset. This day hold the significance of worshipping Lord Krishna by recalling his divine teachings. May Lord Krishna grants your wishes on the upcoming Gita Jayanti 2023.
Bhagvad Gita may not be with everyone, but you can talk to astrologers for solutions of your problems.
---
---