Know The Importance, Worship Method, And Story Of The Gopa Ashtami 2023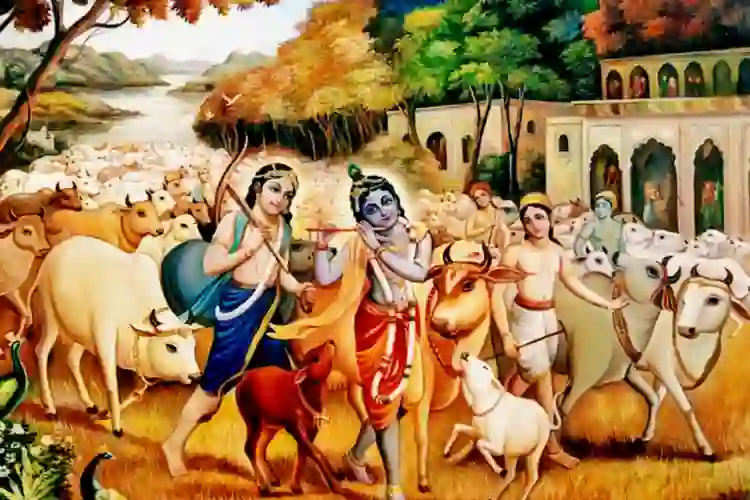 Gopa Ashtami Date And Time
| Gopashtami | Date & Time |
| --- | --- |
| Gopashtami | Monday, 20 November 2023 |
| Ashtami Starts At | November 20, 2023 at 05:21AM |
| Ashtami Ends At | November 21, 2023 at 03:16 AM |
Gopa Ashtami Significance
The day of Gopa Ashtami holds great importance for the people of Braj. The worship of Lord Krishna, the eighth incarnation of Shri Hari Vishnu, has very special importance on this day. Worshipping Lord Krishna and Shri Hari Vishnu on the day of Gopa Ashtami brings peace of mind and wealth to the devotees. Cows and calves are decorated on this holy day of Gopa Ashtami and are worshipped as per the rituals. Cows and calves are worshipped in the same way as in Maharashtra on the day of Govatsa Dwadashi.
Why Is Gopa Ashtami Celebrated?
According to the story mentioned in the Puranas, once Lord Krishna prevented the people of Braj from presenting the annual offering to Lord Indra. When Lord Indra came to know about this, he became very angry with Lord Krishna. In that moment of anger, Lord Indra decided to make terrible rains over Braj. After this, a heavy downpour started in Braj. In order to save the people and animals of Braj from the fury of Lord Indra, Shri Krishna lifted the Govardhan Mountain on his little finger and secured everyone under it. 
When there was no effect of Indra's wrath on the people of Braj even after continuous seven days of heavy showers, Indra accepted his defeat and stopped the rain. This day was the Ashtami of Shukla Paksha of Kartik month. Since then, the festival of Gopa Ashtami is celebrated.
Gopa Ashtami Puja Method
In the holy festival of Gopa Ashtami, the cow along with its calves should be bathed with clean water. After this, they should be prayed by applying tilak with roli and sandalwood. Also, offer them flowers, fruits, incense sticks, etc. After the worship of cow, honour and worship the cowherds by giving them Dakshina (money).
Post this ritual, feed the prasad to the cows that were made for worship and do her circumnavigation. Worshipping Gaumata (cow) in this way removes all the troubles from your life.
Stressed! How would your auspicious work perform? Talk to Astrologers for the Prediction. First Consultation with 100% Cashback!