Janmashtami: Worshipping Lord Krishna on his Birth Anniversary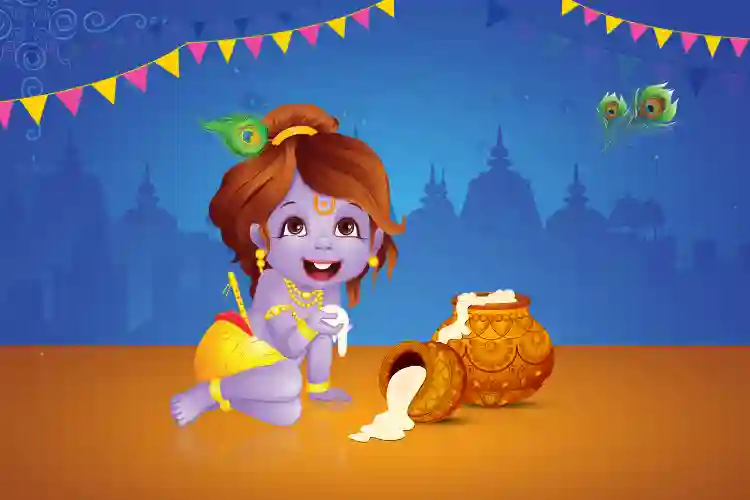 Janamashtami festival is dedicated to Lord Krishna. According to Hindu Calendar, this is celebrated in the month of Bhadrapada on the eighth day of Krishna paksha. Whenever Adharama i.e. sinful behavior of society and its ruling class increases on earth and Dharma faces challenges, Lord Vishnu re-incarnates himself to establish Dharma on Earth. 
Holy books tell us that Lord Vishnu will re-incarnate ten times. His eighth incarnation was that of Lord Krishna. Here we explain how to worship Lord Krishna on this day. 
Krishna Janamashtami falls on the 7th September 2023 this year. According to the belief of certain scholars, Lord Krishna was born 5000 years ago. Hindu priests say that this would be the 5250th birth anniversary of Lord Krishna. However, there is a difference of opinion on all these claims.
Janamashtami is to be celebrated on 7th September 2023.
---
Life Story of Krishna
In Dwapar Yug (One of the four yugas according to Hindu scriptures) Dharama i.e. virtuousness of society was on decline and Adharama – sinful acts were on a high note. People, in general, were under threat because of such sinful rulers. Under these circumstances, Lord Krishna was born to mother Devki. 
Devki was put behind the bars by her brother and king of Mathura named Kansa. 
Kansa was told that he would be killed by none other than his sister Devki's son. Fearing his death, Kansa decided that he would not allow any child of his sister to survive. He used to kill every child who was born to Devki. 
When Krishna was born, unnatural things started happening. All doors of the jail had been unlocked and gates opened where Devki and her husband Vasudev were locked. Security people fell into a deep sleep. Under these conditions, Krishna's father Vasudev decided to shift his new-born son to escape the fury of Kansa. 
In the middle of the night and through the flood in Yamuna, he carried Lord Krishna to village Gokul. He was taken to Nand Baba house. Nand was the village head of Gokul and a friend of Vasudev. Nand's wife had also given birth to a girl child almost at the same time. He brought back that girl child to jail. 
When Kansa came to know of the birth of the child, he reached the jail. As before, he took the girl child into his hands and threw her to the wall with the purpose of killing her. 
As he tried to do it, the girl child turned into her divine form and disappeared. Before leaving, she warns Kansa that the child who is destined to kill him has already taken birth. 
In Gokul, conditions were not very good for him. Kansa through his spies came to know of Krishna's whereabouts. He sent many of his demons to kill Krishna. But Krishna along with his elder brother Balram killed all of them. 
When he reached his teenage years, Krishna killed sinful Kansa and made his maternal grandfather king of Mathura. His maternal grandfather was Ugrasen, who was the father of Kansa and Devki. Ugrasen was also put behind the bars by Kansa for taking the side of his daughter. 
After this incident, Krishna went to Gurukul in Ujjain to educate himself. After his education, he decided to establish Dharma i.e. virtues on earth. 
He also decided to support Pandavas in their fight against the Kauravas, which he called a fight to establish Dharma. Before the war between Kauravs and Pandavas was to begin, hesitation and indecision started in the mind of Arjun. Arjun was the main warrior on Pandavas' side. Without him, Pandavas would not have won the war. 
So to clear the hesitation from the mind of Arjun, Krishna advised him about the right path. This sermon by Krishna on the battlefield of Kurukshetra is collected in the Gita. This is one of the greatest philosophies on the earth. It shows us the path of righteousness apart from having spiritual teachings. Finally, Pandavas won the war and Krishna had a major role in it though he did not pick the weapon himself. 
Krishna also killed other unvirtuous kings like Shishupal and Jarasandh.
---
How is Krishna Janamashtami Celebrated
This festival of Krishna Janamashtami is celebrated with full fervour in the whole country of India. Krishna followers keep fast on this day. The day starts with bathing and wearing fresh and clean clothes. Subsequently, people visit Lord Krishna temple with offerings. Puja is conducted in all the temples on this day. Religious and cultural programmes are organized during the day. 
Krishna took birth at midnight. So celebrations are conducted at 12 midnight. Main function with full devotion is celebrated at that point in the temples. Krishna is worshipped, fruits and bhog is offered to the deity. Krishna's special Prasad is Dhaniye ki Panjiri (a mixture made of coriander seeds, powdered sugar and other spices). All kinds of fruits are also offered to the lord. Another special Prasad on this day is unadulterated butter, which Krishna loves a lot.   
Thousands of people gather in temples to worship Lord Krishna and receive prasada. Children are dressed as Krishna and Radha to play an act of Raas Leela. Aslo the incidents that happened in the life of Lord Krishna are recreated, including Krishna and Radha stories. Moreover, Temples are decorated extensively. 
Popular mantras of Krishna are also recited. Few of them are – "Hare Rama, Hare Krishna"  and "Om Namo Bhagvate Vasudevey Namah." 
In south India, this festival is celebrated as "Gokul Ashtami". The people decorate their houses with Kolam-a traditional decorative pattern. People sing devotional songs. Krishna's feet are marked at the entrance of the worshipping places. In temples, offerings are dedicated to the Lord. Devotees do fasting and after the birth of Lord Krishan at 12 in the night, food is served. 
Interesting Facts:
ISKON is the largest religious organization of Krishna devotees in the world. Grand functions are celebrated in these temples. The popular mantra in these temples is "Hare Rama, Hare Krishna". Krishna Leela-recreation of incidents in the life of Lord Krishna- is also conducted.
One more joy you can experience, is knowing what's going to come ahead? Get a free astrology report 2023.
---
How to Worship Lord Krishna
On Janamashtami day, rise early in the morning. Then bathe Lord Krishna's idol with water, milk, curd, and honey. Make the Lord wear new clothes. If possible the clothes should be of yellow colour. If Radha is with Krishna, adorn her with beautiful rope and ornaments. 
Worship the Lord and offer Him, sweets. Recite Krishna Mantras, bhajans, or japas. Reciting "Gopal Sahastranaam" or "Vishnu Sahastranaam" will be even better. Perform Arti at 12 in the noon. Donate holy offerings prepared at home. Again in the evening perform puja of Lord Krishna. At nine in the night, light an Indian lamp i.e. Diya with desi ghee. It should have enough ghee so that it can stay till the morning. At 12 in the night, again perform aarti and recite any mantra of Lord Krishna 108 times. After that, break your fast by taking prasadam and then eat your meals. It should be strictly vegetarian.
---
Dahi Handi (Gopalakala)
Krishna was very naughty in his childhood. He used to break the Handi (an earthen pot used to store butter or similar things). This habit of Krishna is re-created in different places in the country. This is very popular in Maharashtra. This is called Dahi Handi, also called Gopalakala in South India, which is seen in many Bollywood films. Interestingly, Janamashtami is celebrated distinctly in different parts of India. In some parts, kites are flown and in others, Krishna idols are bathed with Ganga Jal.
---
Conclusion:
Whatever may be the way of celebration, the purpose of Janamasthami is to worship Lord Krishna, who showed us the way how to live a righteous life. He taught us to be committed to the rightful way of life and resist any sin that may become part of our living. 
We wish you a Happy Janamashtami.
Also, Know About the Radha Ashtami…
Dealing with too much confusion? Talk to astrologers for the guidance. First consultation with 100% Cashback.
---
---