Navratri 4th day Celebrations and Worshipping Maa Kushmanda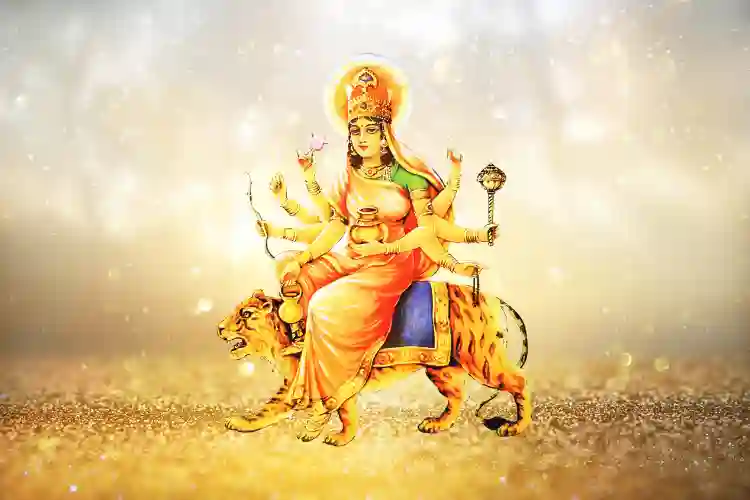 Maa Kushmanda - A Form Of Goddess Parvati
The Hindu myth reveals Maa Kushmanda to be a form of Goddess Parvati who resides in the center of the planet Sun. She is said to carry a sacred rosary embracing the power of Siddhis and Niddhis. On Navratri 4th day, devotees worship Maa Kushmanda in order to overcome the negative effects of the Sun and resolve health-related problems. The name Kushmanda is derived from three words, Kush (Warm), Ushma (power), and Anda (egg).
Maa Kushmanda appears to be mounted on the Lion with eight arms, depicting her name as 'Ashtabhuja Devi'. Maa Kushmanda carries a sacred kamandal, bow, arrow, and a flower in the right hand, while the left hands hold a rosary, Gada, chakra, and a Kalash. She is believed to be the creator of the universe and is fond of pumpkins. Thus, while worshipping Maa Kushmanda, devotees offer fresh red flowers and pumpkins along with chanting her holy mantras.
Significance of Worshipping Maa Kushmanda
Maa Kushmanda is known to be the ruler of the planet Sun. The Goddess provides direction to the path of the Sun. Devotees recall Maa Kushmanda by organizing puja rituals to get rid of the unfavorable position of the Sun. People believe by performing Maa Kushmanda Puja nullifies darkness, which is considered to be a sign of a victory of good over evil. Performing rituals on this day is said to remove obstacles such as sorrow, anxiety and fear from one's life. Maa Kushmanda bestows long life and strength in the form of blessings to her devotees.
Puja Samagri
The idol of Kushmanda Devi
Unpeeled Coconut
Milk
Kalash
Leaves
Fresh set of flowers
Fruits and sweetmeat
Puja Vidhi
Kushmanda puja is performed by offering red flowers, prasad, and sweets to the Goddess. Below given are steps to be followed while performing Kushmanda Puja.
Keep the idol of Maa Kushmanda inside your temple
Spread the wheat grains on floor, just outside the temple
Place a Kalash filled with water on the grains.
Tie leaves on the neck of Kalash and then put a coconut inside it.
Worship the goddess by chanting the holy mantras.
Conclude puja by doing aarti and distribute prasad.
Best wishes for Navratri 2023
We wish our followers a very Happy Navratri season ahead.
With divine blessings, you must need to know what your future holds. Talk to astrologers to know in detail. First consultation with 100% Cashback!