Seek Maa Kalratri's Blessings On The 7th Day Of Navratri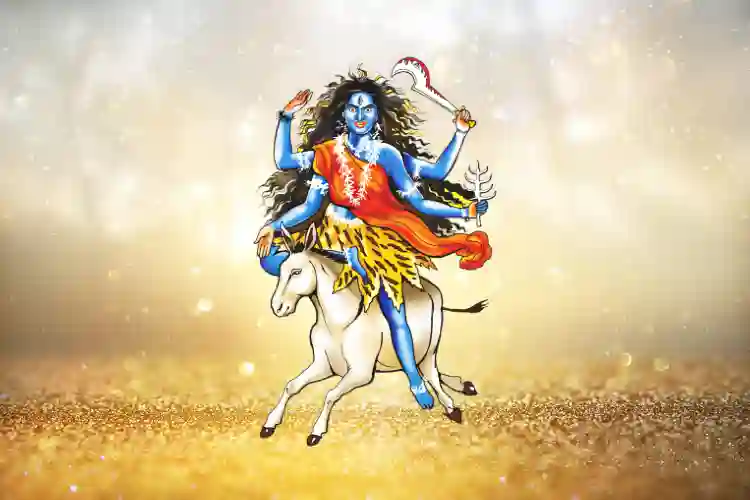 Legend of Maa Kalratri
Maa Kalratri's Katha (story) takes us back to ancient times, when Goddess Parvati incarnated herself as Maa Kalratri. According to myths, the tale revolves around a demon named Raktbeej who wreaked havoc in the lives of Gods and Goddesses. At the humble request of gods, mother Parvati stepped up to kill the demon in the form of Maa Kalratri. Maa Kalratri peeled her golden-colored skin to kill Shumbha-Nishumbha and Raktbeej. Following the death of Raktbeej, his blood drop gave birth to millions of his own forms. Maa Kalaratri collected the blood in a small bowl and then licked it, to avoid the multiplication of any more demons. Kalratri refers to the two words Kaal (Death) and Ratri (Night), which combinedly form the name 'Kalratri'.
Maa Kalratri's Scary Avatar
Maa Kalratri is an aggressive form of the Goddess Parvati. The Goddess appears to be mounted on a black donkey with three eyes and four arms. Both the hands on the right side perform mudra, while the hands on the left side carry a sword and an iron halberd. She looks furious with a black complexion, blood-filled face, and curly long hair. She wears a long necklace, which glares like thunder in the dark sky. Maa Kalratri looks ready to wage a war against evil souls. This scary form of mother Parvati is also known as 'Shubhankari'.
Benefits of Worshipping Kalratri Devi
The seventh form of Maa Durga is a furious one, the one which slaughters demons and ghosts and also protects her devotees from negative forces. The one who worships Maa Kalratri with dedication may outsmart life obstacles such as fear, failure, or sorrow. Dealing with life obstacles? Get solutions. As per beliefs, Maa Kalratri governs the planet Shani (Saturn) in a horoscope. People suffering from the ill effects of Shani are advised to organize Kalratri Puja or Durga Puja. Maa Kalratri provides directions to Shani Grah in order to nullify its bad effects.
Puja Rituals
Below are the steps to be followed on Navaratri day 7:
Begin puja with Kalash Sthapana.
Place an idol of Maa Kalratri on a piece of cloth near the home temple.
Invoke the Goddess and other deities for special favours and blessings.
Meditate in the name of Maa Kalratri while chanting powerful mantras.
Perform aarti and distribute sweets.
Maa Kalratri Mantra
Praise Maa Kalratri by reciting the below mantra and keep her in your prayers.
'ॐ देवी कालरात्र्यै नमः॥'
Talk to our Astrologers & Get 100% Cashback on your First Consultation