Importance of Worshipping Maa Katyayani on the 6th Day of Navratri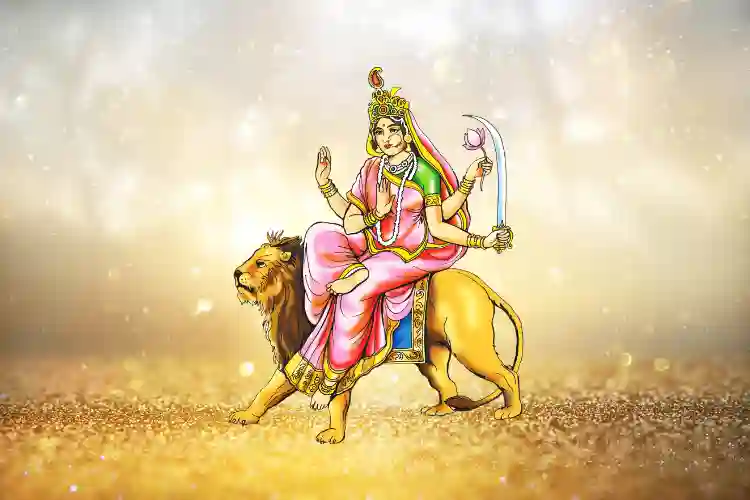 The Legend
There was a sage (Rushi) named Katyayan, who invoked Goddess Parvati to take birth in his house as his daughter. To fulfill his desire, the sage undertook severe penance for a period of thousand-years. Goddess Parvati was appeased with his worship and accepted his wish to be born as his girl child. The infant form of Goddess was nurtured by the sage. When she grew up, she eliminated numerous demons who created havoc on Earth. This form of Maa Parvati came to be known as 'Maa Katyayani', the girl who was born as a blessing to sage Katyayan.
Importance of Worshipping Maa Katyayani
Maa Katyayani is also known as one of the fearless forms of Hindu deities, who protects her devotees from evil souls. People perform Maa Katyayani Puja in order to remove obstacles of fear and stress. Unmarried girls worship Maa Katyayani to get the desired life partner. Persons facing impediments or delays in marriage may worship Maa Katyayani for an early marriage. Those in marriage may also worship Maa Katyayani to resolve marriage-related problems.
On Navratri day 6, puja rituals are commenced by offering red flowers and prasad to the Goddess along with chanting of mantras. Maa Katyayani is a warrior Goddess who marks the triumph of good over evil.
As per scriptures, Maa Katyayani is depicted in a pink sari with a sacred rosary in the neck. The Goddess is seated on a Lion with a weapon and lotus flower in her hands. Having three eyes, four hands and a crescent moon on her forehead, Maa Katyayani looks ready to torment devils.
Maa Katyayani is known as the ruler of planet Jupiter (Brihaspati). Jupiter is considered as a beneficiary planet in the stellar system. Worshipping Maa Katyayani helps to imbibe the positivity of the planet Jupiter in a horoscope. Did you check today's horoscope? Find out what your zodiac sign has to say. One can eradicate the malefic effects of Jupiter by organizing the Katyayani puja. Read how Katyayani puja is performed on the 6th day of Navratri.
Katyayani Puja Vidhi
Start your puja by performing Kalash Sthapana.
Do Sankalpa and meditation in the name of Devi Katyayani.
Keep an idol of Devi Katyayani on the front side of your temple.
Light diyas and offer red flowers and sweets to the Goddess.
Invoke Devi Katyayani to get bestowed with her blessings.
Chant Maa Katyayani mantra while remembering Maa Katyayani in your prayers.
Do aarti by holding incense sticks and then distribute prasad.
Maa Katyayani Mantra:
Recite the following mantra while performing Katyayani Puja, this may help you remove stress, sorrows and other obstacles from your life.
ॐ देवी कात्यायन्यै नमः॥
Warm Greetings from The MyPandit Team
Wish you a blessed Navratri season ahead!
With divine blessings, you must need to know what your future holds. Talk to astrologers to know in detail. First consultation with 100% Cashback!