Pohela Baisakh: Discover Some Important Facts About Bengali New Year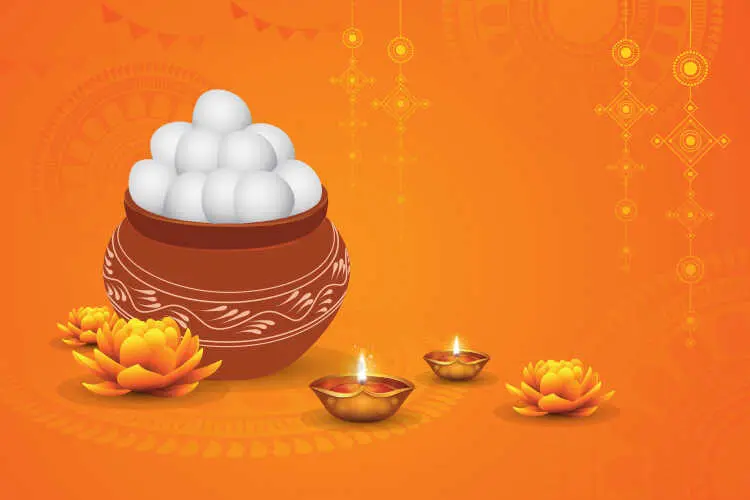 Bengalis welcome the new year with an open heart, grandeur, fresh hopes and perspectives. Poila Baisakh receives much love with Haalkhata, Rabindra Sangeet, Dhuti Panjabi, Lucchi Maangsho, and so many other ways that it is celebrated. Meeting and greeting fellow Bengalis and everyone around is the most significant part of Poila Baisakh celebrations.
The first month of the Bengali calendar is Nobo Borsho which means New Year. This new year is also celebrated in Tripura and Bangladesh. Usually, the Bengali new year begins on the 14th or 15th of April. People meet and greet each other and indulge in delectable sweets and savouries. Bengalis indulge in eating, singing and shopping and spend a lot of time in merriment and prayers. The essence of Bengali New Year lies in the fact of building a harmonious relationship and bonding with near and dear ones. Keeping up with this spirit throughout the year is the spiritual Mantra of the beginning of the new year.
---
Pohela Boishak Date and Time
With the Pohela Boishak of 2023, the Bengali era 1430 begins.
Pohela Boishakh: Saturday, April 15, 2023
Pohela Boishakh Sankranti Moment: On Apr 14, 2023 at 03:12 

PM
---
Pohela Boishak Significance
This day is considered auspicious as it commemorates the beginning of the harvest season in Bengal. It is believed that starting harvesting on this day may help you bring maximum productivity. And thus, farmers of Bengal may earn a great profit in return.
Poila Baisakh is considered an auspicious day for traders and business owners of Bengal. It is a day for beginning the "Haal Khata" or opening a ledger account. The traders invite priests to their workplaces for performing rituals and puja of Lord Ganesha and Goddess Lakshmi. Thereafter, they open the Haal Khatal Mantra at the beginning and during the work.
In the evening they invite their stakeholders, dear customers, employees for feast and celebrations of the auspicious beginnings of the new year.
Want to accomplish your life goals? Book personalised live Laxmi Puja for financial prosperity.
---
History Of Poila Baisakh
Bengali New Year 2023 falls on April 15 this year. There are two different ideas about the history of Pohela Boishakh. While some say that the Bengali era began with King Shoshangko in the 7th century, others claim that King Akbar, after uniting the lunar Islamic calendar and the solar Hindu calendar, founded the Bengali calendar. Bengali Hindus in some rural parts of India attribute their start to Emperor Vikramaditya and believes the Bengali calendar begins in 593 CE.
---
Celebrations Of Poila Baisakh
Before the beginning of the new year, Bengalis rush to avail themselves of a copy of their Panjika and plan the yearly events accordingly. This year-long handbook marks the auspicious timings to conduct any special events along with its dates and timings.
From planning a new business to fixing wedding dates, everything is planned according to Panjika. We have it all covered only after going through the auspicious times and dates available in a Panjika. It is an inseparable part of the 'Nobo Borsho' celebrations not only in West Bengal but all over India. Even the Bengalis living in foreign countries take some break from their work to celebrate Nobo Borsho celebrations.
How would be rest of the year for you? Get a free yearly astrology report to know in detail.
---
Steps To Perform Puja on Poila Baisakh
To welcome the auspicious new year the Bengalis perform the following rituals.
Take a holy dip or bath in the river
Witness the holy sunrise along with the family
Clean and decorate the home with flowers, alpana and artefacts.
Offer prayers to Hindu deities, Lord Ganesha and Maa Lakshmi.
Afterwards, wear new gemstones.janampatri report
---
Poila Baisakh: Gifts And Traditions
The Bengalis welcome the new year by exchanging gifts and sweets with their friends and relatives. It is a significant part of Poial Baisakh celebrations. On the first day of the year, children seek blessings from the elder member of their family. Also, they send gifts and greetings to the ones whom they could not meet on this day.
Those who stay in close proximity visit each other's houses to wish happiness and love on this day of New Year. They also try out traditional and contemporary handicrafts as they are made out of organic or eco-friendly material, and they look pretty good as well.
Learn about the prospects of your life events in the upcoming year, get your free janampatri report now!
---
Poila Baisakh's Fair
There is an ancient ritual of organising a fair during Poila Baisakh. Mainly, the fair is organised in the rural areas of Bengals. People living in rural areas believe that it is necessary to take part in the fair as a part of traditional rituals. People welcome the new year while enjoying such rural fairs.
The committees and clubs of the West Bengal Government organise these small scale fairs on the occasion of Nobo Borsho. Children and adults equally participate in these festivities. Children get toys as a gift from their parents, and people come outside of their homes to take street food. Traditional Bengali items like handicrafts, clothes like Kantha work attire, handmade silk sarees and handbags and craftwork are extremely popular in these types of Fairs.
---
Ending Note
We learned how the people of Bengal are crazy behind the celebration of Poila Baisakh (Shubho Nobo Borsho). They believe that it is a day of indulging yourself in fun activities and performing prayers. Food lovers may enjoy a taste of different delicacies in new restaurants. This is how the people of Bengal give grand welcome to the new year. With this, hope you have a great upcoming new year. Wishing you a Shubho Nobo Borsho.
---
---