Rudrabhishek Puja: What Is It & How Is It Performed?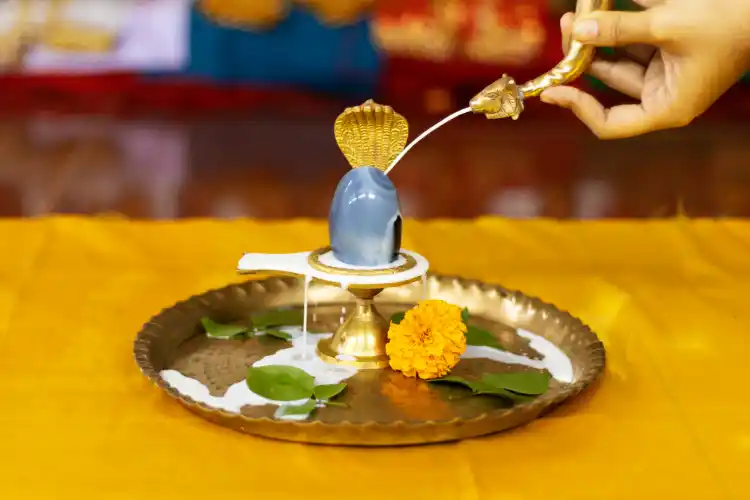 Rudra is often depicted as a fierce, destroying form of Lord Shiva. An 'Abhishek' refers to a holy bath. Therefore, Rudrabhishek Puja is a holy bath to Lord Shiva, consisting of gangajal, milk, honey, and many ingredients we will talk about here. A Rudrabhishek Puja is said to be the easiest way to appease Lord Shiva and invite positive energies to our lives.
---
What is Rudrabhishek Puja?
As mentioned above, a Rudrabhishek Puja is one of the most important and purest rituals of Hinduism. Devotees offer Lord Shiva a sacred bath with many puja materials, flowers, etc. Chanting the mantras during the Puja is also an integral part of the ritual. But why is it performed, and why does it stand so high among the other rituals in Hinduism? Let's find out.
---
Significance of Rudrabhishek Puja
Even in his fierce avatar, Lord Shiva can bless you in many ways. Rudrabhishek Puja is a procedure described in the ancient Hindu texts. Performing it with a pure intention fends off the negative energies around you; it can also get rid of your past sins and promotes the spiritual growth of your soul. Rudrabhishek Puja can free you from your past karmas.
Are your planets helping you with better placement and getting rid of bad Karma? Find out now with a Free Janampatri Analysis.
---
Benefits of Rudrabhishek Puja
Rudrabhishek puja helps worshippers in achieving all of their aspirations and goals. It protects against negative persons. Physical wellness, wealth, and a happy life are all possible outcomes of performing Rudrabhishek Puja. One can also perform Rudrabhishek Puja online and get the blessings of Lord Shiva with the help of our Expert Astrologers. The following are the benefits of performing Rudrabhishek Puja once a year.
It is a positive energy that helps you in achieving your goals.
It brings happiness, pleasure, and wealth into one's life.
Blesses a person with a positive mindset and a positive attitude.
It prevents sudden and unexpected incidents and accidents and ensures a healthy lifestyle.
It removes the evil effects of various planetary doshas from one's horoscope.
---
Rudrabhishek Puja Samagri
Following are the important ingredients used in Rudrabhishek Puja.
Flowers
Incense sticks
Ghee
Curd
Honey
Fresh milk
Panchamrit
Rose water
Sweets(Mithai)
Ganga Jal
Camphor(Kapoor)
Supari, laung, elaichi (betel nut, clove, cardamom)
Bel Patra
If you are wondering about the availability of these ingredients and are worried about the Puja, you can perform an all-inclusive online Rudrabhishek Puja, from the comfort of your home.
---
How to perform Rudrabhishek Puja?
Place the Shivling in the ceremonial area. Light a diya using oil or ghee to the right of the shivling. Afterwards, place all of the above-mentioned puja ingredients (samagri) in a tray or plate and sit facing towards the East. To prevent sitting straight on the floor, use asana. Before performing the puja, seek the blessings of Lord Indra, Lord Ganesha, and your Kul Devta.
Then, prepare panchamrit and sprinkle it on Shivling. Also, offer Chandan, fresh flowers, raw milk and water or Gangajal on Shivling. After completing the rituals, clean the shivling and with your right-hand finger apply Chandan on it. Offer pan, supari, elaichi, Laing, fresh fruits, etc. Complete the divine Rudrabhishek Puja by offering flowers to Lord Shiva, praying and seeking his divine Grace and blessings.
---
When to do Rudrabhishek?
When a Puja is this auspicious, there is no need to look for an auspicious day. In fact, performing a Rudrabhishek Puja can make your day! However, if you want to get the most out of your Puja, the day of Mahashivratri is the perfect day to get it done! It is the biggest Shivratri among the 12 Shivratri throughout the year. In 2022, Mahashivratri will fall on March 1, Tuesday. Read more about the festival of Mahashivratri here.
---
Types Of Rudrabhishek Puja For Different Blessings
There are a total of six types of Rudrabhishek that worshippers can perform. Each type of Rudra Abhishek has its own significance and benefits that it provides, according to Vedic literature. The benefits of each Rudrabhishek are listed below.
Jal Abhishek – Performing Rudrabhishek with Gangajal will help the worshippers fulfil all aspirations.
Dudh Abhishek – Performing Rudrabhishek with cow's milk blesses devotees with longer life and gives protection against major health issues.
Shahad Abhishek – Rudrabhishek with honey or honey blesses the worshippers with good fortune and removes misfortunes, making life easier and happier.
Panchamrit Abhishek – Panchamrit is a combination of five ingredients: raw cow's milk, curd, honey, sugar, and ghee. Performing Rudrabhishek with panchamrit bestows the devotee with wealth, riches, and prosperity.
Ghee Abhishek – Performing Rudrabhishek by pouring ghee on Shivling protects devotees from diseases.
Dahi Abhishek- Rudrabhishek with curd assists couples who are having problems in conceiving.
---
Conclusion
Rudrabhishek Puja is the ultimate and easiest way to appease Lord Shiva and get his blessings for a happy life. Through this powerful puja, you can feel the Divine presence of Lord Shiva and get protection against all the negative and evil energies surrounding you.
With divine blessings, you must need to know what your future holds. Talk to astrologers to know in detail. First consultation is FREE!
---
---