Chitra Pournami 2023: What Is It's Significance And Rituals?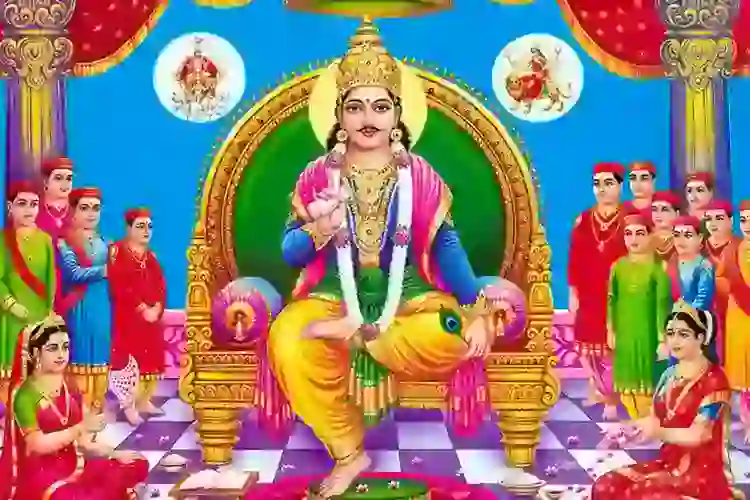 Chitra Pournami is a well-known Hindu festival celebrated on the 1st full Moon day of Chithirai. This auspicious day is dedicated to Lord Chitragupta, who keeps the records of good and bad karmas of person. We celebrate Chitra Pournami when the Sun is exalted in the Aries sign, and the Moon is in the Libra, facing towards the bright star, Chitra. On this day, devotees take a dip in the holy river to get rid of their past sins.
This full moon day is said to be the perfect time to worship God Chitragupta. It is said that whoever feeds the poor on this day may reduce their bad karmas. This important festival of Tamilnadu arrives with an opportunity to wash out our sins. This auspicious day also marks the birth anniversary of Lord Chitragupta. And therefore, many people worship Lord Chitragupta with full devotion.
---
Chitra Pournima Date and Muhurat
Chitra Pournima Date: Thursday, April 6, 2023
Tithi Timings:
Pournami Tithi Begins – O

n

09:19 

AM

 

on

 Apr 05, 2023
Pournami Tithi Ends – O

n

10:04 

AM

 

on

 Apr 06, 2023
---
Significance of Chitra Pournami
Chitra Pournima is celebrated when the Sun and Moon are reunited. On this day, there is an importance of worshipping God Chitragupta. Chitragupta depicts two words, Chitra refers to pictures, and Gupta refers to hidden. Lord Chitragupta is said to be the younger brother of Lord Yama. Lord Chitragupta also assists Lord Yama by maintaining records of a person's karmas. On the occasion of Chitra Pournima, people usually perform puja on the riverbanks or nearby lakes to appease God.
During Chitra Pournima, Anamala Hills attracts thousands of pilgrims, who appear to participate in a 14 km long walk called Pradakshina. Also, devotees observe fast during the Chitra Pournami. On this special day, devotees also gather in large numbers at Chitragupta temple, Kanchipuram, which is one of the ancient temples in South India. It is believed that those who fail to create a balance between good and bad karmas continues to follow the same birth cycle.
---
Chitra Poornima Story
According to holy scriptures, the story of Chitra Poornima revolves around Lord Indra, the Kings of Gods and his Guru Brihaspati. Once Lord Indra and Guru Brihaspati indulge in a dispute because Lord Indra insulted Guru Brihaspati. Being a guide and mentor, Guru Brihaspati instructed Indra on a pilgrimage to the earth to reduce his bad karmas.
Lord Indra agreed and went on to fulfil the wish of his Guru. During the pilgrimage, Lord Indra found a shivaling beneath the Kadamba tree. Later, he realised that Lord Shiva was the one who was helping him in reducing his ill deeds. Soon, he started worshipping Lord Shiva by offering lotus flowers. This incident took place on the full moon day of Chithirai month at Madurai, Tamil Nadu. Since then, devotees perform pujas at the famous Meenakshi Temple in Madurai to worship the Lord.
Increase your peace of mind by performing personalised live Rudrabhishekam Puja.
---
Benefits of Performing Puja On Chitra Pournami
Devotees who perform Durga Puja during Chitra Pournami may get relief from their bad karmas. This ritual reminds us to refrain from committing wrong deeds and divert our attention towards truth and honesty. Devotees offer sincere prayers to God to eliminate negative thoughts from their minds. The significance behind organising Chitra Pournami Puja is to wash away past sins.
This sacred ritual could be the best way to get special blessings from God. Some people also organise Yagna and recite mantras to please the Lord on this auspicious day as people believe that it is the most spiritual way to connect with God. This ritual not only eliminates negativity from the inner self but also motivates the one to follow the path of inner salvation.
Curious! How would be your upcoming time? Get a free yearly astrology report to know in detail.
---
How People Celebrate Chitra Pournami?
On this propitious day, people offer special prayers and organise different ceremonies to appease the Lord. They also take a bath in nearby holy rivers as they believe that one can get rid of their sins. Moreover, people dealing with the malefic effects of Ketu worship Chitragupta to eliminate its negative impacts. Some of them observe a day-long fast by avoiding oily and spicy foods. They celebrate this day by donating food and clothes to poor or needy ones.
Besides, a ritual of this day also includes the preparation of Navadhaniyam, which is nine different food items offered to impress God. While doing so, one should take care that they may not do such things during Rahu Kalam or Yama Kandam. People keep betel leaves, nuts, coconut or banana on a plate and lit up incense sticks to worship the Lord. Later, they conclude the rituals by performing Mangala Aarti.
---
Wrapping Up
Now we knew why Chitra Pournami is considered one of the important festivals of Hindus, which is mainly celebrated across the southern states of India. This day brings us opportunities to reduce our bad karmas by remembering the name of Lord Chitragupta. Whoever performs the Puja on this day may get blessings from Lord Chitragupta as well as from Lord Yama.
Are malefic planets haunting your life? Talk to astrologers to gain a solution. First consultation is FREE.
---
---