Vat Purnima 2023: All You Should Know Before Organizing Vat Savitri Puja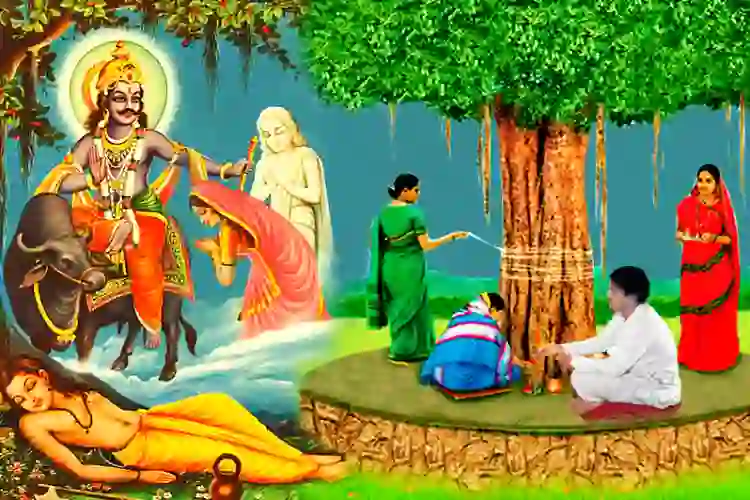 Vat Purnima is considered a very propitious day in Hinduism, also known as Vat Savitri. It is an auspicious day to remember Maa Savitri for her exemplary generous deeds. This day falls on Amavasya of Jyeshtha month, as per the Hindu calendar. Mainly, it is celebrated in the northern parts of India. On Vat Purnima, women worship Maa Savitri and seek the longevity of their husbands. Some of them also keep fast to impress the Goddess. Nowadays, husband and wife both observe a one-day fast for their well-being. There is an interesting tale behind the celebration of Vat Purnima. So, let's move on to find out the ancient story of Vat Savitri vrat.
---
Worshipping Maa Savitri
Vat Purnima is dedicated to Goddess Gauri, who is also known as Maa Savitri. On this day, married women keep their husband in the prayers while worshipping Maa Savitri. Also, young girls perform puja and observe fast to get the desired life partner. Rituals also include the worshipping of the Banayan tree, and therefore many women wrap up the tree with holy thread. They maintain the fast in honour of the goddess till the visibility of the moon. According to devotees, the Banyan tree symbolises dedication and commitment for the women who wish to live with their husbands for seven more years.
---
The Story
The ancient tale revolves around a couple who vowed to stay with each other for years. The princess named Savitri fell in love with young man Satyavan and then decided to marry him. Soon, she learned that her husband was cursed by a sage. When Satyavan was cutting the branches of the Banyan tree, he felt body pain and headache. Then, Savitri gave him a head massage to reduce his pain. Later, Lord Yama appeared to take away Satyavan's soul, but Maa Savitri stood in his way and tried to stop him. She followed Lord Yama on the way to his adobe, where Lord Yama requested her to return home. Maa Savitri agreed but with the condition that she will only return along with her husband. Later, Satyavan came back to life with the grace of Lord Yama, and he returned home with Maa Savitri.
Since then, Vat Savitri Vrat is observed by women to seek the protection of their husband.
Learn the prospects of your marriage / love relationship, access to Free Janampatri
---
Important Date And Muhurat For Vat Purnima 2023
Vata Savitri Purnima: Saturday, June 3, 2023
Purnima Tithi Starts At: 11:16 

AM

 

on

 Jun 03, 2023
Purnima Tithi Ends At: 09:11 

AM

 

on

 Jun 04, 2023
---
Items Required For Vat Savitri Puja
Below are the things one must keep on hand to perform Vrat Savitri Puja.
Idol of Maa Savitri
A pitcher filled with water
Fresh fruits
Red-coloured holy thread
Incense sticks or Diyas
Vermilion
Red piece of cloth
Vat Savitri Vrat Katha Book
Honey, milk & Ganga Jal
---
Steps To Perform Vat Savitri Puja
Below are the steps to be considered while performing Vat Savitri Puja.
Take a piece of wood or a plate and apply turmeric or sandalwood paste to draw the banyan tree and worship it for the next three days.
Observe the fast by avoiding the food and water
Place the idol of Maa Savitri under the Banyan tree
Women should wear bridal attire along with jewellery and vermillion on their forehead while performing Puja
Then, offer prayers to the Banyan tree as an honour of Goddess Gauri by reciting the Vat Savitri Vrat Katha.
Offer fresh fruits and light up incense sticks
Sprinkle vermillion around the tree and tie a sacred thread around the tree
Chant prayers while revolving around the tree.
End your fast(Vrat) by consuming fruits or prasad
---
Benefits Of Vat Savitri Puja
Following Vat Savitri puja, devotees may get the below-mentioned benefits.
Married women may bring longevity and good fortune to their husbands.
Women may develop long-lasting relations with their spouse
Your wish for being together for seven years may get approved
Young girls may find a loving and caring partner
You may find mental peace and harmony
You may live a happy married life
---
Wrapping Up
Vat Purnima is observed on Amavasya in the northern parts of India. While the people of south India keep Vat Savitri Vrat on the new moon day. This auspicious day brings a fine opportunity to appease Goddess Gauri. So, women worship the Goddess with utmost sincerity. They make a wish for their husband's long life while following fasting rituals. Hope you had cleared your queries with this. We Wish you a Happy Vat Purnima 2023.
---
---