Vallabhacharya Jayanti: Uncover The Life Of This Devotional Philosopher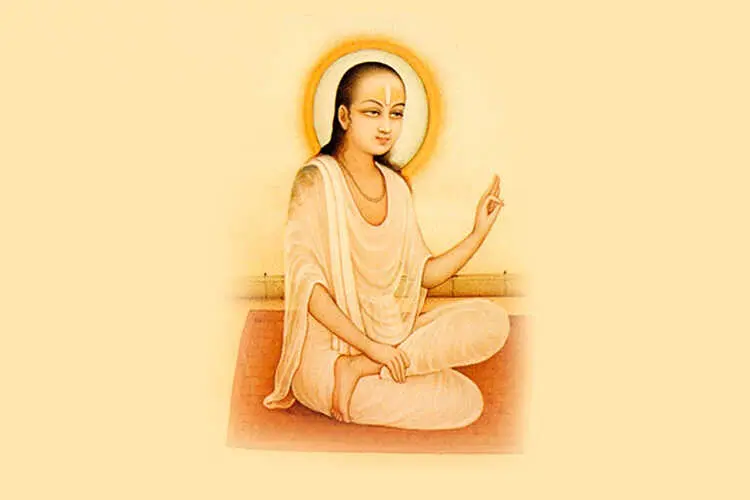 Shri Vallabhacharya was an Indian philosopher, who founded the Krishna-centered Pushti sect of Vaishnavism and the Shuddha Advaita philosophy in the Braj region of India. In today's world, many devotees of Lord Shri Krishna believe what Shri Vallabhacharya saw when he arrived at Govardhan mountain. Therefore, the worshippers celebrate Vallabhacharya Jayanti with great joy. They remember the supreme Indian deity, Lord Shri Krishna and Shri Vallabhacharya by offering them prayers and pujas.
Devotees believe that Vallabhacharya is the incarnation form of Agni Dev-The lord of fire. His legacy is best preserved in the Braj region, especially at Nathdwara in India's Mewar region, which is a major Krishna pilgrimage centre. He referred to himself as Agni's incarnation. Now, before we reveal the time and date to celebrate this auspicious day, let's learn about the ancient story behind the Shri Krishna's devotee, Vallabhacharya
---
Vallabhacharya Jayanti Date And Time
It is the 544rd birth anniversary of Shri Vallabhacharya. Its muhurat is as follows below.
Vallabhacharya Jayanti: Sunday, April 16, 2023
Ekadashi Tithi Begins: On 08:45 

PM

 

on

 Apr 15, 2023
Ekadashi Tithi Ends: On 06:14 

PM

 

on

 Apr 16, 2023
---
History Behind Celebrating of Vallabhacharya Jayanti
The Birth Of Shri Vallabhacharya
In 1479 AD, Shri Vallabha was born to an ordinary Telugu family living in Varanasi. His mother gave birth to him in Champaran, Chhattisgarh because of ongoing Hindu-Muslim conflicts at that time, while expecting Vallabha. He grew up learning the Vedas and Upanishads before embarking on a 20-year journey across the Indian subcontinent. His followers' hagiographies, like those of other Bhakti leaders, state that he won many philosophical debates against Ramanuja, Madhvacharya, and others. Some believe he had a great vision to perform miracles.
At the time of Vallabha's birth, the area where his mother gave him birth was hit by the conflict as Muslim invaders influenced much of northern and central India. Migrating communities were common in order to avoid religious persecution and conversion. Shri Lakshmana Bhatta had to flee Varanasi with his pregnant wife on one of these occasions.
Due to the flight's terror and physical pressure, the couple kept baby Vallabha under a tree and wrapped him in a piece of cloth, so others may consider him dead. The myths reveal that Shri Krishna appeared in a dream of Vallabhacharya's parents to let the couple know that their baby is an infant form of Lord Krishna. Realising the facts, they rushed to discover whether their baby was alive or not. Later, they found baby Vallabha when his mother stretched her hand into the burning fire. Thereafter, the couple gave the name of Vallabha to their child.
Achievements Of Shri Vallabhacharya
Vallabha was the founder of the Pushti sub-tradition, which is based on his own understanding of Vedanta philosophy. Vallabha rejected asceticism and monastic life, suggesting that everyone could attain salvation through loving devotion to God Krishna – an idea that spread throughout India, as evidenced by his 84 Baithakjis (places of worship). He is the popular Acharya of Rudra Sampradaya, one of the four traditional Vaishnava Sampradayas, and is affiliated with Vishnuswami. His legacy is best preserved in the Braj region, especially at Nathdwara in India's Mewar region, which is a major Krishna pilgrimage centre.
The Other Tale of Govardhan Mountain
Another tale behind the famous philosopher revolves around the Govardhan Mountain. It states that when Vallabha was on his way, he found some mysterious movement nearby Govardhan parvat. So, he decided to visit that particular spot of the mountain. Then, he found the idol of Lord Krishna and kept it close to his heart. It is believed that Shri Krishna also appeared in front of Vallabha.
Whats in store for your upcoming days? Get a free yearly astrology report 2023 to know in detail.
---
Signifiance Of Vallabhacharya Jayanti
Vallabhacharya was a fervent devotee of Lord Krishna. He believed that Lord Krishna was the supreme power, and he worshipped him as Shrinath Ji. The day also commemorates the greatest event in Vallabhacharya's life, when he was visited by Lord Krishna.
In the Middle Ages, Shri Vallabhacharya represented the pinnacle of philosophical philosophy. He founded a sect that is unique in its expressions of devotion to Lord Krishna and is rich in rituals and festivals. As a result, Shri Vallabhacharyaji has a large number of dedicated followers not just in India but all over the world.
---
Vallabhacharya Jayanti Rituals
On this day, flowers are placed at temples and religious buildings.
Early in the morning, devotees perform Lord Krishna's abhishekam. The day continues with aarti after this rite.
The devotional song of Lord Krishna is sung by priests and devotees.
On the rath, there is a portrait of Lord Krishna.
The devotees of Vallabharaya rotates the jhanki to each home.
Finally, Prasad is distributed among Lord Krishna's devotees.
The day concludes with a commemoration and praise of Vallabhacharya's mythical works.
Vallabhacharya Jayanti is commemorated with great zeal and fervour.
Allow the blessings of divine diety on your life. Book a personalised live puja for peace and prosperity.
---
What Young Vallabha Learned Pursuing His Education?
Vallabha started studying the different types of Vedas when he was 7-year-old. He read the books which denote the six systems of Indian philosophy. He also studied Adi Sankara's, Ramanuja's, Madhva's, and Nimbarka's philosophical systems before he went to Buddhist and Jain schools. He recited a hundred mantras in reverse order as well as from beginning to end. He made a great impact on the public as an embodiment of knowledge at Venkateshwar and Lakshmana Balaji. He later came to be known as Bala Saraswati. Then, he moved to Vrindavan at the age of 11.
---
What Activities Vallabha Did During His Lifetime?
During his lifetime, Vallabhacharya wrote a number of philosophical and devotional books as described below:
4 cantos of commentaries on the Brahma Sutra of Ved Vyas Tattvaarth Dip Nibandh – Essays on the basic concepts of spirituality (3 chapters)
Shastrarth Prakaran is the first chapter of this book.
Bhagavatarth Prakaran is the second chapter.
Sarvanirnay Prakaran is in Chapter 3 of the book.
Shodash Granth – A collection of sixteen short verse-like compositions intended to teach his followers about devotional living.
Besides, he also composed scriptures like Patravalamban, Madhurashtakam, Gayatribhashya, Purushottam Sahastranaam, Girirajdharyashtakam, Nandkumar Ashtakam.
Later, Shri Vallabha accepted the request of his devotees and composed the Shodasha Granthas (a set of 16 verse parts). This grantha is all about the devotee's love and admiration towards Shri Krishna. It is believed that this will encourage and inspire other devotees to find spirituality in their life. The Shodasha Grantha gives a strong message of complete submission to Lord Krishna. It also describes how to surrender one's life to Lord Krishna, and what will be the result of worshipping him.
Shri Vallabhacharya's Prithvi Parikrama
The devotee of Shri krishna, Vallabhacharya walked barefoot on three Indian pilgrimages. He wore a plain white dhoti and an Upparna, a white undergarment cloth. He delivered Bhagavata discourses in 84 locations, explaining the meanings of the ancient texts. At present, these 84 locations are known as Chaursi Baithak, which are pilgrimage sites. He later spent around four months in Vraja.
Vallabhacharya's Pushtimarg
When Vallabhacharya came to Gokul, he inspired many devotees to the right direction of devotion. He remembered Shri Krishna, who appeared to him in a form of Shrinathji. Damodardasa, his disciple, was sleeping next to him at that time. Vallabhacharya told Damodardasa about his experience the next morning and asked if Damala heard any voices last night. In reply, Damala agreed to him that he heard something. Vallabhacharya then clarified about the power of mantra.
Vallabhacharya decided to preach his Pushtimarg message of devotion to God. He travelled to India three times for pilgrimages. He conducted the religious right's initiation ceremony by bestowing the 'Nama Nivedana' or 'Brahma Sambandha' mantra. And thousands of devotees started following him. The remaining part of the story is described in Pushtimarg literature. Moreover, there is a strong belief that Vallabhacharya met sage Vyas and discussed the characteristics of Lord Krishna in Himalayan cave.
---
When Did Vallabha Become Acharya?
In Vijayanagara, once Vallbha decided to join the debate between the Vaishnavaites of Madhva and the Shankars over the theological issue of whether God is dualistic or non-dualistic. At the young age of 11, Vallbha represented his opinions and views in front of King Krishnadevaraya. The long debate ended after 27 days when King Krishnadevaraya honoured Vallabha with the kanakabhishekam ceremony. From that movement, he received the names of 'Acharya' and 'Jagadguru' (world preceptor).
The king gifted young Vallabhacharya with gold vessels weighing a hundred maunds. Soon, Vallabhacharya refrained from accepting such gifts and requested the King to distribute them among the poor brahmins. Vallabha had seven gold mohurs for himself, which were used to make (God's) ornaments in Pandharpur.
Which planet has proved to be malefic or benefit for your life? Get a free janampatri report to know in detail.
---
How Shri Vallabhacharya Submitted His Life To Lord Krishna?
As described in Pushti Marg literature, Lord Krishna asked Vallabhacharya to leave for heaven on a couple of occasions. In 1530 A.D, the 52-year-old Vallabhacharya kept the word of Shri Krishna and took samadhi in the holy Ganga river near Kashi's Hanuman Ghat. He stayed in a leaf hut on the Hanuman ghat and spent his final days chanting Shri Krishna's name.
Many worshippers including his family members gathered around him to take his final advice. He wrote his final words on the sand before he took his last breath. Moreover, the Hindu myths describe that Lord Krishna himself came to take a dead Vallabhacharya along with him.
---
Wrapping Up
This is how Vallabhacharya emerged as one of the greatest devotees of Lord Shri Krishna. He did exceptional works by composing the scriptures to know the right way of devotion. He inspired many to join the path of devotion after his meetings with Lord Krishna in Govardhan mountain. However, these are the beliefs and known lessons from the ancient scripture. But, most of them unfold the truths of Vallabhacharya's life. That's why we celebrate the birth anniversary of Vallabhacharya to remember him and his generous deeds.
Facing difficulties constantly, consult Astro experts. First consultation is FREE.
---
---