Vamana Jayanti 2021: The Birth Anniversary Of Vamana Avatar Of Lord Vishnu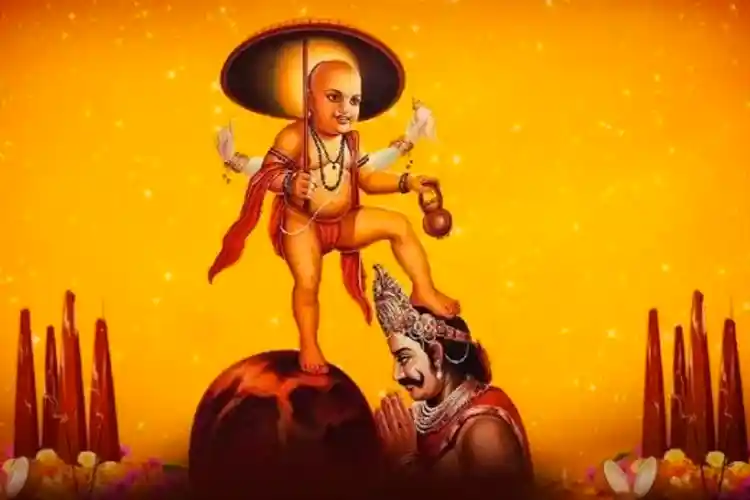 Vamana Jayanti is celebrated to honour the fifth avatar of Lord Vishnu. This day arrives on Dwadashi Tithi of Shukla Paksha during the Bhadrapada month, as per the Hindu calendar. On this day, Lord Vamana took his birth and therefore, it is also known as Vamana Dwadashi. We celebrate it in the month of August or September. There is an interesting tale behind the 5th avatar of Lord Vishnu. So, what are we waiting for? Let's find it out.
---
The Story Behind Vamana Avatar
The ancient story revolves around the time of Samudra Manthan. The Gods defeated the entire demon army and became immortal. At that time, King Mahabali lost all his wealth and kingdom. Then, he received advice from his Guru to perform penance to win over Lord Indra. King Mahabali did as the Guru suggested to him. He won the battle against Lord Indra and became the King of the whole universe.
Thereafter, upon the request of Lord Indra, Lord Vishnu agreed to take the Vamana avatar so that he can teach the lesson to the King.
Soon, Lord Vishnu incarnated as the son of sage Kashyapa and his wife Aditi and was popularly known as Vamana. Lord Vamana as an ordinary Brahmin boy, came to the King and said that he too wanted something from the King. He further said that he does not wish to have wealth or luxuries items, but he wants three steps of land.
As soon as the King agreed to accept his wishes, Lord Vamana took the giant form, and he became bigger than the planet Earth itself. Vamana placed his first foot on the entire planet earth and said, 'My first step covered the earth and therefore, the entire is now mine.' With his second step, he covered the entire heaven and claimed his ownership as well.
King Mahabali realised that the Vamana is none other than Lord Vishnu Himself. Vamana then asked where to keep his third step. King replied to put it on his head. This is how the Lord defeated the King and restored peace in heaven and on the Earth.
---
Rituals Perfomed On Vamana Jayanti
On this day, people donate rice and curd to the animals, and it is regarded as highly auspicious. Devotees also observe a fast for the day as well as perform the puja and other rituals to please Lord Vishnu. They also recite Vishnu Sahasranama Stotram and other mantras.
Devotees offer incense sticks, lamps, Nevada and flowers to the idol of Lord Vamana. They also remember how Lord Vishnu defeated the King. They offer Bhog to the deity and later distribute it to the other devotees and family members. They worship Lord Vishnu by doing Vishnu Puja with full dedication and devotion to get his divine blessings.
---
Steps To Perform Rituals
Below are the steps to perform rituals on Vamana Jayanti
Wake up early in the morning and start preparing for Vishnu Puja
Dress up with tidy clothes and being the rituals by placing the Lord Vamana's idol in your home temple
Place a pitcher in your pooja room or at the place where you will be performing the pooja for Vamana Jayanti
Make offerings all those things which are dear to Lord and recall Lord Vishnu in your prayers
One should also perform Panchopachara or Shodashopachara Puja.
Recite the below mantra to please the Lord"Om Trivikramaya Vidhmahe
Viswaroopaya cha Dheemahe
Thanno Vamana Prachodayath Om"
If possible, keep fast for a day and avoid eating food items
Organize yagna to please Lord Vamana and listen to the story of Lord Vamana
Donate food, grains, money, or clothes to the Brahmins and poor people. Or keep honey near God's idol to getting blessed with good health
Feed cows with bananas and jaggery to achieve success in life
Light lamps in a Vishnu Temple and offer Garland to reduce the relationship issues
---
Important Date And Time For Vamana Jayanti 2021
Date: 17th September, 2021 – Friday
Tithi Timings:

Shravana Nakshatra Begins: 04:09 AM on 17th Sep, 2021
Shravana Nakshatra Ends: 03:36 AM on 18th Sep, 2021
---
Ending Note
This is how Vamana Jayanti is celebrated by the Hindus. This day signifies the victory of Lord Vamana over the cruel King. Also, this marks the victory of good over evil forces. So, devotee's of Lord Vishnu worship with him with a pure heart and recall how he ended the existence of the King. May Lord Vishnu shower his blessings on you. Wishing a happy Vamana Jayanti to all our readers.
---
---