Hartalika Teej 2023: The Divine Day Of Lord Shiva And Goddess Parvati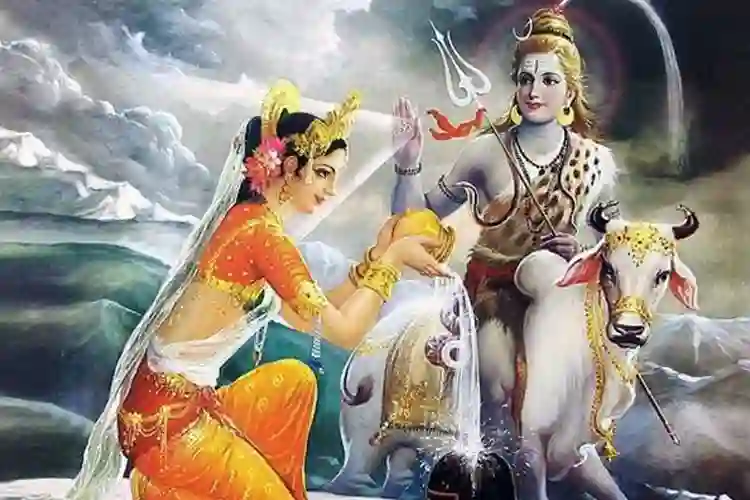 Hartalika Teej Date and Time
| Muhurats /Tithi | Date / Timings |
| --- | --- |
| Hartalika Teej Date | Monday, September 18, 2023 |
| Pratahkala Hartalika Puja Muhurat | 06:12 to 08:38 |
| Duration | 02 Hours 26 Mins |
| Tritiya Tithi Begins | On Sep 17, 2023 at 11:08 |
| Tritiya Tithi Ends | On Sep 18, 2023 at 12:39 |
Hartalika Teej Importance
Basically, Hartalika meaning is understood using two Sanskrit words, 'Harat' and 'Alika', which refer to 'take away' and 'friend', respectively. In Hinduism, there is a great significance of observing a fast in order to get the blessings of Lord Shiva and Maa Parvati. Therefore, devotees wake up early and organise puja before home temple wearing tidy clothes. They recite mantras in front of idols of Maa Parvati, Lord Shiva and Lord Ganesha. Some of them also perform Rudraabhishek Puja Vidhi in the evening and then conclude the fast by eating sweets.
Resolve issues in marriage, childbirth, and progeny by performing Rudraabhishek Puja.
Hartalika Teej Vrat is extremely important for ladies. It is believed that if an unmarried girl fasts religiously, she will meet her soul mate, just as Goddess Parvati did when she met Lord Shiva. Hartalika Teej's major goal is to find marital bliss as well as progeny.
Hartalika Teej Story
The ancient story tells us that when Maa Parvati took her 108th birth as the daughter of Himalaya, she did austerity for 12 years bearing harsh treatment of every season. Young Maa Paravati's father was worried about his daughter's condition. One day sage Narada came to meet him and informed him that Lord Vishnu was pleased with his daughter's severe penance and wanted to marry her. For anxious Giriraj, this proposal was nothing less than a boon, so he immediately accepted it. When Mother Parvati came to know about this, she became very distraught and told her dilemma to her friends that she wanted to marry Lord Shiva, not Lord Vishnu.
Her friends kidnapped Parvati and took her to a cave in a dense forest in order to help. Parvati made a Shivling out of the clay and worshipped Lord Shiva, fully engrossed in this cave. Soon, Lord Shiva's seat started trembling, and he appeared before Mother Parvati. When Mata Parvati told him that she had accepted him as her husband long ago, Lord Shiva promised to accept her as his wife.
This was the third day of Bhadrapada Shukla in Hasta Nakshatra. After Shiva promised her, Mother Parvati immersed Shivling in water and broke her fast. When Giriraj (Maa Parvati's father) came to know about this whole incident, he apologised to Lord Vishnu and approved the marriage of Shiva-Parvati.
Curious! what might in store of your married life? Read a free marriage horoscope 2023.
Hartalika Puja Vidhi
On this day, devotees get ready, wear clean clothes, meditate in the name of the clan deity, and then start preparing for Hartalika Teej pooja. 

During Puja, women wear green or red coloured clothes along with ornaments and apply mehndi on their hands. During this whole day, women dress up like new brides. 

Inside the temple of the home, idols of Shiva and Parvati are made of clay and placed on a banana leaf lying on a plate.

Then, Bilva leaves, flowers and fruits, dhatura and panchamrit are offered to these deities. Including that, honey is offered to Goddess Parvati. 

Later, aarti is performed with full rituals in all four prahars (time slots) by lighting

incense sticks

, camphor and ghee lamps. 

Devotees stay awake at night and spend the whole night chanting devotional songs. Some of them also listen to the Hartalika Teej Katha, the divine story that marks the union of Goddess Parvati and Lord Shiva.

The next day, devotees end their fast, which is also known as Parana.

Once all the puja rituals are completed, women touch their husband's feet to seek his blessings and break their fast by eating prasad.
Wrapping Up
We have gone through the details of Hartalika Tritiya's fasting rituals and their significance. Including that, we have also seen how to organise Hartalika Teej pooja vidhi on this day. On this note, we are signing off, but before that, we wish you a happy Hartalika Teej in advance.
If your married life is not going good, talk to astrologers for a solution. First consultation with 100% Cashback!