Aquarius Wealth Horoscope 2022: Various Income Sources For a Wealthy Life!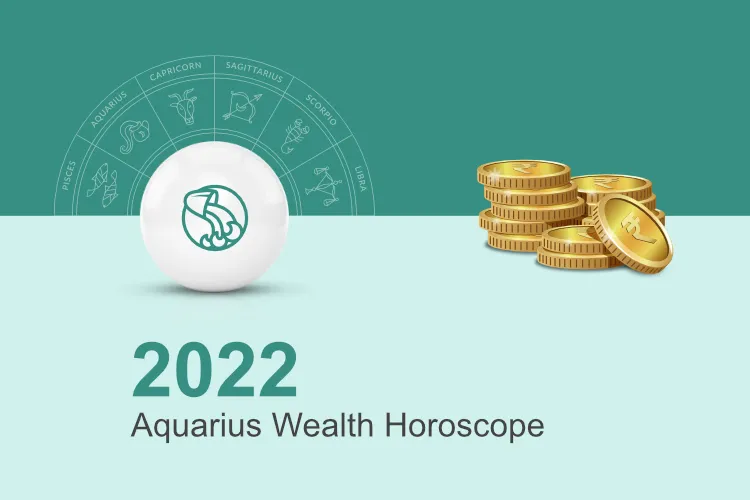 The Water-bearer and money have a very sacred relationship because of the purpose it is used for. This humanitarian sign is very prudent with money and does not believe in splurging it on unnecessary things. If you belong to this sign, you would rather open several bank accounts for your loved ones so that they do not have to struggle financially.
In case of any stranger unable to pay for hospital bills, an Aquarius might come out of the blue to help him out. Such a philanthropist, why not be blessed with wealth when he/she has to serve humanity? With high intellect and rationality imbibed, you have an innate skill to stock up the bucks. Though you do not run after growing your money tree for selfish reasons. You do it to be able to look after everyone. After all, planet Earth needs more trees, hungry people need to be fed and what about flood struck areas too. There is so much to do and money is convenient – a source for providing amenities and essentials.
When an Aquarius is rich, everyone benefits from it – be it known or stranger. The urge to sustain everyone motivates him/her to mint it and sometimes even turn from rags to riches. Let's have a look at what 2022 has for Aquarius.
Were you head over heels in debt? Doesn't matter, even a small loan can be a heavy burden, isn't it? 2022 is the year that may bring you some relief in this matter. If you have been thinking a lot lately about paying your debts, go ahead, this is a good time to do it. You might be able to make enough money to be able to clear your dues. Not just this, you may find it convenient to pay your taxes.
It's good to be up to date with government policies and compliances, and more important to fulfil your responsibility of being a dutiful citizen. So, most likely you will be able to do the needful.
You are well respected for your mindful actions towards others and their well being. Paying out creditors timely is one of your gratefulness towards them for helping you out. You might earn respect and admiration for keeping your words. It's always good to see how Aquarians win everyone's heart with their kind gestures and concerns. You deserve respect for your incredible sensibility.
As per the 2022 Aquarius wealth horoscope, be vigilant of any wealth related deals in 2022. If your past practices have been serving you well, what's the point in deviating from your values just for quick solutions. Remember, a few things take time because they have a major impact on your life. Be aware of how your wealth can generate more wealth but do not hurry in the process.
Maintain your balance, dear Aquarians. That is what is going to help you and do not be displeased with the situation. Situations are seasonal and they will pass by. In serving others, you forget to seek help even if it is free advice.
You know very well how to lay the foundation for a stable financial condition. Brick by brick you build, effortlessly throughout your life. 2022 is going to be one of the years of your life when you will develop more interest to accumulate assets. It is a level up to have a blueprint of how you are going to do this in the coming years. You are such a good planner, Aquarius; and moreover someone who has the ability to execute these plans.
Calculated risk is all you have to take in 2022. Your future financial growth is very much dependent on this. Do not get frustrated by the delay or slow growth. Maybe that is the best thing to happen for you to dab into many perspectives and maintain balance. As per the 2022 wealth horoscope Aquarius, you might consider learning about financial schemes and asset management. Take one step at a time. Stay involved in the process without being agitated. Having patience is highly recommended.
Some of you might be successful to sell out old properties with some profits and also consider buying new ones. You might not be much willing to invest in stocks and shares. That's no problem, Aquarius.
If your friends have been pushing you to consider the share market to make quick bucks but you are having the intuition not to do that, definitely listen to yourself! In 2022, it will be safer if you go for some fixed assets dealing or long term investments with low risk. You surely have a lot down the line to deal with.
Selling and buying properties one after the other is a tiresome process. It is not that easy. But it may generate money for your future use, that's what the Aquarius 2022 wealth horoscope has for you. If you are looking to invest in foreign lands, it might not turn out as lucrative as you think.
There is less chance of profitability from foreign sources in terms of properties. There might come many disruptions in simple transactional processes. You might face some irregularity in terms of earnings in 2022. Not necessarily it is about the current outer situation but maybe because of your inner imbalance and anxiety.
If some legal issues related to wealth and inheritances have been going on, you might have to be more patient and wait for the right time to get it resolved. It might involve continual legal expenses. But do not get disheartened. Nothing is forever and no conflict is eternal. Things will get sorted out when they have to. It's better to focus on something which is in your hands than something that is dependent completely on the right time. Prefer to have clean actions and intentions. Any wrong move can get you into trouble. Why lose more money, time and emotions this way?
Hope you'll think about all the points written above in this Aquarius Wealth Horoscope 2022 blog. Stay mindful, and remember – patience is the key.
Aquarius Career & Business Horoscope 2022
Aquarius Education Horoscope 2022
Aquarius Love & Relationship Horoscope 2022
Aquarius Health & Fitness Horoscope 2022
Aquarius Marriage Horoscope 2022
Aquarius Finance Horoscope 2022
Know More About 2022 :