Cancer Horoscope 2022: Yearly Predictions for Intuitive Cancer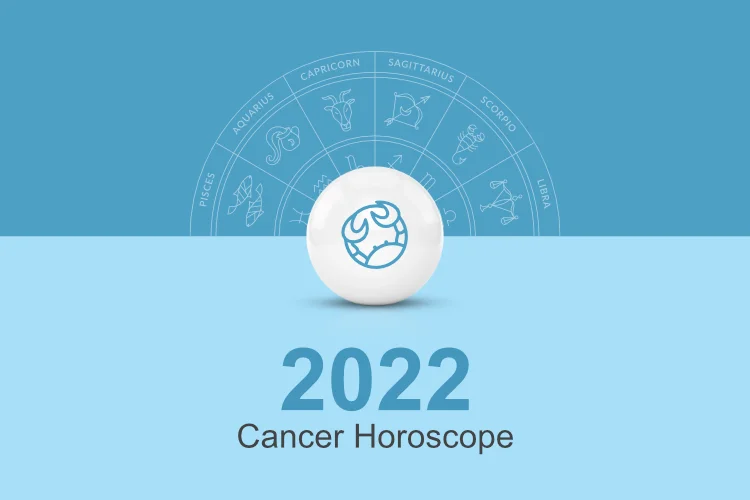 As per the Cancer 2022 horoscope, the focus point for you this year would be Personal life, Career, Finance, and Property. However, the other aspects of life are also imperative, mostly from a student's point of view. So without any further ado, let's unveil the Cancer horoscope 2022.
Starting from monetary gains, for Cancer 2022, this might be the year where you would take a new resolution of not to lend money to anyone. Because you possibly paid the huge price for lending the money. The experience had been bitter, and you burned your fingers regularly. Thus, money management might have become the most important.
Again, investments may be relooked by most of you, as Cancer 2022 horoscope says. This year is likely for those who had to use their investments in the past to replenish their investment once again. However, the brighter side to look at is, this would make you wise in all your money management. The only advice for Cancer 2022 is to stay away from speculative investments. This might not help you much this year.
When you are financially secured, then why not consider the portion of love and romance this year. As per Cancer horoscope 2022 predictions, you would be happy to find the support of your spouse or from your partner if you are in except relationship-except except for status except for a long time. This phase is worth considering for those who have been looking at settling down in their relationship.
Marriage is likely to be on the cards for natives who are dating each other for a long time, as per horoscope 2022 Cancer. You would be happy to know that your family and parents might end up supporting you in your decision. The only advice for Cancer 2022 is not to lose patience because, in some cases, it may not be easy to convince them.
The year also has some surprises for Cancer 2022 students. Academically, this may be a progressive year for you, expects the 2022 Cancer horoscope. However, the performance is possibly much better than earlier planned. Though for students who pursue research or who are pursuing an exercise MBA, the year may test your time management skills and knowledge. Therefore, just a piece of advice, work hard to make sure you complete the task of finishing the exam on time.
As per Cancer horoscope 2022, your achievements might be made high this year due to hard work. But remember one thing that hard work is likely to come only after investing considerable time in your preparation and application of knowledge from time to time. So, plan your year wisely.
Further, health-wise, this year would be advising Cancer 2022 to be cautious. As per Cancer horoscope 2022 predictions, those who had any ailment in the past and the same relapsed are advised to be careful this year. No doubt the planetary alignment might support a good treatment, but then as it's always said, prevention is better than cure. So, a regular check-up along with continued medication might turn out to be helpful for you.
Moreover, this is also likely to prevent you from suffering from any serious ailment. So, be careful about your health and all walks of life. Also, a piece of advice for Cancer 2022 is to maintain a good diet; this would help your health and fitness this year.
Finally, when it comes to procuring wealth or even building assets, this year is likely to give you all that is needed to build a good property or acquire some asset, expect 2022 Cancer Horoscope. You have been planning meticulously for a long time, which may have enabled you to achieve what you would like to achieve.
However, there is one point that needs to be kept in mind is that you should not deal in any transaction which is grey, especially while dealing in property. You might end up paying a huge price for this. Never be on the wrong side of the legal provisions. Also, you might want to make sure that your documentation is perfect this year, recommends Cancer horoscope 2022.
According to Cancer horoscope 2022, the year 2022 is overall good for Cancer in terms of career, finance, personal life, and property. However, as per Cancer Horoscope 2022, you should take care of your health. But no need to worry. Everything will be all fine with a little bit of caution.
You are likely to continue to work hard on your academic goals, as per Cancer horoscope 2022. But the year may be rewarding for all those who would work hard and plan to surpass each milestone, predicts Cancer 2022 horoscope. However, you don't have to worry because you are likely to be encouraged to set up some new challenges one after the other. Be careful; this task should be taken with absolute care and attention. The good news is that comparing the recent past, the year 2022 is likely to be good for the Cancer zodiac sign.
Cancer Career & Business Horoscope 2022
Cancer Education Horoscope 2022
Cancer Love & Relationship Horoscope 2022
Cancer Health & Fitness Horoscope 2022
Cancer Marriage Horoscope 2022
Cancer Finance Horoscope 2022
Cancer Wealth & Property Horoscope 2022