Capricorn Horoscope 2022: Yearly Predictions for the Realistic Capricorn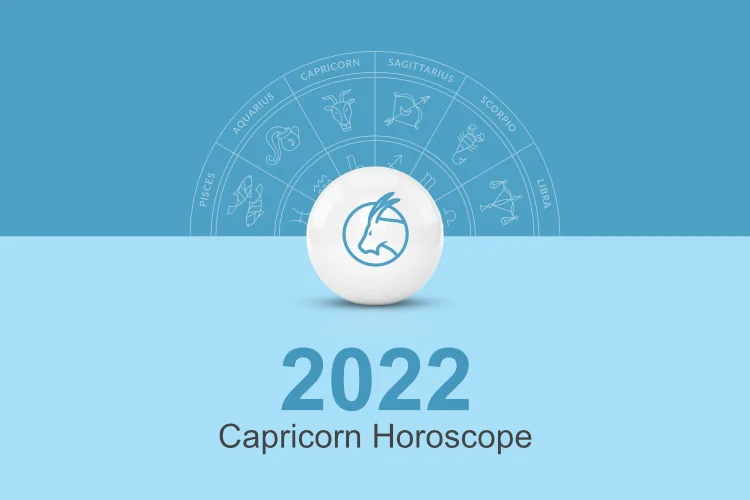 The year 2022 will be a fantastic year for Capricorns. Everything would seem to be working in your favour during 2022, but sometimes things can seem a little erratic and muddled up. The planets ensure that you are satisfied with your routine throughout the first quarter of the year.
However, there may be some conflicts in your personal and professional life in the second quarter, which may warrant you to handle things sensibly. As the year progresses, you might tend to experience more difficulties and roadblocks.
You are suggested to take things one at a time during the crisis, guides Capricorn Horoscope 2022. Also, you are suggested to cut your dress according to your cloth. For the coming year, a steady and slow-paced approach will be essential. Capricorns will have an excellent 2022 because their ruler Saturn will be in their own symbol. Natives of Capricorn may have a successful career in the year 2022.
For the Capricorn natives, there will be times of good and poor financial fortune during the year. By the end of the year, you may have a stable financial position relative to previous years. For some Capricorns, Rahu or the Moon's North Node can trigger worry, anxiety, and uncertainty.
Get the in-depth understanding of your day, with daily horoscope delivered to you for Free with the all-new MyPandit App!
For the year 2022, Capricorns' financial situation would be excellent. Financially, this is a very fortunate time for you when your net worth rises. Jupiter's conjunction with your 2nd house of Aquarius, which governs finances, will bring you plenty of money. You will be able to save money over the year.
For certain Capricorn, purchasing high-value products such as jewellery and landed property is on the cards, says 2022 horoscope Capricorn. However, be aware that the end of the year might necessitate some medical expenses for parents or children.
As per Capricorn Horoscope 2022, Capricorns will have a lot of expenditure in the first quarter of the year. As a result, Capricorns are advised to keep a close eye on their expenses and practice thrift during this period. Rahu, in your 5th house of luck and fortune, offers money to the natives through speculative deals.
Jupiter will transit in your 2nd house of finances, indicating an inflow of funds from multiple sources. At the end of the year, you may have amassed sufficient wealth to see you through the coming years.
Capricorns may have a productive year in terms of their careers. This is due to the fact that both Jupiter and Saturn will aspect your career house, the 10th house. You may gain good connections and advice from seniors and superiors at your workplace. During the year 2022, the native of Capricorn in the service sector will receive higher pay and advancement opportunities.
According to Capricorn 2022 predictions, for business natives, this season promises a lot of gains. You might get a lot of money if you form a partnership. Compared to previous years, you may be able to devote even more time and dedication to your work in 2022. Throughout the year, you may receive family support for your career goals, says Capricorn Horoscope 2022.
Since your Lord Saturn is in your own sign, this year promises to be a good career year for you, as per the 2022 Capricorn horoscope. During this period, Jupiter will assist you in reaching new professional heights. The middle of the year, on the other hand, would necessitate a lot of hard work and dedication on your part in order for you to succeed in your career. Due to the Capricorns' career, the first quarter of the year will see them travel long distances. Don't just stop at the career though! Get an understanding of all the aspects of your life this year with a Free 2022 yearly report made for you.
As the year 2022 begins, Venus will offer you a lot of passion and sensual moments in your relationship. You might be well prepared to begin a new relationship. As the second quarter of the year draws to a close, you will have the opportunity to meet a new partner by chance or via other social connections.
However, due to the aspects of Mars in the middle of the year, all love prospects will be hampered. The outer planets, on the other hand, will significantly strengthen your marriage or love life in the coming year. They will ensure that the bonds are strong enough to withstand the test of time. For the rest of the year, Jupiter will instil a sense of responsibility in your relationships.
This year promises to be a happy year for married Capricorns. Saturn in Capricorn will aspect your 7th house of Cancer for the rest of the year, which could trigger some relationship issues. However, since Jupiter is also aspecting your 7th house of love and marriage, you will be able to endure relationship problems, if any, in the year 2022.
In 2022, Capricorns' partner or spouse will be a great source of love and encouragement. For certain Capricorns, love will manifest itself in marriage with the blessing of their families. Also, the last quarter of the year brings happiness in love and marriage.
Jupiter will be in your 2nd house of family in Aquarius when the year 2022 begins. This is a desirable status that foreshadows happiness in your family. Also, this year, auspicious activities and births may bring happiness and joy to your family. You will maintain a balance between family and workplace effortlessly.
As per Capricorn Horoscope 2022, however, Rahu can cause health problems for family members this year, so be careful. Your family and friends may require financial support from you in 2022. Spend to your heart's content, but do not let anyone take you or your assets for granted.
In terms of your family life, the year 2022 may be an average year, according to Capricorn Horoscope 2022. There may be some worries at times when family members' health conditions are a cause of concern. In 2022, you may have opportunities to purchase land property.
The middle of the year may bring about some family conflict; you should intervene to restore a pleasant atmosphere. Jupiter's favourable position for you brings happiness to your home, amidst external challenges. Be ready for family weddings and newborns, all of which may bring happiness. Which planets align in your birth chart to rule your happiness factor? Find out now with a Free Janampatri Analysis.
Since Rahu or the Moon's North Node is in the 5th house in 2022, Capricorn students would have an easier time. Throughout the year, you may be able to meet any academic obstacles and succeed in all of your endeavours. However, some Capricorn may be distracted from their studies during the first quarter of the year. This is likely due to a lack of attention or concentration, health concerns, or family problems.
In the second and third quarters of the year, Capricorns may get foreign study opportunities, says Capricorn Horoscope 2022. The year 2022 may also be favourable for those who want to pursue higher education. Capricorn natives are encouraged to put in many efforts and stay focused throughout the year to be competitive in their studies.
In terms of travel opportunities for Capricorns, the year 2022 will be average. Jupiter's location in the year encourages natives to fly. The conjunction of Jupiter and Saturn in your 7th house will cause you to fly for work or pleasure.
For certain Capricorns, work relocation may also be a possibility. While the adjustments and trips might be inconvenient, the long-term benefits would include peace of mind, strong finances, and a secure position. Long-term plans can be scary, especially when you don't know what lies ahead! Worry not, you can always consult our astrologers, and guess what, the first consultation is FREE!
Overall, 2022 will be a successful year for Capricorns. Natives may obtain cosmic energies that will aid in achieving their lofty goals. Also, the Goats may be structured enough to schedule time for your hobbies and personal care.
The nervous system may send out signals such as exhaustion, headaches, or pain in the limbs or spine. Since stress is the leading cause of illness, maintaining your health requires a healthy lifestyle as well as relaxation techniques such as meditation or yoga.
Capricorn natives will face problems of various kinds during the year, and you are suggested to fight back strongly. By the way, Capricorns are suggested to let go of the past and begin afresh. Good tides are just around the corner.
That's all from our end, hope you guys enjoyed reading about Capricorn Horoscope 2022. Cheers!
Capricorn Career & Business Horoscope 2022
Capricorn Education Horoscope 2022
Capricorn Love & Relationship Horoscope 2022
Capricorn Health & Fitness Horoscope 2022
Capricorn Marriage Horoscope 2022
Capricorn Finance Horoscope 2022
Capricorn Wealth & Property Horoscope 2022