Capricorn Career Horoscope 2022: The Next Year Could Bring More Opportunities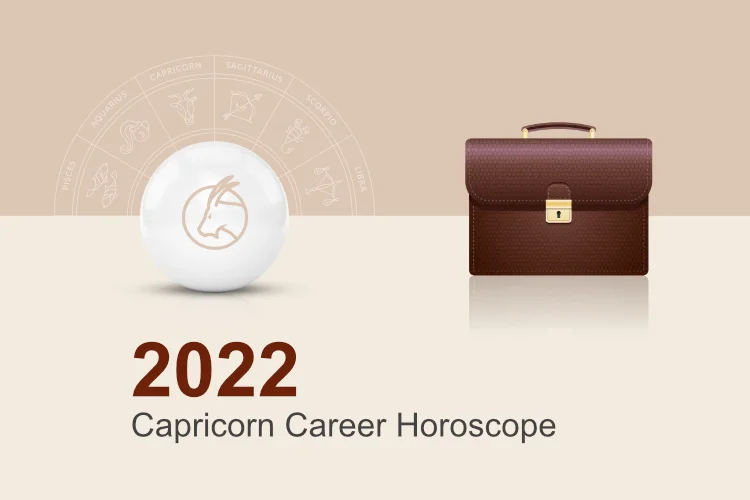 According to the 2022 Capricorn career horoscope, the year 2022 would be exceptional for Capricorn natives in many ways. The ruler of your sign is Saturn, which might influence your life. When it comes to career, this year is beneficial for Capricorn pals. You might get the desired outcome because of the hard work you did in past years. Hard work is the key to achieving your dreams and goals. You might also get success in the pending works. This year stars are also in favour of Capricorn people who are entrepreneurs or business owners.
2022 would be considered lucky for business owners in terms of finance. You may face ups and downs in your professional during the first few months. But the year ending would be fruitful for you. To avoid unwanted circumstances, you need to save your income throughout the year.
Those who are preparing for competitive exams may get good results. The planetary movements might make your mind confused. So be careful while you appear for the test. Apart from this, the planets Saturn and Jupiter would help you get the positive outputs of your hard work and efforts. The location of your ruling planets in your zodiac sign might help you achieve ultimate success in your career this year. But how do your planets affect you every day? Get the all-new MyPandit app and get your daily horoscope delivered directly to your phone.
You should work hard for a couple of months to achieve the target. Moreover, it is advised that you should concentrate on your work only. You should participate in some mental and physical activities such as yoga, sports or any other game of your choice. This would help you get proper bonding with your mind and body.
As per Capricorn career horoscope 2022, this year would bring good luck and fortune for Capricorns. Sometimes you might go through ups and downs in your career. At the beginning of the year, the stars would be in your favour. In the mid-year, you might end up with conflicts in your professional and personal life as well. You might have to make certain alterations and adapt the manner of understanding. As the year would pass, the obstacles and worries would gradually slow down.
Adjust with the things as per the timings and circumstances. It has been advised that you should move ahead slowly and carefully towards your career goal. The planets Jupiter and Saturn are in your favour. Hence, working professionals might get benefits in terms of promotion and raise in their pay structure. Your stars might help you in reaching new heights in your career. You may need to work much harder and put more efforts to outshine your career. This year Capricorns might enjoy long journeys within the country or a foreign trip. Be careful with fakes and rivals as they might prowl at your workplace.
In 2022, the first half of the year is very crucial. You might have to make decisions, take responsibility, development of business to get added consociates. According to the Capricorn business horoscope 2022, you might expand your business in overseas countries. Your association with foreign partners would be treasured and seems beneficial in every aspect. Your business partnership with foreign associates might create trouble in the second half of the year. You might consider a fresh start of your firm in another country where you may grow financially.
According to the 2022 Capricorn career horoscope, you might go through many obstacles in your career path to achieve success. You might find yourself in trouble with your associates. But the second half of the year might make the situation better.
The positions of planets and stars in your birth chart can tell a lot about your professional decisions. With a Free Janampatri Analysis, you too can make the most out of that knowledge.
Capricorn business owner may find massive changes in their firm. Your position and responsibilities might change. Your yearly horoscope predicts that you should avoid changing your existing workplace or starting a new business. This would be quite risky for you, and it may cause complications in your business. Your outstanding performance would be beneficial for you and your employees. Consider your employees as a team, and you would definitely notice a change in your professional life.
2022 horoscope predicts that people in the creative profession would get ample opportunities and even expand their business venture. Career-wise this year would bring you many openings. You should think twice before rejecting any offer. You might also get an offer for partnership ventures.
This year has been considered lucky and full of hopes for Capricorns, as predicted by your yearly Capricorn business horoscope 2022. You would be able to enjoy a stable and content work life either at your job or business.
Confused about where your career/business will take you in 2022? Consult the best Indian astrologer today and get solutions to all your professional queries. The first consultation is FREE!!!
Capricorn Education Horoscope 2022
Capricorn Love & Relationship Horoscope 2022
Capricorn Health & Fitness Horoscope 2022
Capricorn Marriage Horoscope 2022
Capricorn Finance Horoscope 2022
Capricorn Wealth & Property Horoscope 2022
Know More About 2022 :