Capricorn 2022 Health Horoscope: A period to Focus and Tackle Health Issues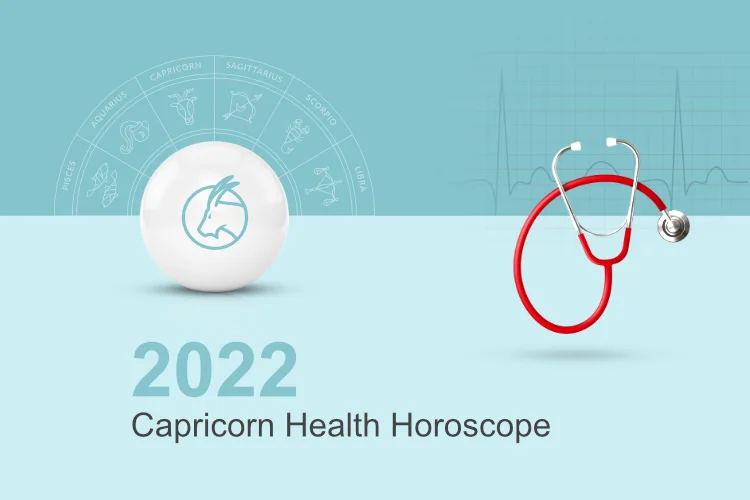 Capricorns would consider the year 2022 good in terms of a medical condition. Due to changes in planetary movements, the stars have made the year favourable for Capricorn people. Though the year is good, you still need to be attentive to your health. Apart from healthy living, our health also depends on climatic conditions. The climatic conditions and natural surroundings depend on nature. Hence, it would be wise if you ignore unpleasant locations.
Though the 2022 Capricorn health horoscope considers this year good for health-wise. Still few things seem unpredictable and become topsy-turvy when we talk about health and wellness. The first few months of the year would be comfortable. Whereas in the second quarter, you might find issues related to private and professional life. You need to focus and create understanding so that you could tackle and sort out the issues.
Do not overstress yourself and let things settle accordingly. Otherwise, your health might get affected. A change in planetary movements might create doubts, fears, angst, and misconceptions among Capricorns. During such periods, keep your calm and try to stay positive and healthy.
Too many concerns and worries might affect your health and well-being. Take your time to unwind, revive and boost your inner strength. Overall the yearly Capricorn health astrology 2022 predicts that period would be moderate for you in terms of fitness.
A change in your horoscope might create rare health issues. Though you should not drain your energy on unwanted mental issues and focus on your well-being. Your optimistic approach, socialization, and any aid to needy people would bring internal peace, thus enhancing your emotional and perceptual well-being. Without any ado, let's explore Capricorn 2022 health horoscope.
2022 Capricorn health horoscope warns Capricorns against taking mental stress. Overthinking creates ill effects on health. Hence, it would be wise to enjoy a break and focus on your mental and physical well-being, as per Capricorn 2022 health horoscope. Capricorns tend to work hard and forgoing their sleep. This affects the physical well-being of Capricorns.
According to Capricorn 2022 fitness horoscope, the natives might suffer from diseases related to ears, nose, throat, breathing, and digestive system. Those who are taking good care of their health would have great health, a good mood, and a happy soul.
Capricorns who are suffering from chronic diseases would notice visible development in their health during the year as predicted in Capricorn fitness horoscope 2022.
If you plan to follow a strict regime for meditation and workouts including fulfilled sports activity then this would be a good time to set your fitness goal.
Participating in sports like hiking, biking, and mountain climbing might increase your physical strength and make you feel physically fit.
Speaking of Capricorn health and wellness, in early 2022, some Capricorns may face nerve stress, which may lead to cardiovascular conditions, headaches, and depressive diseases. The coming of heat will change the situation, add energy and life. All of that puts the limbs at risk. The health horoscope warns against the risk of damage. To avoid accidents on the road, drivers should not only comply with the speed limit and the driving rules but also not drive unwillingly.
As per Capricorn health horoscope 2022, Some natives will start a serious battle with overweight in 2022. Yeah, the Capricorn health issues may knock on the door. At first, your mood is ruined by diets and restrictions. However, Capricorns will soon delight in the visible change of appearance due to weight loss.
The body will be lighted and flexible, self-esteem will grow. The horoscope recommends, with the advent of cold weather, not sitting in four walls but more often, dressing in the fresh air, taking the weather into account.
The first half of the year has a positive influence on Saturn as predicted in Capricorn 2022 health horoscope. Your energy levels would be uplifted and in high spirits. Not many Capricorn health problems.
You have to be cautious in the winters especially after November. You might face chronic health conditions or unpredicted illness. Do not opt for self-medication during any emergency as it may cause complications.
The year would give you mixed feelings in terms of health. You would have a sense of positivity and energy around yourself. Nature would give you an optimistic outlook. If you have affection for pets, just adopt one. Do things that make you happy. Adopt a style that makes you feel comfortable and confident. Implement activities and ways that maintain your mental and physical health.
Kids are advised to be cautious while playing around. They should be careful while on a trip, campaign, or any other adventurous activity. The mid-year is not good for children as it shows minor injuries. The end of the year might create changes. People who are overweight should be careful about their diet. Avoid junk food, fried food, and sugary products. If possible consult a nutritionist and dietician who can provide you with the best health plan. Maintain a regime to control your cravings and hunger pangs.
If you are looking to fit in your old clothes, join a gym or health club to shed your extra kilos. If you have issues with the digestive system, consult your doctor for medication before your health deteriorates.
This year you need to take extra precautions regarding your health especially in terms of mental health. As predicted in Capricorn 2022 fitness horoscope, if you notice any indication of your illness, immediately consult your doctor. Any negligence might cause serious issues.
The second half of the year would be good for those who have to take surgery. Do not be in a hurry. Make sure not to land in any trouble. The success and achievements would give you inner happiness and strength during the year.
Capricorn Career & Business Horoscope 2022
Capricorn Education Horoscope 2022
Capricorn Love & Relationship Horoscope 2022
Capricorn Marriage Horoscope 2022
Capricorn Finance Horoscope 2022
Capricorn Wealth & Property Horoscope 2022
Know More About 2022 :