Capricorn Wealth Horoscope 2022: Building Business Empire Resulting in Wealth Creation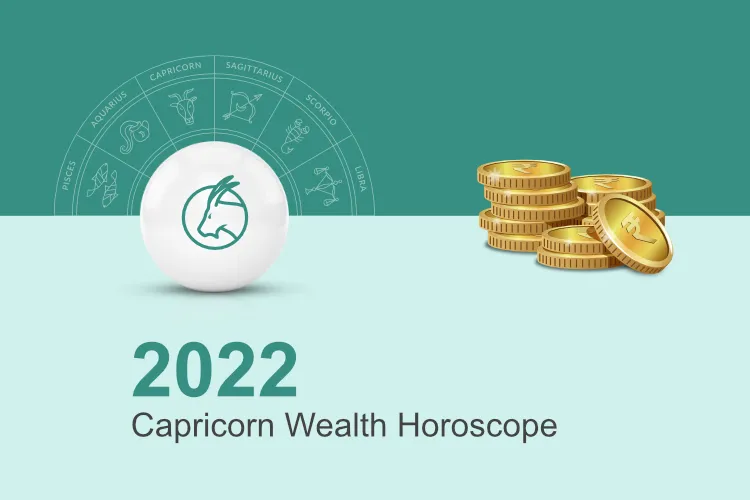 You are symbolized as 'Hoof of a Mountain Goat and Tail of a Fish' – The SEA GOAT. This represents your uncanny determination to achieve great heights. You are inseparable from money. You weigh your success by the honour and respect you get and how much money you earn. You like to have stability and financial security. Your determination to get something done is commendable. No wonder, you are an achiever and inspiration to others.
When Capricorn is surrounded by unfocused and lazy people, most probably they end up being inspired by their conduct towards their goals. No matter what company you keep, you do not compromise on your discipline and your striving for what you want. Your nature of being dutiful and responsible motivates you to be financially strong because you love to take care of your family. You are highly intelligent and adept at how to deal with money. The best part is YOU always have a secret bank account with EMERGENCY FUND in it. Somehow you know how to turn something basic into a profitable business. Want to know about what may come in 2022? Let's have a look at what predictions have to unfold.
As per the 2022 Capricorn wealth horoscope, it is time to excel, you listening Capricorn? 2022 brings many opportunities to start new enterprises, probably large ones because you like it larger than life, isn't it? It is a great year to expand your current business. So if you were thinking of introducing some new product lines, go for it. You may also find success in acquiring new businesses or partner up with complementary service lines. This would make you increase your wealth and assets.
You are good at following the rules and setting mandates. However, this time you are required to think out of the box. Your business expansion will depend on how efficient higher management is. Sometimes, a degree is not that important. If you find someone who is street smart, BE SMART to hire him/her.
Prediction says you need to make moves with utmost precision and care for the visions you have and also for the people connected to your business. Share your incentives as what goes around, comes around. If the team is happy with your generosity and leadership, they will make sure that you get to generate the kind of wealth you want.
In 2022, wealth formation will be your prime focus and why wouldn't it be. This is the year where you will be inspired to take your business to new heights.
Anything worthwhile takes tremendous efforts and time. Be patient with every small action towards acquiring new assets. Since your earnings may increase, you would want to have more assets and properties. It doesn't happen overnight. It may take longer than you expect. Consider this to be a delayed gratification but not denied.
You may have to spend a lot of time in search of properties suited to your taste and need. In the first half of the year 2022, you might find it a little cumbersome. Keep looking and researching, do not lose your patience. Where there are a lot of options, one finds it difficult to zero it down to one. You might face the same situation. But the plus point is that you have many options to choose from.
Your pick of the investment portfolio is very calculated. You anyway like to invest in something long term and safe. But if you are considering pushing the limits for yourself and go for some risky investments, do seek expert advice. How about having a bunch of investments of different nature and terms. This will give you a taste of multiplicity as well as serve in mitigating the risks.
In the second half of the year, you might see some progress in buying properties you wanted to. Thanks to your consistent action towards it. Your desires may be fulfilled gradually and it is worth the wait. Hurrying up in this process is not advisable. Capricorn 2022 wealth horoscope guides you to Just maintain steady progress from your end and you will achieve it. The inflow of money is good and will be assisting you to get the desired assets.
The Capricorn wealth horoscope 2022 says you to maintain proper financial records and keep the accounting practices clean. You might need it at the time of the audit. With sound business practices, incredible services and innovative products, you are more likely to achieve majorly in 2022. This is a good year to stretch out your horizon in terms of finance. You will find yourself getting sudden interest in building foundations for your future growth. You will receive many admirations from the people you work with and who know you.
Your persistence and style of work have a tremendous role to play here. If you keep up with undefeated discipline and sanctity of work ethics, your efforts will bear fruits in 2022. Consider it to be a starting point of a new journey towards the accumulation of wealth. You are advised to make well thought decisions which you anyway do but taking the right decision is going to play a crucial role. Building big enterprises is not a small thing and as you begin to realize the importance of networking with the right kind of people, your actions will be in congruence with it.
You may be happier towards the end of 2022 if you make the right decisions and are up to the mark. It's all in your hands. Some achievements will earn honour and respect from others. Your material possessions are likely to increase whereas, you might use your current profits to stock up more assets. 2022 wealth horoscope Capricorn says that all you need is not to give up in between and think creatively.
Capricorn Career & Business Horoscope 2022
Capricorn Education Horoscope 2022
Capricorn Love & Relationship Horoscope 2022
Capricorn Health & Fitness Horoscope 2022
Capricorn Marriage Horoscope 2022
Capricorn Finance Horoscope 2022