Libra Education Horoscope 2022: Will You Make Progress In Academics?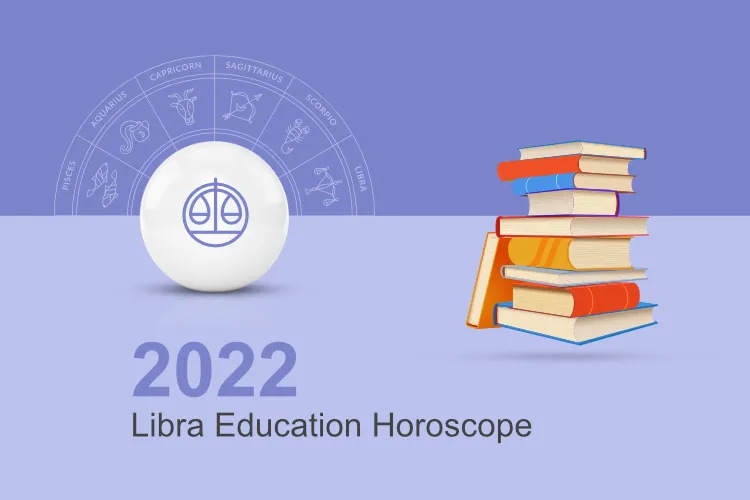 Libra individuals are intelligent and incredibly logical. It is a unique blend of artistic qualities and a rational mind. Venusian traits make you creative, artistic and musical, whereas your diplomatic and organizational skills make you good at management. However, Libra students often have to work upon themselves to ward off laziness and procrastination. They have to balance multi-dimensionally in all aspects of life, be it mental, emotional, physical and spiritual.
You sometimes come across as intellectual or bookworms. If you are in Arts or Music, your devotion towards these disciplines is worth learning from. You are a lovely human being who loves to be surrounded by friends even while studying. Hence, group studies are very much sought by you. If you don't get friends' company to study, you prefer to go to the library. It is a part of socializing, So you take it as fun to be around people with similar motives.
2022 will be a memorable year for you. It may make you unfold your intelligence and persistence towards achieving educational goals. You love to have balance, including in the field of your study. This year, you may be encouraged to pursue your dreams. You may hear many wise words from your elders and mentors. You may not leave any stone unturned when it comes to academics. You may prefer to dig deep and understand concepts better.
Natives who are appearing for any competitive exams may self-motivated to prepare thoroughly for it. You may realize how important it is to build your career with minor distractions here and there. You may come to a point where you would want to make a sudden change in your approach towards preparing for the exams. You may consciously make changes and develop interests to study well.
In 2022, April, May, June, September and November are favourable months for any competitive exams. Make sure you put in all the efforts you could during the preparation. Then there is no letdown. You may achieve success this year as one of the best years career-wise. If you work hard and enjoy the learning process, 2022 may go like a quick passing moment.
It is advisable that you should not lose your patience and do not stop till you make it. It is necessary to be goal-oriented but thinking about goals does not serve the purpose. You may have to strive for it. This is how everything works, especially when it comes to education. It is the most valuable treasure which can't be stolen but shared. So if you are also thinking about doing a group study, go for it and also share what you have learnt.
Your consistent work and efforts may bring success to you. You may be rewarded for this eventually. If you are procrastinating or being lazy to study, so just get into the action for straight 10 minutes without a thought in mind. After that, you may get the hang of it and continue to study. The challenge would be 'how to Begin'. Once you get off the mark, you may achieve your goals too soon. Therefore, you should study in an environment where there are no distractions.
Self-development plays a crucial role in the life of Libra natives. You may learn about how the mind works, what food is good for you, how yoga helps you, how to be organized or how to make career growth. 2022 is a good year to evolve into a better version. You may also gain from certain unconventional practices. You may get interested in the metaphysical world, astrology, spirituality and occult.
You may understand that the occult is simply a type of technology that humans are still exploring. Spirituality is an efficient way of life where humans evolve into higher beings. You would also be fond of mysticism.
The next year you may improve your language skills or any vocational course. You might want to indulge in your hobbies. Learning musical instruments will give you immense joy. Drawings and art will occupy you for long hours. Make good use of this time for developing such skills.
Libra sign is ruled by Venus, so you may have a sense of aesthetics and beauty. You may never know one of these vocational courses that might turn into your career goal. Some of you would take online courses. These courses could be from domestic or international universities. You may be sensible and organized towards your study and are more likely to progress in these endeavours.
The year 2022 may not be favourable for Libra students who are pursuing internship programmes. Although you may be able to get internship opportunities, you may not have enough inclination towards putting much effort into it. The reason could be that you won't be finding answers or solutions in your work, or your mentors might be busy with some work, being not reachable conveniently.
Overall, the year 2022 may give you a vast platform for improvement in all of your life. Your educational excellence entirely depends on how much effort you put in. If you are confident enough that you have done your best, you may get positive results. 2022 is a year for expansion knowledge-wise and learning.
Libra Career & Business Horoscope 2022
Libra Love & Relationship Horoscope 2022
Libra Health & Fitness Horoscope 2022
Libra Marriage Horoscope 2022
Libra Finance Horoscope 2022
Libra Wealth & Property Horoscope 2022