Marriage Horoscope 2022: Get Insights To Your Ideal Life Partner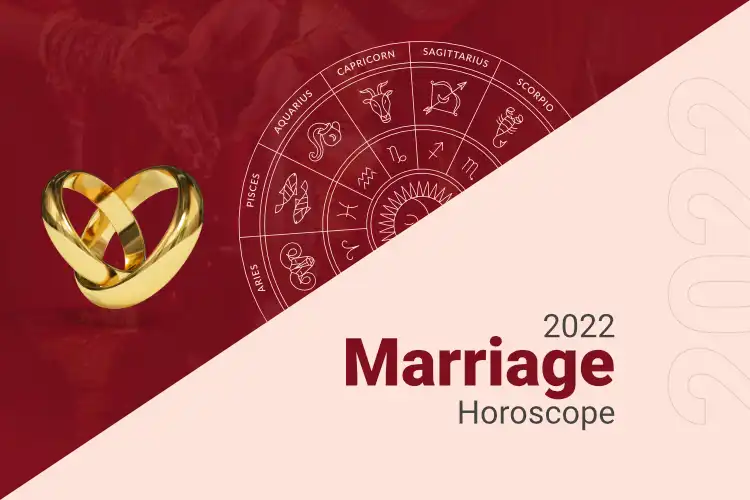 We exist solely for the sake of love. It is the most crucial aspect of our lives. You could be anybody, a child, a girl, a man, a woman, wealthy or not, and we are all looking for love and a relationship. The planets' influences determine the type of love life or relationship we have at any given time. It has been observed that the effects of the planets on our emotions alter how we perceive life, and it is essential to understand the results of the worlds on our sun signs during the year 2022.
Like every other major event, marriage is influenced by the movement of the planets through the zodiac. The wedding ceremony is especially significant. It symbolises the beginning of the marriage. So, if you're planning a marriage in 2022, check your sign and that of your wife, as each month brings with it particular planetary positions that can either bless or curse your wedding. If you're curious whether or not 2022 is a good year for marriage, we have good news for you. According to astrological forecasts, 2022 is a fantastic year for marriage.
2021 is an unpredictable year, which has resulted in the cancellation of auspicious events such as weddings.
Let us begin with marriage horoscope 2022: Will I Tie the Knot in 2022?
---
Will you tie a knot in 2022?
As per marriage horoscope 2022, many people are wondering whether they will be able to marry in 2022. Aside from that, many married couples are curious about how their marriage will work in 2022. With this marriage prediction horoscope for 2022 based on zodiac signs, we have addressed the concerns of both parties. Let us begin with the marriage Horoscope 2022: Will I Tie the Knot in 2022?
The year 2022 is rapidly approaching, and all of us are eager to see how it will unfold, says marriage horoscope 2022. It's always nice to have a heads-up and have an idea of what the new year could bring. That is where the horoscope comes in handy. The marriage horoscope 2022 says what the next year will be like for you. The positions of the sun, moon, and planets decide the horoscope. Each sign has its own set of characteristics and traits that reveal a great deal about a person's personality. So, find out if the odds are stacked in your favour for the upcoming year of 2022.
---
---
Explore 2022 Marriage horoscope based on your zodiac sign's