Scorpio 2022 Prediction: This Year Might be a Mixed Bag of Fortunes for Scorpios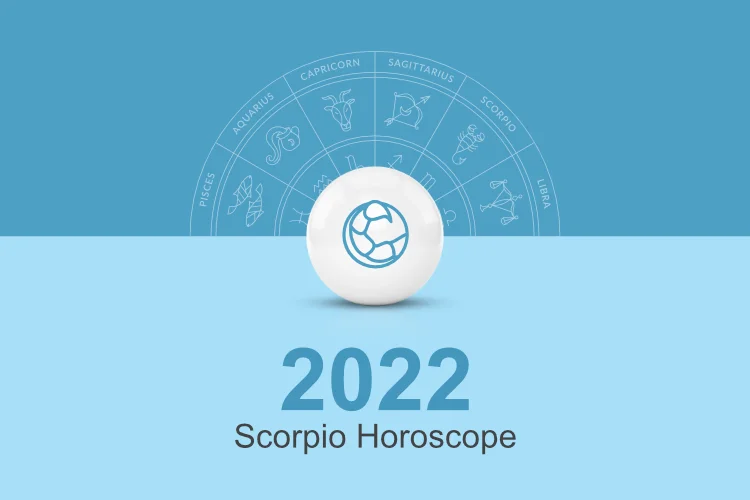 For Scorpions, the year 2022 will be of peace and relaxation. Jupiter, the planet of expansion, will indicate to the natives that good fortune waits for them. Scorpio 2022 Horoscope says that the outer planets provide you with a luxurious lifestyle. Many of the obstacles that had been impeding your progress will now be gone. Saturn in Aquarius, on the other hand, manages to delay your progress. Throughout the year, you will face resistance in both your personal and professional lives, but you will have the courage to break free and succeed. The year 2022 is proving to be a mixed bag of fortunes for Scorpios. The health of natives, in particular, needs special attention during the season. Many Scorpions intend to fly internationally this year. So, without any further ado, explore Scorpio Horoscope 2022.
For Scorpions, career success will be very satisfactory as the year 2022 begins. If you are an employee, avoid any kind of contracts or agreements because you might end up losing money or be a victim of a scam. It will be best if you keep your distance. In your workplace, you will face tough competition from both friends and foes. You would only be able to succeed if you put in a lot of effort and dedication.
However, the second quarter of the year will bring you good news at work. Since Jupiter is in your Leo 10th house, you will receive favourable treatment at work. There will also be opportunities for you to learn new skills. When Rahu is in your 6th house, it may cause problems and incompatibility in your career. As a result, be careful, and the end of the year will have good work opportunities for worthy Scorpions.
Scorpions' general finances will be very strong when the year 2022 begins. You might be devoting a significant portion of your income to the purchase of your dream home, a property, or high-end automobiles. Health-related expenses for natives and family members are expected to be incurred this year. Because of Jupiter's effect on your 11th house of Virgo, there will be a strong inflow of funds and better gains in life after the first quarter of the year. You will be asked to contribute a significant sum of money to auspicious activities, pilgrimages, charity and social works. Be bold, stick to your budget, and practice thrift for a while. As per Scorpio 2022 predictions, 2022 will be very prosperous for the Scorpions. You will be able to save a significant amount of money in 2022 for the future. However, the middle of the year can present some challenges to your financial goals. As the year draws to a close, your financial situation should be much healthier than it was in previous seasons.
Scorpio love horoscope 2022 predicts that the natives of Scorpio will have a turbulent love life. Jupiter will strengthen your love life and give it more sense in 2022. There will be a lot of romance and emotions in your love life as the year begins. In 2022, Scorpions should be ready for the unexpected in your romantic life. About the middle of the year, your spouse might lavish you with extravagant presents. For the time being, you will experience perfect, devoted, and dedicated love. However, Saturn's transit via Aquarius can limit your ability to express romantic interest and the outer planets will sometimes place you on the fence. There can also be moments of dissonance or incompatibility with your mate. A candid discussion or negotiation would be beneficial.
The second quarter of the year may bring some difficulties in your relationship.
In the year 2022, married Scorpions will be plagued by their partner's health problems. Minor squabbles and misunderstandings with your partner/lover around the middle of the year can result in temporary separation. Your love life will blossom in the second half of the year, and your marriage will be blissful. You have a lot to learn from your partner in the fourth quarter of 2022. For native Scorpios, Saturn will bring real, faithful, and devoted love. Do not suffocate your partner/spouse with too much interference; instead, allow them the true independence they deserve.
According to Scorpio Horoscope 2022, Scorpion students must put in more effort and hard work to survive this year. They will be able to excel in examinations and tournaments when the school year begins. If you want to pursue higher education, the middle of the year will be ideal. The going is rough these days for those who are average in their studies. Overseas research opportunities might arise during this time span as well. If you are willing to invest your time, your educational dreams and goals will become a reality.
Scorpio 2022 Horoscope will be favourable for Scorpios who wish to fly, says Scorpio horoscope 2022 predictions. This year, Saturn in Capricorn's third house will bless you with both long and short distance journeys and these trips would be for leisure, company, or both, and would provide you with valuable information and experience. Jupiter, the planet of expansion, will also grant you the opportunity to fly abroad in search of adventure. The aspiring Scorpions will be able to go on vacation with their families, says Scorpio 2022 Horoscope. You might even go on pilgrimage travels at the end of the year. That's how Scorpio Horoscope 2022 would roll.
Your moods and overall well-being will experience many ups and downs, says Scorpio Horoscope 2022. Your energy levels will ebb and flow as well. Laying low, relaxing, and engaging in some physical activity will benefit your body and mind. However, this will be a good year for your well-being in general. Personal and professional obligations can cause you to neglect your health at times; however, you should be careful. Ketu loitering in your Ascendant house can be the source of your worries and anxieties and Rahu in the 7th house will cause problems for your spouse and partner's health, so be careful, guides Scorpio horoscope 2022. As per the 2022 Scorpio horoscope prediction, some Scorpions will develop chronic health problems, so you should be careful. Many with underlying health problems will see their general health deteriorate in the first half of the year. If you follow good eating habits and take proactive steps, the second half of 2022 will be blessed with improved health.
Scorpions are advised to let go of their rigid and stubborn natures this year and manage things with ease. Stop taking a stand and seek out the opinions of others. You may be able to win people's hearts this way.
That's it from our end, hope you enjoyed reading Scorpio Horoscope 2022. Cheers!
Scorpio Career & Business Horoscope 2022
Scorpio Education Horoscope 2022
Scorpio Love & Relationship Horoscope 2022
Scorpio Health & Fitness Horoscope 2022
Scorpio Marriage Horoscope 2022
Scorpio Finance Horoscope 2022
Scorpio Wealth & Property Horoscope 2022