Everything You Must Know About Guru Pushya Yoga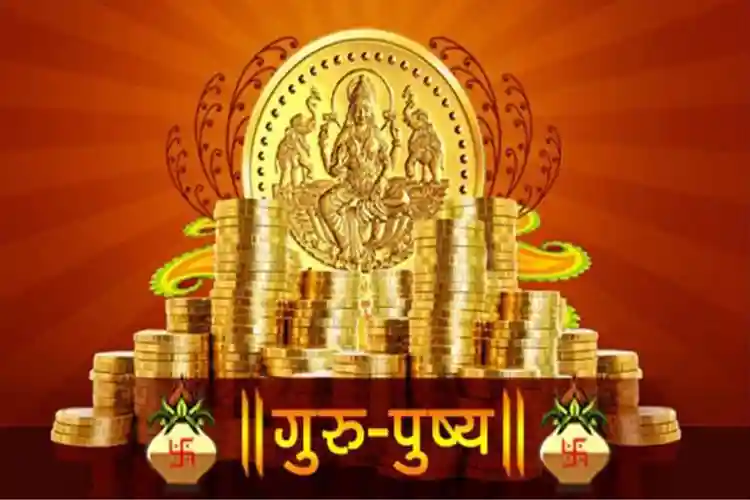 According to Hindus, people should follow the traditional rituals of knowing the auspicious timings. So, before organizing any important events, they check out Tithi, timings and Nakshatras for proceedings. By doing so, one may get positive results in any activities. Such things are quite similar to Guru Pushya Yoga. When the Pushya Nakshatra falls on a Thursday, it is said that Guru Pushya Yoga is formed. And because of that, this day is considered to be very auspicious. Hindu bow down to Goddess Lakshmi and seek her divine blessings. Some believe that it also forms Amrut yoga on the same day.
---
Guru Pushya Yoga Meaning
As we know, there are 27 Nakshatras and 12 zodiac signs in astrology. One of its Nakshatra is named Pushya. So, whenever the planet Jupiter (Guru) is exalted in this Pushya Nakshatra, it forms the auspicious yoga of Guru Pushya Yoga. The planet Saturn is the lord of Pushya Nakshatra. If Pushya Nakshatra falls in the Cancer sign, then there will be a conjunction of Moon and Jupiter. This union between two benefic planets is considered to be the auspicious one. Thus, major events are organized during Guru Pushya yoga.
Do you Know about the Auspicious Gurupushyamrut Yoga For Your Fortune And Success ?
---
Significance Of Guru Pushya Yoga
During Guru Pushya Yoga, there is extreme importance in buying gold. People believe it is the perfect time to make investments in gold. Also, some of them consider this yoga for starting their new business or start-ups. Usually, this beneficiary yoga arrives twice or maybe thrice a year. Therefore, there is a huge rush for buying gold. Especially, Hindus living in north India closely follow the muhurat of Guru Pushya Yoga. They celebrate this day as Guru Pushya Nakshatra.
This yoga may work like a magnet for you. Right, this is because it can attract wealth and prosperity to your home. Any activity or event performed during Guru Pushya Yoga may help you earn positive results, or you may have successful events. Moreover, small business owners always give importance to Pushya nakshatra for buying new account books during the Diwali festival. Not only gold items but people also look out for suitable Gemstones, Yantras, and do Lakshmi Puja.
Know about the formation of auspicious and inauspicious yoga in your kundalini. Access to Free Janampatri now
---
Guru Pushya Yoga Benefits
Below are some benefits of Guru Pushya yoga.
Guru Pushya yoga may help you get an inch closer to success as it has divine strength.
This is highly auspicious for starting any spiritual or religious activities.
Puja performed on this day may give more benefits, and it may enhance the fortune.
Guru Pushya Yoga is considered very auspicious for.

Buying/entering a new house.
Buying a new vehicle.
For purchasing a new gold or silver coin
Establishment of a new business enterprise.
Laying the foundation stone for a new building.
To practise tantra and mantra from mentor
To purchase land, property or any electronic gatgets
---
Conclusion
On an ending note, we learned that we must not forget to look out for Guru Pushya Nakshatra whenever we gear for major events. But on the flip side, Pushya Nakshatra is not considered for performing marriage rituals. This can be due to Saturn's malefic effects. Since the lord of rings, Saturn is the lord of Pushya Nakshatra, marriage functions may not take place because of it. Other than that, it is very pious that there is no need to check the timings because it makes the entire day auspicious. Hope you found this article informative. If you still have any queries directly get connected with us by tapping the 'talk to astrologer' button.
---
---