Benefits and Drawbacks Of Sun and Saturn Conjunction In First House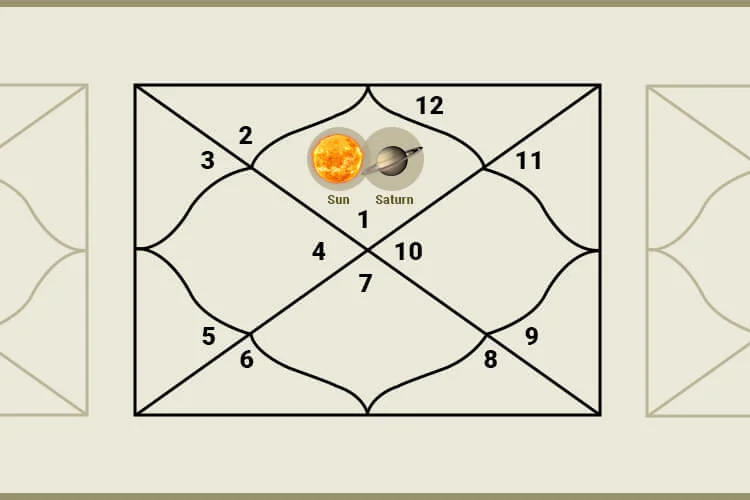 'Be Careful' is what the Astro experts suggest for the natives who have Sun and Saturn in the 1st house. Sun is known to be the King of the cosmic world, while Saturn is the ringed planet, demanding discipline and hard work from its natives. If you succeed to do so, you may get rewarded. If not, you may face heat from Sun as well as from Saturn. That's right because this conjunction is all about dealing with patience as it may damage your relationship with close ones or may affect your career & professional life.
Sun and Saturn share unfriendly relations with each other, and that's why you should remain careful about your life prospects. This combination indicates that you may have respect for your father, but it may remain unnoticed. You may have issues with your father as this combination is inauspicious for the father and son relationship. The union between these two giants takes place every year. Therefore, if the native is born during this time, he or she may need to undergo a tough test of Sun-Saturn conjunction.
Natives with the conjunction of Sun and Saturn or having the mutual aspect of both the planets are likely to face struggles or delay in their work. He or she may need to wait until the age of 35 to achieve desired success. The combo of Sun and Saturn in the 1st house may have similar impacts on the major areas of life. And for all unnecessary hurdles, you can blame Sun-Saturn's union. Alright, let us throw more light on this conjunction to know in detail.
---
What Happens If Sun and Saturn Are In the Same House?
The celestial father, Sun, is a very hot planet, and it is the big star located at the centre of our stellar world. On the other hand, Saturn is a cold planet and one of the slowest moving planet, which revolves around the Sun. If these two planets meet in the same house, it may negatively impact your job, occupation, or family relations. However, the actual result of this conjunction depends upon the strength of the house and sign. The Sun is said to be the significator of soul and self-confidence. Whereas the lord of rings, Saturn, denotes sufferings or major setbacks in life.
The combination of Sun and Saturn may lower your self-confidence, and you may struggle to achieve your work target. If the Sun is weak in the individual's chart, you may be unable to understand the real meaning of life or may have confusion while moving forward in life. The 1st house belongs to the self, physical appearance, and characteristic of an individual. The conjunction of Saturn and Sun in this house may extend your stay on your path to achieve success.
If the conjunction of Sun and Saturn takes place in the Gemini sign, it may provide favourable outcomes. This can be possible because of Mercury, which is neutral to these planets and also the ruler of Gemini. Similarly, if the combination is in Aquarius, it may not have any harmful effect as Saturn itself is the lord of Aquarius. But you may face relationship issues if the conjunction is in the Libra sign. Whereas, if both the planets appear in the Aries or Capricorn sign, it may give negative results.
---
Impacts Of Sun and Saturn Conjunction In 1st House On Personality
Individuals with the conjunction of Sun and Saturn are likely to be attention-grabber, good looking with less hair. You would be lazy, impatient, or selfish by your nature. You may dedicate more time to complete your work targets. This conjunction symbolizes that you may not like any disturbance or trouble while doing your work. However, this conjunction may damage your self-image as you may create issues in relations with your close ones. It is advisable that you should take care of relations with your father. Otherwise, you may indulge in a serious fight or argument with him.
Natives with Sun and Saturn's conjunction may lack family support in their life. Moreover, you may find hidden enemies around you. You may not know the purpose of your life, as you would be busy with your professional life. If Sun is debilitated, you may have ego clashes with others, which may ruin your reputation. It isn't easy to earn name and fame with this placement. But, this combination can be seen in the birth charts of celebrities. So, you may receive appreciation and admiration from society.
---
Impacts Of Sun and Saturn Conjunction In 1st House On Marriage
Natives having the association of Sun and Saturn in the 1st house may experience disharmony, unfaithfulness, and betrayal in their marriage life. You may struggle to find the proper tuning with your spouse. Also, you may have a delay in marriage, or you may take longer in finding the desired partner. Saturn and Sun's combination in Lagna house may create several issues in the marriage relationship.
Natives who are willing to take their love relationship to the next level may face obstacles. Your dating partner may not stay for a longer time in your life. You and your partner may indulge in arguments, and therefore, you may seek separation. Saturn and Sun's combination in debilitated sign may badly hamper your bondings. Misunderstandings and conflicts may become part of your daily life. You may need serious efforts to achieve peace in your relationship. And so, you should respect and obey your partner's decision.
---
Impacts Of Sun and Saturn Conjunction In 1st House On Career
Individuals of Sun and Saturn conjunction in the 1st house may take more time to succeed in their career growth. This is possibly due to obstacles in your path, which can be the result of the union between the enemies. Saturn's presence indicates that you may never achieve your goals if you fail to work hard. You may find it easier to accomplish your targets only when Saturn is strong or present in your own sign. Sometimes your hard work may go unnoticed, and you may lose your confidence.
Job professionals having the combination of Sun and Saturn in their birth chart are likely to indulge in confrontation. You may have arguments with your seniors or boss, which could be a major turning point in your career. However, if Saturn is not affiliated with malefic planets, you can expect stable career growth. Generally, you may only achieve success in your desired field after the age of 35. Before turning 35, you may need an extra push to overcome challenges. Saturn's association with Sun may create difficulties in choosing the right path of career.
Know the right path of your career by accessing Free Janampatri
---
Remedies For Sun and Saturn Conjunction in First House
Starting wearing gold ornaments
Offer water to the rising Sun every day
Worship Lord Shiva and pour water to the Shivling
Visit Shani temple for weak Saturn
---
Wrapping Up
On a conclusive note, the Sun and Saturn together in first house may create a disturbance, trouble, and life hurdles for its natives. Furthermore, this combination may spoil the relationship with the father. You may have dissatisfaction with your spouse. Also, you may indulge in fights with other family members. On the professional front, you may fall short of achieving a higher position at your workplace. You may have a delay in a promotion or may take longer to accomplish your work target. By doing so, it may affect your personality and reputation. You may lose your respect from people around you.
---
---