Jupiter In 9th House: Know About Its Effects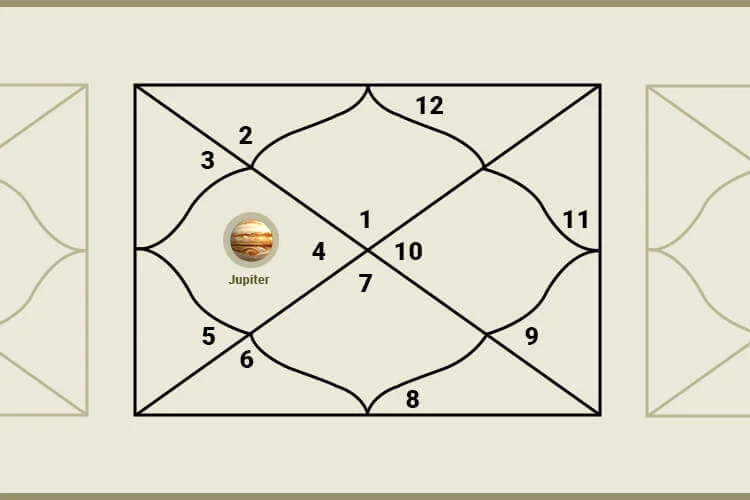 ---
Introduction
The most auspicious planet of the stellar system, Jupiter, is a guru of all planets. It offers plenty of support and opportunities in the natives' life and reduces malefic planets' effects. Even if the biggie is aspected by nodes Rahu and Ketu, Jupiter still manages to shower blessings on natives to make their life comfortable. Jupiter in the 9th House may bestow a person with mental abilities, wisdom and knowledge. This placement of the yellow-coloured planet may help natives to reach newer heights in their professional life.
---
What Does Jupiter In Ninth House?
The 9th House is related to the fortune of natives, and the auspicious Jupiter is the lord of luck, meaning that it can be the cheering on the cake. Here, Jupiter in the Ninth House indicates that Jupiter is transiting through the house of destiny, and it may have a good or bad impact on natives according to its strength and placement in the zodiac signs. If Jupiter is in the exalted sign Cancer, natives may receive good luck, wisdom, and mental strength, while if it is in the debilitated sign, Capricorn, natives may not have the life comforts. Jupiter associated with the planets like the Sun, Moon, and Mars may give you favourable outcomes. Also, your achievements list may keep on expanding due to the friendly relations of Jupiter with these planets.
Areas of Life Affected By Jupiter in the 9th house
Attitude
Career growth
Professional life
Long trips
---
Impacts Of Jupiter In The Ninth House
Positive Impacts Of Jupiter
If Jupiter in 9th House, natives may receive more knowledge and wisdom, which they love to share with others. Natives of Jupiter in the 9th House can be good professors because they will let others know their ideas and thinking processes. With this positivity in their minds, natives may get successful careers in education, coaching, or managing sports-related activities. The ninth house is comfortable with Jupiter in many ways, and it is one of the favourable placements. Hence natives may receive positive results. It makes natives scholarly, spiritually-wise and intellectual. These natives further motivate others to infuse faith and beliefs. Natives having Jupiter in their ninth house are likely to get involved in religious activities, and later on, they may get the hold of essential positions like spiritual leaders. Natives of this Jupiter's placement strongly believe in religious principles and values. Natives may go on international trips to mint more money. This may slowly help them to build a happy and successful life. And as a result, natives may find themselves busy travelling to new places. Natives full of fresh energy may always stay on their toes as they will be keen to learn things or two; all this is because they have Jupiter in the 9th House. They can emerge as topper students before stepping up as teachers or professors in their career and education front.
They will be in touch with everyone to share their valuable knowledge.
Natives having Jupiter in 9th  House Jupiter in 9th house synastry can appreciate other cultures, so good luck keeps chasing them wherever they go.
They will be ready to accept any life challenges with open arms. Their passion for learning new things is never-ending, which inspires people to learn different things as well.
Negative Impacts Of Jupiter
Jupiter in the 9th House could negatively influence the natives, so it is advised that they take care of their close ones while travelling. Or else they may leave them behind. Natives who have large groups of friends may dent their relations as they will be busy shaking hands with the new faces. Similarly, they may spoil their family relations too. Therefore, it is suggested that natives should bring family members with them wherever they go. If Jupiter is associated with its enemies, things may worsen, and natives may suffer from a delay in their marriage or other marriage-related issues. Natives should calmly deal with difficulties to restore happiness in life.
---
Wrapping Up
We learned how Jupiter sitting in the 9th House could affect its natives' life. The positive traits of Jupiter include that it may help natives in sharpening their mental abilities, make international trips to earn money and become a spiritual leaders. In contrast, the negative traits of Jupiter may spoil relations with their dear ones. Overall, considering the facts and theories, we concluded that the 9th House is quite beneficial for Jupiter.
---
---