Jupiter in 6th house: Know About its Effects On Life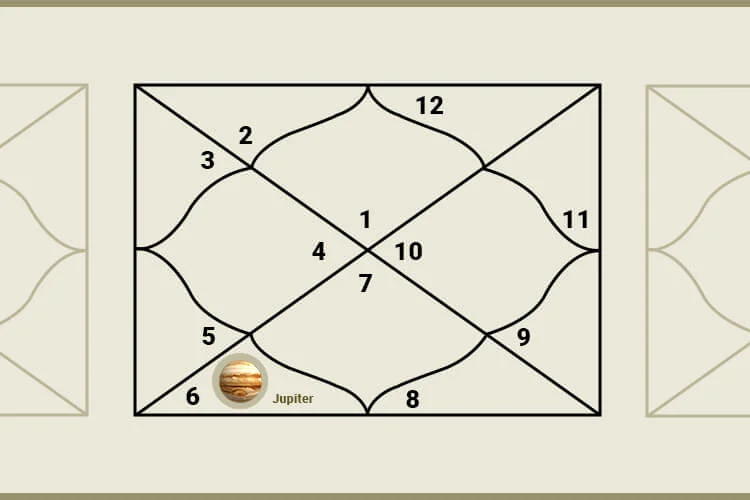 ---
Introduction
"Hey, Biggie! where is my special gift?" someone would ask Jupiter if it's planning to relocate to the new house. It's because every time an auspicious planet intends to enter a new house, it showers blessings on natives. But occupying the 6th house, natives may see quite different results. This placement of Jupiter may have unique gifts for natives, but it won't be a cakewalk for them. Yaas you can say that 'A Soul for a soul' it is. Jupiter is the significator of wealth, knowledge and good luck. If Jupiter is transiting in the 6th house, it may help you achieve success in your professional life and add fragrance to your personal life. Let us learn in detail what Guru in the 6th house means.
---
What Happens If Guru is in the 6th House?
If there is a presence of Jupiter in the 6th house, natives are likely to have a great professional life. Job seekers can find the desired jobs in their specific field. It also helps individuals to improve or restore sweet relations with their colleagues. Besides, the yellow-coloured benefic planet helps natives improve their previously spoiled relations with their maternal uncles or aunts.
Natives of Guru in the sixth house may work very hard to achieve their work target and be more busy minting money in their field. Be it working from home during difficult times or having tough times in the workplace; they will never give up. Instead, they keep working to achieve their goals.
Areas of Life Affected By Jupiter in the 6th house
Profession Life
Career Growth
Work Attitude
---
Impacts of Jupiter In Sixth House
This combination of Jupiter and the sixth house may give mixed results in natives' lives. So, moving on to check both the flip sides of the 6th house Jupiter.
Good Things About The 6th House Jupiter
Jupiter entering the sixth house may help you get high standards in their business. Natives may realize that they should put trust and faith in others to win their respect. This placement of Jupiter means that natives may get new opportunities, which is likely to get missed by them, but they are likely to develop new contacts. In this process, they may also find committed clients for the long run. 6th house Jupiter will enhance a stroke of good luck, and natives may live a luxurious life.
Moreover, job professionals take the responsibilities of challenging work, and they perform it with great pleasure. They remain focused on every task and love to help others too. While working, they make sure they have put every detail right. If required, they also share their assignments with others to get their hands on their works. And that's how the natives of Jupiter in the 6th house do wonder in their professional life. Regarding their personal life, Jupiter in 6th house marriage of natives is likely to be arranged.
Bad Things About The 6th House Jupiter
Jupiter transit in 6th house makes natives frustrated if their work doesn't get recognition. They become upset and very nasty to others who are associated with them at the workplace. Here, natives may not like any disturbance and annoyance in their work. Also, they refrain from getting criticized. Such things in their life may affect personal life. And if it does so, they need to deal with it to move forward in life quickly.
Natives have much higher expectations from their work colleagues, and if it doesn't work, they may drop their heads in disappointment. Natives do like to support others, but in that process, they fall to other's prey. If retrograde Jupiter occupies the 6th house, native try to put people down for unnecessary things.
---
Wrapping Up
On a conclusive note, it seems like Jupiter is uncomfortable in the 6th house and would negatively impact the natives more than its positive impacts. Thus, it becomes necessary for natives to take precautions. Agreed that it would help you achieve success in your professional field, but you may lack its blessing in certain areas of your life.
Alright, it's time to draw curtains for this edition of the blog. Meanwhile, you can have a pleasant time reading similar blogs on our platform.
---
---