Mars in 9th house: Unravel Its Positive And Negative Traits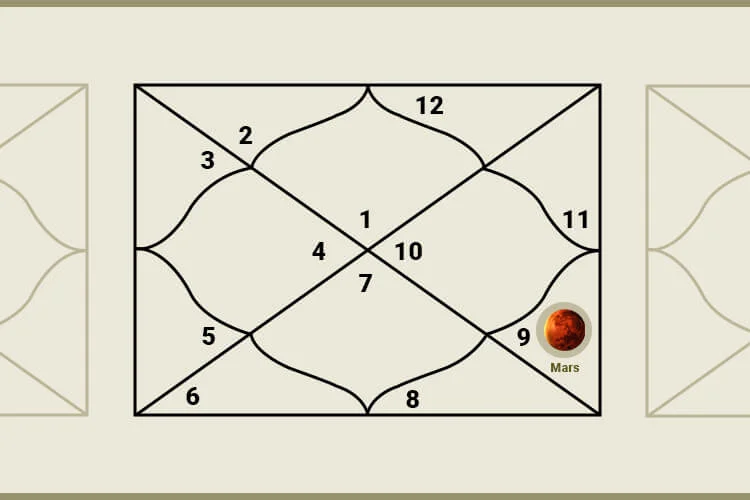 A Red-hot planet Mars does not always want you to have a red-face. Yaas, because interpreting lover's Kundali is not the only thing Mars does. Sometimes it depends upon the placement of Mars in your birth chart, according to which you may get the results. It is always hard to believe that being a malefic planet, Mars does wonders in natives' lives, but everyone would agree if Mars is favourably-placed, it does provide a helping hand to its natives. Mars is known for aggression, anger, and violence. And these qualities of Mars could leave natives ill-fated. The placement of Mars in the 9th house could have similar effects on you. And to know more about this combination, let us dig deeper with the help of experts.
---
What Does Mars In The 9th House Mean?
The 9th house Mars, refers to the native's chart, indicating that Mars was transiting in the house of destiny at the time of his/her birth. This placement on Mars could make you open-minded and more creative. You will love to share your thoughts with others. The presence of Mars in the 9th house would make you aggressive, but, on the other hand, it supports you in getting your opinions and views into consideration. It is possible that others may ultimately judge you by your ideas. And so it is advised that you should express your genuine feelings to others.
The 9th house offers its natives the pleasure of long-distance travelling. You may indulge in a risky adventure journey, and you may have foreign trips. White colour professionals associated with foreign companies may make international business trips. Moreover, if Mars is in conjunction with Moon, Jupiter and Sun, it would make you fearless and brave. It may also support you to get a promotion at your workplace. But this achievement won't be possible without facing hurdles.
Influence Of Mars In The 9th House
Attitude
Religious beliefs
Relationship
Learn about your career prospects from your Kundali
Access Free Janampatri
---
Impacts Of The Mars In The 9th House On Your Personality
Individuals with Mars in the 9th house are fun-loving, flirtatious and spirited. If Mars is in the 9th house, you are ever-ready to prove your point in a serious conversation. Also, you are likely to turn down new challenges. This combination will give you more energy and freedom to follow your passion. The Mars in the 9th house synastry will support you to develop self-belief in the early stages of life. Your self-confidence will increase, and you will believe that you are on the right path. Later on, this will guide you to develop a good image in society. You may like to hang out with your friends, but you may not establish a formidable bond with them. And because of that, you may spoil relations.
---
Impacts Of The Mars In The 9th House On Your Marriage
Natives of Mars in the 9th house will be playful and energetic to increase the romance in their intimate relationship. You will love to spend time doing taboo things with your spouse. You love to have casual conversations with your love to create unforgettable moments in life regarding your marriage life. You will be able to win your partner's trust. Besides, you may not find your wish fulfilled as you would have much higher expectations from your partner. Under the supervision of Mars in the 9th house, you may get unfavourable results if you are involved in casual flirting outside the marriage life.
Facing issues in your married life? Check if you have chosen the right partner with Free Compatibility Report…
---
Impacts Of The Mars In The 9th House On Your Career
The Mars of the 9th house indicates that the natives will be cautious in legal matters. Natives may pursue their profession in the field of aeronautics, management and accounting. Natives with the 9th house Mars may find interest in the business related to real estate or construction works. This combination will guide you to build a successful career in the field of sports. You may get opportunities to fly abroad which may help you to settle in foreign countries. You may have a successful career if you step up in the travelling sector. You may achieve your career goals at a slow pace.
The house of fortune, the 9th house, also denotes education, learning, knowledge, research and invention. Individuals may achieve greater heights in their careers, and they may find success at a higher level. It is suggested that you should avoid making decisions using emotions. Being a native of the 9th house Mars, you may lack your management skills. Therefore, you may not be able to handle your scheduled task. As a result, this may have a significant impact on your career.
---
Wrapping Up
At last, we have a clear picture of Mars in the 9th house. We realized how the red planet takes the tough test of its natives. It demands hard work from them but also guides them to achieve desired career goals. This placement will have a slight impact on your marriage life, so you should stay honest and loyal to your partner. However, if Mars is positioned in the house of destiny, you may keep yourself busy travelling.
The natives of Mars in the 9th house will be outgoing and will love to travel and explore. However, they ought to be very careful in their adventurism. Besides, they need to become less rigid about their beliefs and faith.
---
---