2023 Libra Tarot Prediction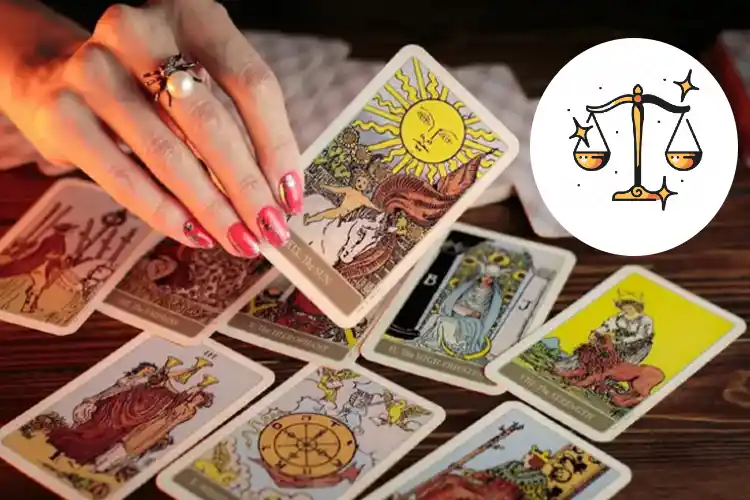 Talking about Libra people, they believe in taking everyone along, which is why they avoid confrontation and try to avoid it. They are kind as well as intelligent and tactful. They remain confused about something and due to being in a dilemma, they often take time to decide. However, their decision is based on reality. Librans are generally versatile and inquisitive and love the beauty in life.
---
Libra Tarot 2023: Job and Career
 The tarot card for the year 2023 for Libra people says that this year you can also travel abroad for work. With the passage of time mostly you will deal with foreign clients. In the new year, your relations with colleagues and senior officers will be normal. You will also dominate the opponents. Your enemies will not be able to harm you.

Right now you will also get the support of planets, which will prove to be better for you. This time will prove to be better for you due to planetary positions. You would prefer to adopt an easy way to get the work done. Professional matters will also improve and you will be on good terms with your seniors and colleagues.
Your words and thoughts will be on the ground of practicality, due to which the people around you will also take your words and thoughts seriously. The first half of the year will prove to be auspicious for you and during this time you will be able to strengthen your position. The environment will be competitive now, but you will be able to cope with it in a better way.
---
Libra Tarot 2023: Love
Your tarot card says that the new year will prove to be better for your love life. In the new year, you will also prepare to take your relationship to a better level. However, this time will prove to be an eye-opener when you need to accept the duties and responsibilities of your relationship. If you do not do this, there will be obstacles in life and you will not be able to live a free life, due to which you will not be able to enjoy your love life.
During this time you will have to face the consequences of poor choices, due to which a feeling of dissatisfaction may trouble you. For this reason, this year will test your patience. There will be a feeling of insecurity in love relationships and your love relationships will be tested at this time. You may also be stressed. You also have to be ready to re-evaluate your relationships. Talking about married people, now you have to adopt a harmonious approach to avoid differences with your spouse and need to adopt a compromising attitude with them. Differences will also come to the fore in your taste, character and hobbies, due to which there will be dissatisfaction in your married life. For this reason you may feel burdened with responsibilities.
---
Libra Tarot 2023: Finance
Your tarot card says that this year financial concerns may bother you indirectly. This can disturb your peace of mind. For this reason, you may also be afraid to take risks. Contingent expenses can also happen during this period. You are advised not to take any decision emotionally and in haste right now. According to the cards, your business associates, partners and colleagues can cause losses. Due to this, some financial problems may also arise in front of you. Secret enemies can also create financial problems for you. Right now there are possibilities of economic crisis. Financial constraints can also push you back. Due to economic pressure, some financial tasks that you had put aside in the past years, they can emerge once again. In such a situation, you will need to manage your economic policies effectively. Your creativity and proficiency in the concerned subject will prove to be your strength and your kind hearted nature towards family is your strong armour.
You have to wait for a better time to invest so that it grows, because the time will not be favourable and uniform throughout the year. You need to be rational while taking decisions, as you tend to get emotional during this time and trouble may arise due to this. People of Libra zodiac are often lost in fantasies, due to which they get away from reality and due to this problems arise. In such a situation, you will need to adopt a practical approach. It will be good for you to stay away from tempting things and investment opportunities.
---
Libra Horoscope 2023: Health
our health will be mixed this year. This time is excellent for you to make progress in spiritual matters. Right now you will be more inclined towards philosophy and religion. Selflessness will increase in you during this period and the desire to live for others will arise in your mind. You can even sacrifice your happiness for the happiness of others. Right now the feeling of sacrifice will increase in your mind. However, right now your anger will seem a bit uncontrollable. The limits of your imagination will also be greatly expanded now. However, there will be trouble due to infection or seasonal diseases, because often seasonal diseases can emerge. During this, you may also feel tired without any reason.
For better health, you are advised to take nutritious food. Right now you should consume honey, sprouted grains and curd regularly. You can keep yourself healthy by changing your eating habits and eating right.
Lucky Colour: Cream
Remedy: Worshipping the flag on Tuesday and offering it in Hanuman's temple will be auspicious and fruitful. Along with this, do Dugdh Abhishek on the Shivling. It would also be good to do special worship of the snake's tail near the Shivling.
Practical Remedy: Stay in open environment for now and spend time watching birds. Admire the natural environment by sitting in the terrace or balcony of the house.
Lucky flower: Juhi or jasmine flower is auspicious. Offer these flowers to Goddess Lakshmi, it will be auspicious and fruitful for you.
---
---