2023 Sagittarius Tarot Prediction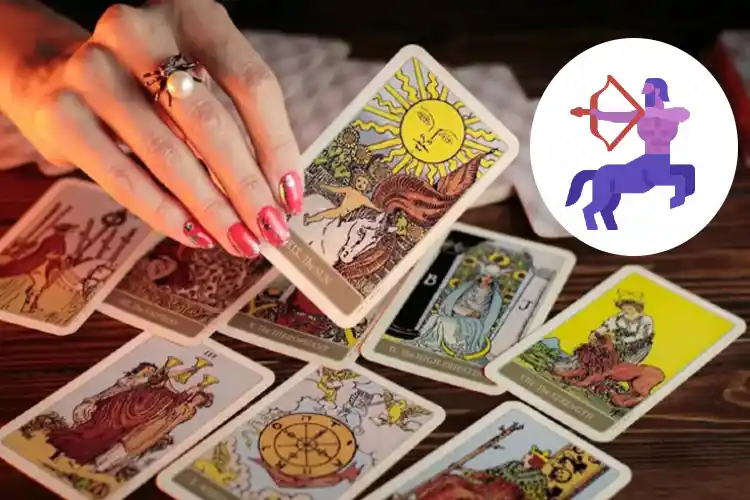 Talking about the people of Sagittarius, they have a lot of confidence and at the same time they are also self-sufficient. They also have the ability to find out the weaknesses of others. The special thing is that they are not afraid to speak the truth. Others often get into trouble due to their outspoken nature and their feelings get hurt. Although, you do not want to do this, but your nature is such that even if you want to, you do not leave the side of the truth and because of this nature, people often become your opponents. Sagittarius people have an inclination in the field of science and philosophy.
The special thing is that they give great importance to rules and order in their life. They do not like chaos and prefer to move slowly in everything. Their thoughts are grounded and based on truth and logic.
---
Sagittarius Tarot 2023 Job and Career
This time will be good for you in terms of career. Most of the time of the new year will be good for you and this can also encourage your professional life. You will work systematically, due to which you will get the support of your seniors as well and you will be able to gain their trust.

Right now you will get an edge over your enemies as well. Your skills in group activities like meetings and conferences will be enhanced. You will do something new and creative. This will also help you to expand your contacts. Your attitude towards your opponents and critics will also be moderate and you will be very tolerant. Your way of thinking will change and your perspective will expand. Your reputation will also increase during this period.
---
Sagittarius 2023 Love
During this, your love life will be in a good condition. You will feel lack of enthusiasm in your love life and due to this you will feel like a bondage. Right now you need to focus on many things and improve it as well as brainstorm on it. Right now you will also feel that the love and attention that you deserve is nowhere to be seen, so at times you may feel somewhat neglected or neglected. Environment and circumstances will teach you to love yourself and be proud of yourself. Don't expect love and affection from others just now, as it may prove futile. Due to upheaval and instability in love life, you will be in a state of confusion. Right now you will have a desire to meet your old partner, but this time seems to be difficult for him. At this time, you can try to find the true meaning of your love affairs as well as everything around you.
In the new year, you will try to bring positive changes in your married life as well. In such a situation, you will try to spend maximum time with your life partner so that the relationship can be strengthened. By the way, after the first half of the year, especially after the month of July, you will get the support of the planets. The positive influence of planets will be good for you and you will get its benefits, which will bring intimacy and closeness in the relationship with your spouse. Your relationships will improve and there will be clarity. Not only this, along with removing differences with your partner, you will show interest in establishing harmony, due to which the relationship will improve.
---
Sagittarius Tarot 2023 Finance
Financially, the new year will be good for you. During this time your performance will improve, due to which you can expect maximum profit as well. This time is also positive for money management. During this time you can also deal with a new project. The special thing is that you will work according to the rules and strategically, due to which you will feel comfortable in your work. You would like to get the work done as soon as possible and this approach will be of great benefit to you. Your relations with financial institutions will also be normal. During this time you will also be able to raise funds and you will be able to progress well in the direction of financial management.
However, the planetary positions are now indicating you to control the expenses along with keeping the savings safe. Sagittarians are great team leaders and they do not think only of themselves in difficult times but believe in taking everyone along. The important thing is that in this type of situation, people will only look to you, because everyone knows that you have the solution to the problem, because no one else can solve the problem. Your generosity is your strongest point and it is very important for you to maintain it. You should be very calm and humble in adverse times, this will make all your difficulties easier.
---
Sagittarius Tarot 2023 Health
From the point of view of health, the beginning of the year is going to be very busy as well as important. Because of this, you will get less time as well as some unknown fear can remain in your mind. You will also be very emotional, due to which stress and anxiety will also increase. Because of this you will feel nervous as well as mental fatigue.
In such a situation, you will benefit from regular yoga practice and pranayama. Right now you will need to control your food as well. You are advised to consume fruits and green vegetables. Along with this, to maintain health, you need to avoid excessive fried and sweet food. Pregnant women need special attention, because this time is a bit risky for them, which can create hindrance in the development of the child. For better health, you will need to have regular checkups. Right now you will need to keep a close watch on your health.
Lucky Colour: Bright Yellow
Remedy: Offer red rose flower to Bhagwati Jagdamba every Sunday. It will be auspicious for you.
Practical solution: Do not let your desires dominate you and do what makes you feel free.
Lucky Flowers: It will be good for you to use more yellow roses. Offer this flower to Mother Gayatri.
---
---