Ten of Cups Meaning- Upright & Reversed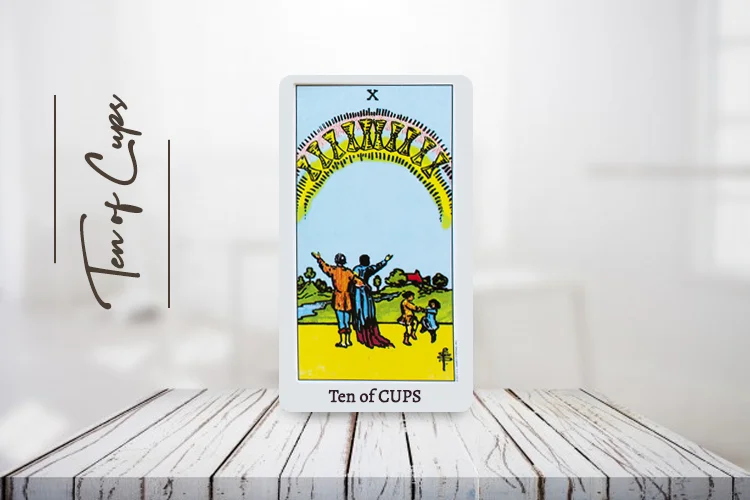 Possibly Stevie Wonder was referring to the Ten of Cups when he sang, "There is a ribbon in the sky for our love." This rainbow-filled card, in reality, is a good omen for whoever chooses it, as it represents harmony, happiness, and positivity.
The card reflects deep family ties and long-awaited reunions. It represents love, togetherness, fortune, and all that is good in life. When the Ten of Cups Tarot cards appear in a reading, you should predict blue skies ahead.
Your celebrations will be unforgettable, and the love you share with your family will be felt by those who join your party. The Ten of Cups often ensures you that you will be praised for your efforts. Better to enjoy it!
Element: Water
Astrological Sign: Pisces
Planet: Neptune
Date: 11th to 20th March
10 of Cups Upright: Harmony, family, happiness
Ten of Cups Reversed: Conflict, divorce/separation, despair, broken family
#NOMoreConflicts, Elevate Your Life!
Consult An Astrologer
---
The 10 of Cups Tarot Upright
The Ten of Cups reflects happiness, pleasure, and emotional fulfilment in your relationships and family. You've built an explosion of love and joy in your life, and you're now sharing it with others, further expanding your heart. Ten of Cups Tarot cards always appear when you are surrounded by loved ones with whom you have a strong and deep bond.
You respect and encourage one another, and you work together to help each other achieve your full potential. Your heart fills with joy to see your loved ones prosper and live happy lives. Also, the Ten of Cups advises you to follow your heart and follow your heart to guide you to opportunities that are in your best interests. Your thoughts only will guide you.
You just need to allow your inner guidance to lead the roads of life. Seek opportunities that are better for you, not those who are better for others. The same goes for ten of cups love reading. At the end of the day, you'll be paid by your own hard work, not by others' judgments. Hope you'll get what we mean.
---
Ten of Cups Reversed
When the Ten of Cups reversed card appears in a Tarot reading, you are looking for more peace and connection in your relationships. You wished for a perfect, harmonious relationship in your mind, but in fact, you felt disconnected from your loved ones.
It might seem that something is missing, and you are finding it challenging to communicate honestly, empathise, and connect with one another. Similarly, this is how ten of cups reversed love flows. Something goes wrong every time you try to connect, and you end up with even more distance between you.
Your work-life balance is blurred, and you're spending less and less time with your family. If you continue to neglect your family, your relations will suffer, and you will not reach the overall sense of fulfilment and happiness that you had hoped for. Hence, don't take ten of cups cards lightly.
---
Conclusion
Ladies & Gentleman, we hope you guys have got to know about the meaning of ten of cups tarot. Time to give particular quality time to the family and your closed ones. Happy family!
---
---