Nine of Pentacles Meaning, Love, Feelings, Upright & Reversed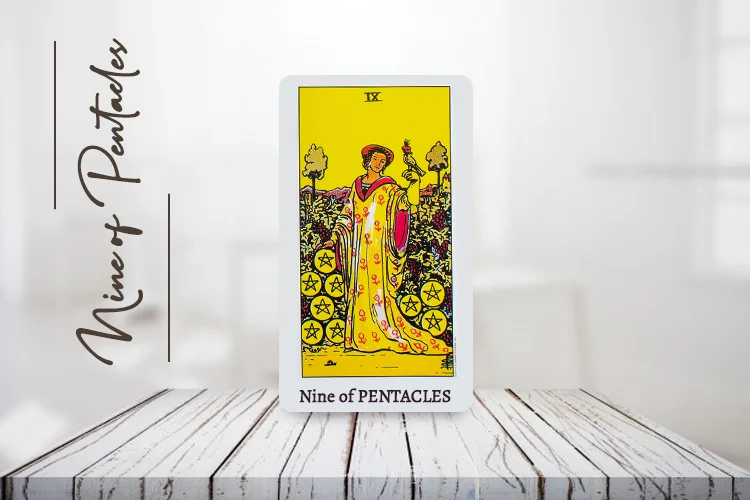 ---
Nine of Pentacles Meaning
The Nine of Pentacles Tarot is all about enjoying your best life. This Minor Arcana card is a welcome addition to any reading, ushering in a period of financial stability, security, and overall success.
Do you want to live a life surrounded by everybody you care about? This desire is represented by the Nine of Pentacles Tarot. It also reflects all of your own dreams. What is it that you most desire? Safety, travel freedom, financial prosperity, and happy existence?
Regardless of how the present feels, the heart's wishes are not out of control. All of your dreams are just around the corner.
Element: Earth
Astrological Sign: Virgo
Planet: Mercury
Date: 2nd to 11th September
Nine of Pentacles Yes or No: Yes
Nine of Pentacles Upright: Prosperity, refinement, comfortable life, independence
Nine of Pentacles Reversed: Trapped in a hustle, pride, success at all costs, financial dependency
Still, have Questions? Ask Tarot Reader for all the Answers
---
Nine of Pentacles Upright
You've worked tirelessly to establish prosperity in your life, and the Nine of Pentacles Tarot says it's now time to reap the rewards. You earned well-deserved success and laid a solid basis for your material prosperity and luxury as a result of your independent endeavors, self-confidence, and discipline.
Now sit back, relax, and enjoy the luxuries and beauty of life: wealth, leisure time, fun, material comfort, and rest. You won it! Although the suit of Pentacles is usually synonymous with material riches and gain, this card also indicates that you are in harmony with your surroundings.
You admire nature's beauty and abundance, and you can use this high-vibe energy to add joy to your life. You may love gardening or floristry, or you may truly enjoy spending time outside on a picnic or walking in the park.
Everything will be found in the Horoscope Report, Click Here…
---
Nine of Pentacles Reversed
The Nine of Pentacles Reversed is all about self-esteem. Taking Nine of Pentacles Reversed appearance in a Tarot reading as a chance to draw on your own sense of self-worth and meaning. On the other hand, you should concentrate on raising your self-esteem.
Invest in yourself by enjoying a wardrobe makeover, acquiring a new skill to support your career, or enrolling in a personal growth course. Learn self-acceptance. Even if you are hesitant to spend money on yourself, realize that you can enjoy life's luxuries, particularly if it makes you feel good and "worth it." You are sufficient! You seem more than enough. Also, you are incredible!
Uncover all Challenges and Unwanted changes in your Life Graph. Get Free 2022 Report
---
Nine of Pentacles Love and Feelings
If you're curious how your spouse or future partner feels, the Nine of Pentacles Love and Feelings indicates that they prefer the conventional life, with the woman at home preparing dinner and the man working. All would be well if you will convince them that you will have this lifestyle. However, if you don't believe in gender stereotypes, they may not be the best partner for you.
Hey pals, hope you understood about 9 of Pentacles Meaning. Overall, the Nine of Pentacles Tarot is polished, accomplished, and eager to reap the benefits of her efforts. This is a positive omen for your profession, and it is particularly important when found in a potential role. You are on the way to financial independence and peace of mind.
For Any Questions, you can Ask Tarot Reader
---
---