The Ten of Pentacles Tarot Guide – Upright & Reversed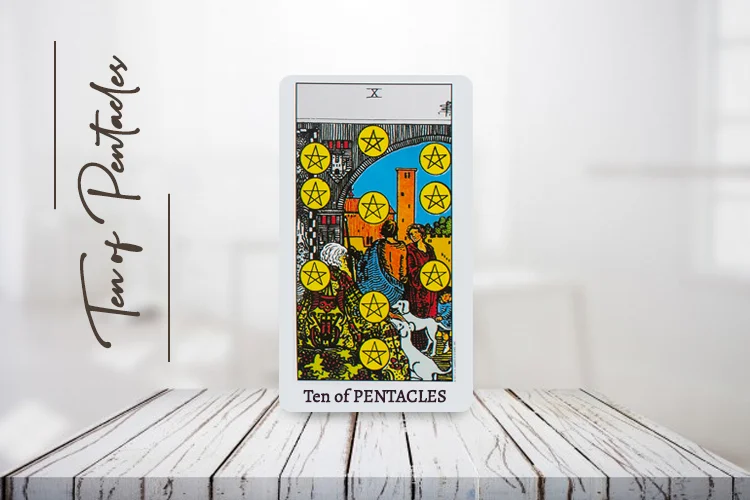 ---
The Ten of Pentacles Meaning
The Ten of Pentacles depicts how beautiful life will be when everybody in a family is happy. It embodies the best of all worlds: financial stability and satisfaction. Overall, the Ten of Pentacles represents a strong pillar upon which everyone is supported and nurtured.
When this card shows, it indicates that a major event or festival is approaching. Long-term prosperity and peace are still on the horizon, but only if you are ready to make arrangements to protect your family's future.
Element: Earth
Astrological Sign: Virgo
Planet: Mercury
Date: 12th to 22nd September
Ace of Wands Yes or No: Yes
10 of pentacles Upright: Tradition, a strong foundation, good family life, Inheritance
Ten of Pentacles Reversed: Family feud, restriction, general loss, separation, financial disputes
Elevate your life through Astrological Guidance
Consult an Astrologer
---
The Ten of Pentacles Upright
The Ten of Pentacles indicates that you have arrived at a stage of completion and fulfilment of your quest. This sense of achievement, as a Pentacles card, is likely to be the product of a fruitful career choice, wise financial savings, a healthy home climate, and a potential committed and long-term partnership.
You have amassed riches and abundance as a result of your hard work and loyalty. Also, you will now enjoy sharing this wealth with others. This is one of those cards that guarantee that it will come together in the end and that you will be proud of everything you have done.
---
Ten of Pentacles Reversed
The reversed Ten of Pentacles serves as a warning that money can be a pit at times. When you surround yourself with luxury items and enjoy a lavish lifestyle, you find yourself wanting more and more and more, never happy with what you have.
Your sense of self-worth may have become unintentionally entwined with your wealth. If so, it's time to untangle the connection and see that you can still live a comfortable and rewarding life without the Louboutins and resort-style home.
The Ten of Pentacles reversed may indicate that you are facing difficulties or setbacks in terms of financial or job security, as well as family stability. Your savings may have lost a large amount of money, your marriage may be in trouble, or your career may be in jeopardy. It is time to reassess your situation and focus on a course of action that will allow you to restore your sense of security and self-worth.
---
Ten of Pentacles as Feelings
If you're curious about your partner's or future partner's thoughts, the Ten of Pentacles indicates that they have positive intentions. The Ten of Pentacles represents their desire to settle down with a partner, so if this is what you seek, the Ten of Pentacles is a good omen.
Overall, the Ten of Pentacles denotes financial prosperity and harmonious family relationships. It often refers to the end of a cycle and the start of a new, more relaxing phase. Whether you're starting a company or getting married, this is a positive indication.
---
---