Five of Swords Meaning, Upright & Reversed – Complete Guide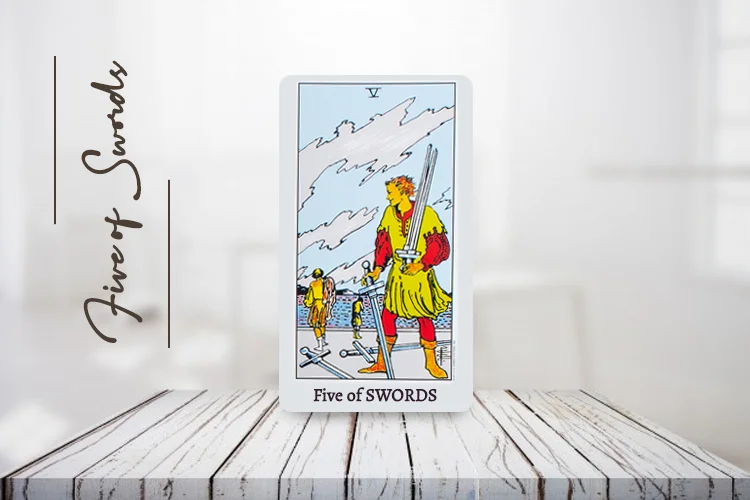 ---
Let's get prepared to rumble! The Five of Swords Tarot in a reading indicates a dispute or drama that is about to come into your life. You better be prepared. We are not saying that a series full of problems will come, but yes, it would be hard ones. Minor disagreements with friends or family members may be on the cards.
You may also start to experience more tension at work. Now is the right time to start rediscovering yourself. Please make the most of it. Above all of them, the sky is tumultuous and cloudy, signifying that not everything is well even though the war is over. Sounds interesting, huh? Let's unveil some more fascinating things about the Five of Swords Tarot.
Element: Air
Astrological Sign: Scorpio
Planet: Pluto
Date: 20th to 29th January
Five of Swords Upright: Conflict, defeat, surrender, battles, arguments
Five of Swords Reversed: Solutions to a dispute, moving forward, compromise
Ask an Expert Astrologer for all the Answers.
---
Five of Swords Upright
Wanna learn how to overcome situations? Then you are in the right place. The Five of Swords Tarot reflects a great victory through pure persistence. Even after winning arguments with anyone, you may realize you're not actually happy in saying harsh words. This battle has cost you respect, trust, or dignity, and isolated you. The guidance of the Five of Swords is to choose your own battles. Don't let anyone do it for you.
However, most experts believe that choosing your battles wisely is a far better way of life than engaging in every next disagreement. If you're stuck in some conflict with others, you better apologize first. There's no point in trying to explain your behavior; just let it go and move on. Sorry to say but, despite your best efforts, you are likely to be defeated or come out as a loser. The same goes for the Five of Swords Love prediction. Accept your failure, and learn a whole lesson from it.
Are you Prepared to Experience the Best Love Life? Yeah, you heard that right! Talk to an Astrologer!
---
Five of Swords Reversed
The Five of Swords Reversed indicates that you know that you're not good at arguments; still, you take part in it. You've been pushing hard, but whoever's on the other side isn't listening. And undoubtedly, they feel the same. There may be an ex who isn't letting you live happily with your partner. The real pain!
You may be especially concerned that history may repeat itself, or that you may be harmed again. Nothing too much, but just try to forgive and forget things. After some back-to-back tough times, the Five of Swords Reversed indicates good days. Hence, take a chill pill and enjoy life to the fullest.
Everything will be found in the Horoscope Report, Click Here…
---
Conclusion
After going through the whole blog, one can easily say that the Five of Swords Tarot tells a deep-rooted dispute in your life. Just because of this, you're more likely to blame others for your failure. For the betterment of your life only, take the Five of Swords Tarot as advice cards, you get that? Lastly, the best advice would be to handle it with confidence, and you're going to go on and do great things.
---
---
---