Nine of Swords Meaning, Feelings, Upright & Reversed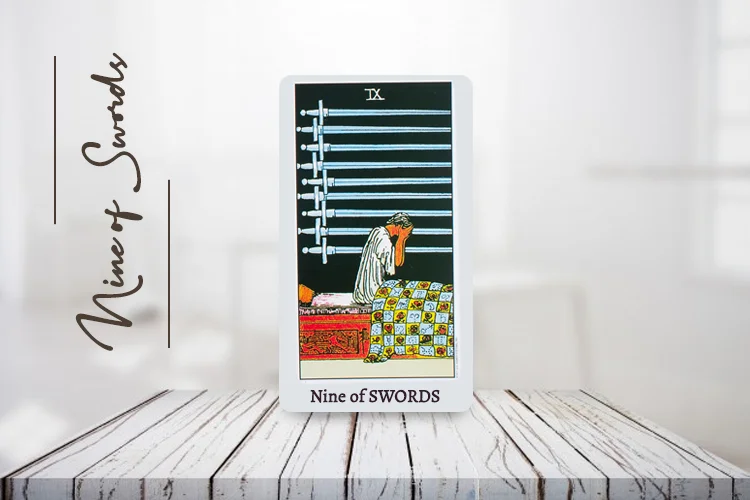 ---
Nine of Swords Meaning
The Nine of Swords is widely regarded as a negative card to draw because of its association with fear & anxiety. The card's meaning is not that you have a terrible life but that you have allowed negative feelings to take over your entire life. Do you feel overwhelmed at work or home? Folks do remember, life only happens once, better to use it well.
Element: Air
Astrological Sign: Gemini
Planet: Mars
Date: 1st to 10th June
Nine of Swords Tarot Upright: Hopelessness, anxiety, overreacting, despair
Nine of Swords Tarot Reversed: Letting go of fear, recovering, optimism, gaining clarity.
Still, have Questions? Ask Tarot Reader for all the Answers
---
Nine of Swords Upright
The Nine of Swords means that dark thoughts and disturbing emotions weigh down on you (and keep you awake the whole night). You are too concerned about the situation, and your bad feelings are getting the better of you, leaving you depressed and nervous. Welcome to Nine of Swords Upright. The more you connect with your fears, the more your life is influenced by them.
When you obsess about what doesn't work, the more you get anxious and the more you're going to think about it. Be alert because anxiety and fear in the Nine Swords Tarot may become a self-fulfilling prophecy.
Basically, when the Nine of Swords Tarot occurs in a reading, it's time to reach for support as simple as that. But you don't need to do this on your own–get support from others to help you get through this dark time of your life. Are you experiencing a nightmare? Do your endless thoughts prevent you from sleeping? This is the sign that you need support from someone.
Everything will be found in the Horoscope Report, Click Here…
---
Nine of Swords Reversed
The Nine of Swords Reversed indicates that you are feeling robust chaos due to your inner thoughts. You may make things feel a lot worse than they actually are, champ. But don't let it get to you. The Nine of Swords Reversed shows when you are disturbed by anxiety; all you need is a reality check and decide which fears are reasonable and which are not.
Release your unreasonable expectations, crippling doubts, and ego. On a positive note, the 9 of Swords Tarot Reversed will indicate that you have already progressed through this time of worry and depression. And yes, You are healing. Why still so stressed, dude? Take a chill pill, & enjoy the moment.
Uncover all Challenges and Unwanted changes in your Life Graph. Get Free 2022 Report
---
Nine of Swords Feelings
As the feeling of drawing the 9 swords can mean that the history of an individual is getting in the way of how they feel about potential partners. It could mean that they are worried about getting hurt, so they'd instead not embark on love at all. Overall, the 9 swords Reversed in love can also make a declaration that either a declaration of love (which is dismissed) or a new relationship.
Now we understand why Nine of swords tarot cards created this much popularity. Because they should be & they deserve it.
---
---