Ten of Wands Meaning, Upright & Reversed – Complete Guide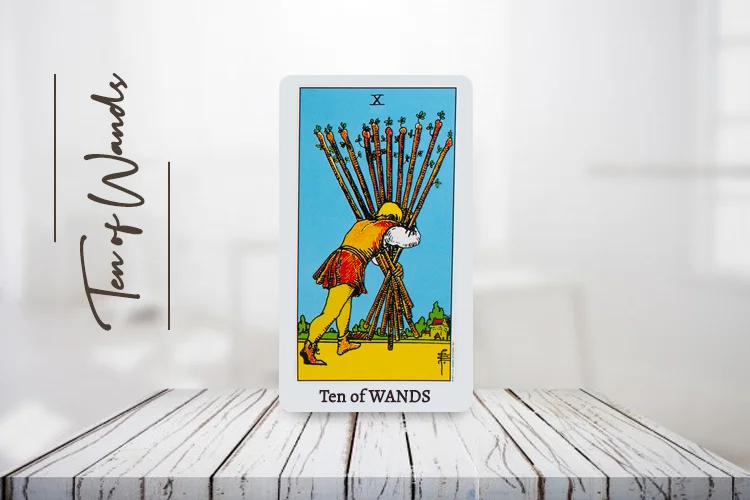 The Ten of Wands Tarot is similar to the Nine of Wands as both cards reflect the difficulties and struggles of life. However, the Ten of Wands reflects what it really feels when huge responsibility knocks your door.
The Ten of Wands Tarot reflects someone who is intelligent and hardworking but also prone to self-punishment and overexertion. Most of the time, these individuals would prefer to prioritize the needs of others over their own.
What will this Minor Arcana card teach you about managing responsibility? Is it possible to transform your suffering into a point of strength? Well, you need to keep on reading in order to get all the answers.
Element: Fire
Astrological Sign: Sagittarius
Planet: Saturn
Date: 15th to 21st December
Yes or No in a Tarot Reading: No
Ten of Wands Upright: Hard work, responsibility, feeling burdened, struggling
Ten of Wands Reversed: Huge problems, stress, undependable, problems
Ask Tarot Reader for all the Answers.
---
Ten of Wands Upright
The Ten of Wands Tarot indicates that you are taking an additional burden, a heavier workload, or increased responsibility. For example, you could work extra hours to save for a family vacation. Alternatively, you might assist a friend with their transfer, trusting that they would return the favor when you move later in the year. The same goes for Ten of Wands Love Predictions.
You may be caring for a sick family member, or contributing to your household chores, but understanding your loved ones really appreciate it. The Ten of Wands Tarot will appear when you are mistakenly taking on extra pressure and are feeling burdened and tired.
You can try to do it all at once, despite the fact that you are aware of this adds extra stress to your everyday life. You rock! The good news is that the Ten of Wands Tarot signifies the completion of a cycle, and the Ten of Wands means that the end is near!
Everything will be found in the Horoscope Report, Click Here…
---
Ten of Wands Reversed
When you see the Ten of Wands Reversed in a Tarot reading, it is usually a warning that you are trying to do too much on your own. You've found yourself struggling under the weight of trying to be everything to everyone.
Delegate and split the workload – you don't have to do it all by yourself. Often, be firm in saying no to things you feel that you can't do. People will not punish you, dude. You just can't help everyone at the same time. It's the same as saying, 'Put on your own oxygen mask first before helping others.'
The Ten of Wands Reversed can indicate that you are carrying a burden that you do not need to. Consider doing the things that you love the most. It can be anything from cleaning watches or playing games. The choice is all your pal. Just walk wisely in life, and simplify your life.
Everything will be found in the Yearly Report: Get a Free Yearly Report!
---
Conclusion
Overall, the Ten of Wands Meaning is that you have been burdened with an insane amount of duties. Just be mindful of pushing yourself too hard in the name of success.
For Astrological Solutions to any Problem, Talk to Tarot Reader
---
---