Two of Wands Tarot Guide – Upright & Reversed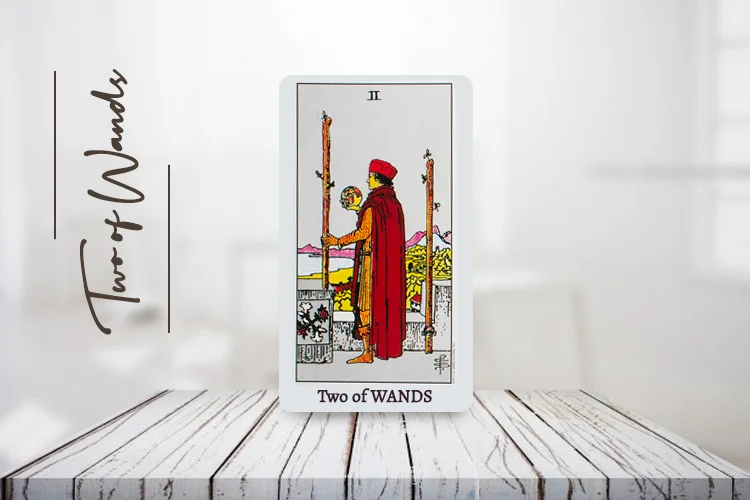 ---
Two of Wands Meaning
The Ace of Wands foretells a new beginning, and the Two of Wands depicts what happens as you enter into a new adventure. The Two of Wands, a personal freedom and choice card, represents two directions, and you have full rights to choose the path. Talking about Two of Wands love, well, the natives are looking for long term goals. So people who are looking for casual flings and passing the time, ah well, stay away!
Are you unhappy and searching for a new path? What route would you take? Is it true that the grass is greener on the other side? There are crucial choices to be taken, but the Two of Wands indicates that you are well-equipped to make them come true.
Element: Fire
Astrological Sign: Aries
Planet: Mars
Date: 21st to 31st March
Two of Wands Upright: Decisions, discovery, partnership, personal power, having more options
Two of Wands Reversed: Fear of the unknown, sudden change, cancelled travel plans
The Partnership with Your Life Should Always Rock Talk to Tarot Reader
---
The Two of Wands Tarot Upright
The Ace of Wands' spark of creativity is turned into a simple action plan by the Two of Wands. You've completed the exploration process and know what you want to manifest – now you just need to find out how.
You're considering your choices and carefully preparing your next move, taking into account all possibilities and future obstacles. When the Two of Wands appears in a Tarot reading, it indicates that you are not yet ready to make a move; instead, it is more important that you develop a definite plan before starting.
The Two of Wands is also about exploration, particularly when you step outside of your comfort zone and venture into new worlds and experiences. It may take bravery to set out, but this card provides you with the assurance of self-awareness.
Uncover all Challenges and Unwanted changes in your Life Graph. Get Free 2022 Report
---
Two of Wands Reversed
When the Two of Wands is inverted, it allows you to turn inward and focus on your personal goals. Think about what is really important to you and what makes you happy. You may have gone in one direction only to discover that it was not wholly compatible with your deeper values and intent.
When the Two of Wands is reversed, it can mean that you have a good idea but lack a consistent plan for moving it forward. As a result, you're operating carelessly and inefficiently, and you're not getting to your destination as fast as you'd like. As the French poet Antoine de Saint-Exupéry once said, "A goal without a plan is just a wish," so make sure you have a solid plan in place to achieve your goals.
Wassup, human creatures, we hope you got a clear picture of Two of Wands Tarot Card meaning. It's time for you to make clear decisions in life and turn it 24 Karat Gold.
Finding it Hard to Tackle the Situation? Ask Tarot Reader
---
---